« previous post | next post »
Laura Starecheski, "Can Changing How You Sound Help You Find Your Voice?", NPR All Things Considered 10/14/2014:
Just having a feminine voice means you're probably not as capable at your job.  
At least, studies suggest, that's what many people in the United States think.
There's a gender bias in how Americans perceive feminine voices: as insecure, less competent and less trustworthy.  This can be a problem — especially for women jockeying for power in male-dominated fields, like law.
The first of those studies seems sound to me, but as I noted a few months ago ("Vocal fry probably doesn't harm your career prospects", 6/7/2014), the second study seems mainly to have shown that listeners are put off by people who try to imitate a voice-quality that isn't natural to them. The All Things Considered piece goes on, paradoxically, to try to combat voice-based stereotyping by promoting voice-based stereotyping:
Men often speak in more of monotone, with a percussive, staccato rhythm, explains Annette Masson, a voice coach at the University of Michigan who works with actors, singers and sometimes other professionals, like Hanna. Feminine speech patterns — more musical, with more pitch variation — reflect the different way women connect with other people, she says.
Women tend to be more collaborative communicators than men, Masson says. We say "we" more than we say "I." 
"Musicality" is in the ear of the listener, I guess, but "pitch variation" can be quantified. And Eli Anne Eiesland, who wrote to me about this, asked
Do women really have more pitch variation in their speech? That sounds like something that might be true, but also like it could just be made-up stereotypes. Likewise with the claim that women use "we" more than "I". I looked at your post about pronoun use in facebook posts, but I can't say that the difference between first person pronouns looked all that big. 
It's certainly not true that women "use 'we' more than 'I'" — in fact they typically use "I" many times more often than "we", in pretty much genre and context, just as men do. In the Facebook data (see "Sex, age, and pronouns on Facebook", 9/19/2014), women actually use first-person singular pronouns (I, me, my, mine) more than men. And in the same dataset, there's essentially no sex difference in the use of first-person plural pronouns (we, us, our, ours):
But what about the question of pitch variation? There's no doubt that post-pubescent women have higher voices, in general, than post-pubescent men. Here is the distribution of median f0 (fundamental frequency) values in 2,393 female call sides from the Switchboard corpus, compared to the distribution of f0 values in 2,483 male call sides. The left-hand plot shows the distributions in Hz (cycles per second), while the right-hand plot shows the distributions in semitones relative to 50 Hz.
| | |
| --- | --- |
| | |
On either scale, there's very little overlap — this is a case where the infamous "gender binary" really is pretty binary, since 99+ percent of humans are chromosomally either XX or XY, and respond in the typical way to testosterone, which causes the larynx to increase substantially in size at puberty for the XY genotype. (For more, see "Biology, sex, culture, and pitch", 8/16/2013.) However, this doesn't tell us anything about "pitch variation", since that's a matter of pitch ratios — and a baritone or tenor can in principle execute the same set of pitch ratios, i.e. musical intervals, as an alto or soprano. One simple way to look at pitch variation is to calculate, for each speaker, the ratio  between the 90th percentile of f0 values and the 10th percentile. Here's what the distribution of that ratio looks like for the male and female speakers in Switchboard. As before, the blue histogram is the male speakers, and the red histogram is the female speakers — but now the purple part, where blue and red overlap, dominates the display: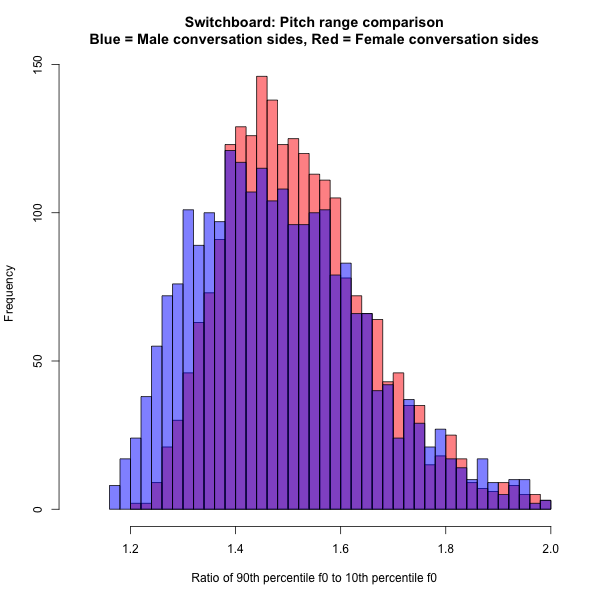 There are a few more male speakers on the low-ratio left-hand side of the graph, and a few more female speakers in the middle-ratio area, but mostly the distributions are quite similar. And I'd bet that the mumblers on the left margin are not impressing anyone as especially secure, competent, or hireable.
---