« previous post | next post »
A couple of years ago, I wrote about the off-beat placement of song syllables (and other other notes) in popular music of the past century. This can be seen as the displacement of events from an underlyingly regular meter, but often it can also be seen as a basic metrical pattern in which events don't fall at evenly-spaced time intervals  ("Rock syncopation: stress shifts or polyrhythms?", 11/26/2007).  The example that I looked at was a maximally simple one — the 3+3+2=4+4 "habanera" rhythm that rocked America in the late 19th century.
Today's post is about some rhythms that arrange events in a recurring cycle of 12 time-units. And although I'll start with another Afro-Cuban pattern, the Bembé, today's analysis will look at connections in renaissance Italy and ancient Rome, rather than in 20th-century America. (Attention conservation notice: unless you're interested in geeking out on a detailed analysis of metrical patterns, you'll probably want to skip onwards to some of our other fine posts…)
Godfried Toussaint starts his 2003 paper "Classification and Phylogenetic Analysis of African Ternary Rhythm Timelines" this way:
Consider the clock [below], and assume the clock runs so fast that it makes a full revolution in about two seconds. Now set the clock ticking starting on the hours of twelve, two, four, five, seven, nine, and eleven, for a total of seven strikes per clock cycle, with the first strike of the cycle at twelve. […]
The resulting pattern rings out the predominant African rhythm time-line that has travelled to America and beyond, and has become the most well known of all the (12/8)-time bell patterns. It is known internationally mostly by its Cuban name, the Bembé, a name given to a feast celebrated with drums to entertain the orishas. In the following, simple mathematical arguments will be given that may explain why the Bembé has taken center stage among the 12/8 time bell patterns.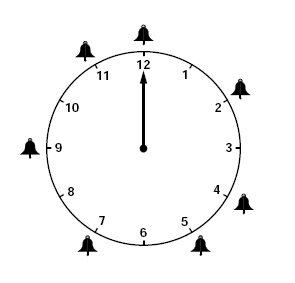 In a flat, metronomic rendition, the Bembé pattern sounds like this:
Toussaint notes that there are several different ways of putting this pattern into conventional musical notation:
The third row [below] shows that although the Bembé is a ternary rhythm normally notated in 6/8 or 12/8 meter, some authors describe it in 4/4 time with triplets. The fourth row depicts the rhythm with the smallest convenient notes and rests. The final row shows the Bembé in the Box Notation Method developed by Philip Harland at [UCLA] in 1962. If we connect the tail to the head of this last diagram and draw it in the form of a circle in clockwise direction with the head at 12 o'clock, we obtain the clock representation […], where the squares […] filled with black dots correspond to the positions of the bells […].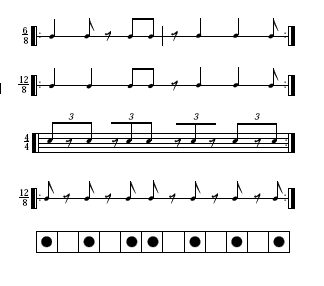 The box notation method is convenient for simple-to-notate rhythms like bell patterns […]. A commonly used convenient variant of box notation used in text documents is simple to use the letter "x" to denote the strike fo the bell or note onset, and the period symbol "," to denote interval units between the note onsets. For example, the Bembé pattern […] then become [x.x.xx.x.x.x].
You could also represent such patterns in terms of a sequence of note (or inter-onset) durations, represented as small-integer multiples of the minimal time unit, so that the Bembé pattern becomes 2+2+1+2+2+2+1.
A syncopation-as-displacement analysis of the Bembé pattern might start with six quarter-notes in 12/8 time, with the third quarter-note subdivided into two eighth notes, and the last three quarter notes (in blue) each displaced to the right by one eighth-note (to the positions in red):
| | | | | | | | | | | | |
| --- | --- | --- | --- | --- | --- | --- | --- | --- | --- | --- | --- |
| 0 | 1 | 2 | 3 | 4 | 5 | 6 | 7 | 8 | 9 | 10 | 11 |
| x | | x | | x | x | x | | x | | x | |
| x | | x | | x | x | → | x | → | x | → | x |
A clue that such patterns might not be just a surface stylistic shifting of a deeper "square" or divisive rhythm was suggested by  Jeff Pressing ("Cognitive Isomorphisms between Pitch and Rhythm in World Musics: West Africa, the Balkans and Western Tonality," Studies in Music 17: 38–61, 1983). He observed that the Bembé rhythm is curiously isomorphic to the (major) diatonic scale. Thus the sequence of inter-onset time-unit differences of the seven Bembé time-points 0-2-4-5-7-9-11 is 2-2-1-2-2-2-1, just as the sequence of pitch intervals in semi-tones separating the major-scale tones C-D-E-F-G-A-B-C is 2-2-1-2-2-2-1: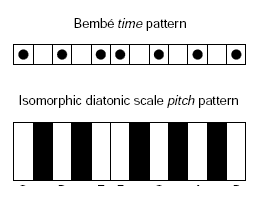 Or compare the "circle of fifths" in pitch classes, whose first seven steps generate all and only the diatonic scale-steps F-C-G-D-A-E-B, with the relative time-locations generated by successively adding 5 to 11, mod 12. Thus the expression in R (11+(0:6)*5)%%12 yields 11 4 9 2 7 0 5, which after sorting are the Bembé locations 0-2-4-5-7-9-11.
Toussaint also generalizes Simha Arom's notion of "rhythmic oddity" by counting the number of "bi-partitions": pairs of onsets that partition the entire interval into two subintervals of equal length. "The fewer equal bi-partitions a rhythm admits, the more rhythmic oddity it possesses." It's obvious that any way of placing 7 notes in a 12-unit rhythmic cycle must admit at least one bi-partition — for a hint in the direction of a proof, think of placing the notes on the numbers of clock face. The Bembé pattern achieves this maximum of rhythmic oddity — and any other pattern that does so must be a variant form of it.
Toussaint proposes to generate the observed set of seven-out-of-twelve rhythms in traditions around the world as rotations of three basic "necklace" patterns:

Pattern III underlies the Bembé rhythm and the major scale; six of its seven rotations (starting each of its seven notes) generate attested patterns known by various names in various world-music traditions. Pattern II, which allows two bi-partitions, generates three attested rhythmic patterns, and corresponds to the (ascending melodic) minor scale; Pattern I, which allows three bi-partitions, generate two attested rhythmic patterns,  and corresponds to a whole-tone-plus-one scale.
For some other interesting mathematical properties of various ways of arranging 7 or 5 notes in length-12 cycles, see Toussaint's paper.  The relevant point here is that these rhythms need not be explained as derived by superficial time-shifting of events in divisively regular "deep structures", as David Temperley has suggested ("Syncopation in Rock", Popular Music 18(1), 1999 — see my earlier post for discussion). Rather, they can plausibly be seen as cyclic patterns whose projections onto a circle are not derived from regular polygons at any level of analysis, but are generated by other principles.
Next I'd like to look at a case where the traditional analysis, going back to classical times, is analogous to Temperley's analysis of rock syncopation. I'll argue that the traditional analysis is probably wrong or at least incomplete, and that an analysis like Toussaint's seems more promising.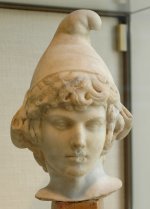 Of the 116 extant poems of Catullus, one (#63 in the standard enumeration) is a mini-epic telling the story of Attis. He was the mythical consort (and/or son) of Cybele, whose cult was imported from Phrygia to Rome in 204 B.C., based on a prophecy that this would help defeat Hannibal.  The meter of Catullus 63 is galliambic, which the OED calls the "Epithet of a lyric metre (founded on the Ionic a minore tetrameter catalectic, with anaclasis), supposed to have been used by the priests of the Phrygian Cybele in their songs".
The etymology is [f. L. galliamb-us a song of the Galli or priests of Cybele] (And apparently the Galli were so named due to some imagined connection with Gaul.)
The theory of syncopation is implicit in the description "ionic a minore tetrameter catalectic with anaclasis".
According to the OED, ionic is (sense 4) the "name of a foot consisting of two long syllables followed by two short ('ionic a majore'), or two short followed by two long ('ionic a minore')". Catalectic means "Of a verse: Incomplete in its syllables; wanting a syllable in the last foot. Often in postposition in imitation of Latin."  And anaclasis means "In Ionic verse: an interchange of the final long syllable of the first metron with the opening short syllable of the second."  In a duration-sequence notation, that would be
[1122 1122] → [1121 2122]
Or in a tabular form of the box notation, again showing the effect of anaclasis on two adjacent ionics:
| | | | | | | | | | | | |
| --- | --- | --- | --- | --- | --- | --- | --- | --- | --- | --- | --- |
| 0 | 1 | 2 | 3 | 4 | 5 | 6 | 7 | 8 | 9 | 10 | 11 |
| x | x | x | | x | | x | x | x | | x | |
| x | x | x | | x | x | ← | x | x | | x | |
In other words, "anaclasis" is really equivalent to syncopation, i.e. a shift of a "note" from position 6 to position 5 in a 12-unit rhythmic cell corresponding to two ionic feet.
Adding the second pair of ionic feet (another twelve time units; and the catalexis (i.e. omission of the last syllable); and the fact that the last syllable is "common" (i.e. either a long or a short-plus-rest will fit);  and the (stylistically standard) resolution of the last long syllable; we get:
| | | |
| --- | --- | --- |
| 1. | 1122 1122 1122 1122 | ionic a minore tetrameter |
| 2. | 1122 1122 1122 112(2) | catalectic |
| 3. | 1121 2122 1121 212(2) | with anaclasis |
| 4. | 1121 2122 1121 21x(2) | (last syllable is "common") |
| 5. | 1121 2122 1121 111x(2) | (with the usual resolution) |
According to this discussion,  about 2/3 of the poem's 93 verses have exactly the pattern shown in 5, for instance
10  quătĭēnsquĕ tērgă taūrī tĕnĕrīs căuă dĭgĭtīs
"and beating the hollow oxhide with delicate fingers"
The other lines mostly differ in terms of where "resolution" (the substitution of two shorts for a long or vice versa) takes place — a scanned version of the whole poem is here.
If we treat the shorts and longs of the basic galliambic meter as a literal metering of time, a metronomically exact version of the pattern sounds like this:
And musically-trained readers will have noticed that the anaclasis can also be seen as creating a hemiola pattern, in which two ternary groups — here (1+2)+(1+2) — substitute for three binary groups — here 2+(1+1)+2. Hemiola is usually seen as exploiting the ambiguity of two alternative regular subdivisions of 6 time-units. But in this case, the  substitution occurs in the middle of the 12-time-unit ionic dimeter, and the resulting first half-line is a new regular pattern 1+1+2+1+2+1+2+2, in which the "beat" is most naturally heard (I think) as 1+1+2+1+2+1+2+2, i.e. falling on the 3rd, 6th, and 9th time-units.
This is can be seen as subdividing 12 into 2+3+3+2+2 (and the second half-line follows the same beat locations, differing only in subdividing an additional 2-item position, and omitting the last one). This basic 2+3+3+2+2 division of 12 time-units is reminiscent of the habanera's 3+3+2 division of 8 time-units.
And if we "unresolve" the initial duple 1+1, then the result of applying anaclasis to two ionic a minore feet is 2+2+1+2+1+2+2, which is the version of Toussaint's "necklace" pattern II that starts at 6 o'clock: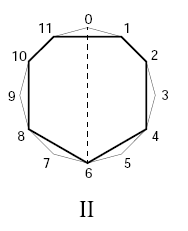 Again, it's plausible to think of this as a rhythmic structure with its own internal logic, rather than a pattern derived by superficial event-shifting from a deeper sequence of all-equal binary time divisions.
In Monteverdi's Orfeo, at the end of the celebration of the wedding of Orpheus and Euridice, the hero sings an aria that begins:
Vi ricorda o boschi ombrosi,
de' miei lunghi aspri tormenti,
quando i sassi a' miei lamenti
rispondean fatti pietosi?
Shady grove, do you remember
my long bitter agonies
when my howls made the rocks
pity me in response?
The score for the first couplet looks like this: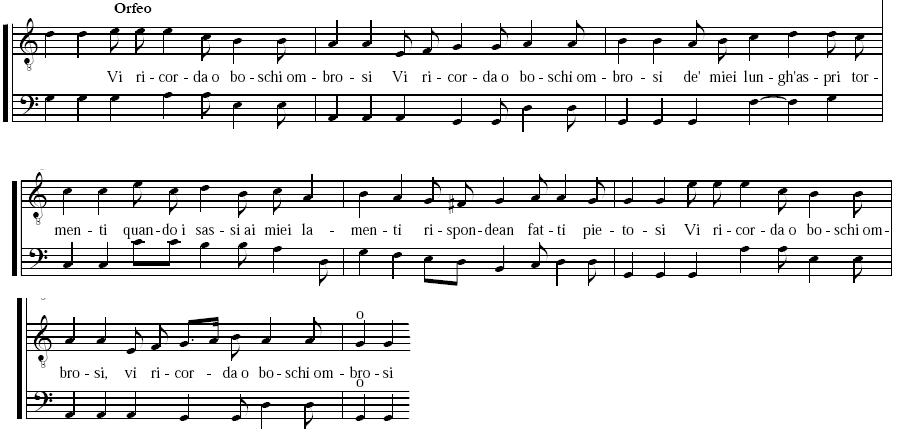 (from p. 26 of the version here).
If we represent each metrically-relevant syllable by an integer (here always 1 or 2) representing the number of 8th-note positions it occupies, the numerological scansion for these seven lines is:
| | |
| --- | --- |
| vi ricorda o boschi ombrosi, | 11212122 |
| vi ricorda o boschi ombrosi, | 11212122 |
| de' miei lunghi aspri tormenti, | 11221122 |
| quando i sassi a' miei lamenti | 11211222 |
| rispondean fatti pietosi? | 11212122 |
| vi ricorda o boschi ombrosi, | 11212122 |
| vi ricorda o boschi ombrosi, | 11212122 |
A metronomically-clapped copy of these sequences sounds like this:
Musically, this aria exhibits a regular alternation between half-bars of 2+2+2 and 3+3 — and you should be able to hear, as well as see, the similarity of this rhythm to the galliambic.  And again, it's plausible that this regular hemiola pattern should be seen as an underlying rhythm on its own terms, not as a sequence derived by superficial event-shifting from a deeper pattern that is uniformly 2+2+2 or uniformly 3+3.
(The galliambic-like meter of Vi Ricorda may not be an accident, given the historical analogies between Attis and Orpheus.  Monteverdi may have been conscious of the connection; and it's also possible that some Italian folk traditions preserved metrical forms associated with the Cybele cult. And note that Monteverdi's original 1607 version of Orfeo ended with the hero torn to pieces by Thracian Maenads, as in Ovid's version of the story. On the other hand, regular patterns of hemiola were pretty common in European music of the time.)
A version of this aria sung by Philippe Huttenlochner is available on YouTube ("Vi ricorda" start at about 0:42):
---