« previous post | next post »
You'd think it was the end of the world. Apparently, the Nuance Communications-powered text-to-speech system on the new Amazon Kindle mispronounces Barack Obama's name, saying something like "buh-RACK oh-BAM-uh" instead of "buh-ROCK oh-BAH-muh". Why is this little tidbit worth a piece in the business/media section of The New York Times? The answer is, it's not. It could have been an OK lead-in to a technology piece about how text-to-speech systems work, and how they can fail — often spectacularly — on unknown words, especially names. Granted, adding the (pronunciation of the) name of a political figure such as Barack Obama to the system's dictionary is a simple enough thing to do (which is how Nuance will in fact fix the problem, if it hasn't already), and it was clearly an oversight worth pointing out to the company. But then again, the version of Firefox I'm using right now (3.0.4 for the Mac) has been underlining both of the President's names in what I have been typing thus far, incorrectly guessing that I'm misspelling something, and I'll bet you won't see some NYT reporter wasting their time on such a triviality.
What is it about names with 'a', anyway? Barbara Partee noted some time ago the President's pronunciations of Pakistan (PAH-kee-stahn) and Afghanistan (uhf-GAN-iss-tan), a distinction I noted several years ago with respect to Lakshmi Singh of NPR. There are lots of things going on here, many noted in those posts and the associated comments. The problem for a text-to-speech system is that the "ah" sound in Barack and the "a" sound in rack are both often simply spelled with the letter 'a', with little else to indicate the distinction between the two vowel sounds. (Note how I shift the syllable divisions in my pseudo-phonetic transcriptions above to accentuate the distinction; "ah" can end a syllable, but "a" needs to be followed by a consonant.) And although the distinction between the two sounds is phonemic in English (distinguishing rock from rack in American English, for example — and note the clear spelling distinction there), it's not like there are loads of polysyllabic words that are distinguished only by "ah" vs. "a". (I could produce some numbers, but I'm not gonna bother — I'll just make the claim and see what happens.) So if a word's pronunciation is unknown, and it's spelled with 'a', there's a whole lotta guesswork that a text-to-speech system needs to do, and it's bound to make mistakes.
And besides, names are just different. Some insist on particular pronunciations of their names, and others play it a little more loose. My own (admittedly completely anecdotal) experience is that people who have spent significant amounts of time living in different countries where different languages are spoken, like the President and like me, tend to not insist. (I doubt he cares much that several correspondents for the BBC pronounce his first name such that it sounds like "barrack".) The evolution of the pronunciation of my own last name is a good example. Until I was 12 or so, I pronounced it "BAH-kuh-vick", which is how my brother still pronounces it. (My parents are Spanish speakers and have the Spanish "a" in that first syllable, which is somewhere between the two English vowels we're talking about.) Then we traveled to the former Yugoslavia to meet some of my father's extended family there, and I learned about the accent on the final 'c' (ć), which I use myself when the word processing technology easily allows (but I don't insist on it). The sound is something like the English "ch", so I started following my father's model, saying "BAH-kuh-vich" most of the time but occasionally using "BAH-kuh-vick" (e.g., if I need to clarify how the name is spelled to someone who needs to write my name down or look my name up).
When I went to grad school, several people (beginning with my advisor, I believe) started publically pronouncing my name as "BACK-uh-vich" — that is, with the "rack" vowel instead of the "rock" vowel I had used up to that point. I noticed this, of course, but it didn't strike me as incorrect or anything like that; in fact, I liked how it sounded and have been using that pronunciation myself ever since. (I think it started more unconsciously than I'm recounting it now, but whatever.)
More examples like this one can surely be found. I'm now recalling that my former UCSD colleague Masha Polinsky, who pronounces her first name "MAH-shuh" (in English), was regularly called "MASH-uh" by a member of the campus administration (who shall remain nameless). I always figured that this was an effort to distinguish Masha from another person on campus named Marsha; I don't think the administrator in question speaks an r-less dialect such that "Marsha" is "MAH-shuh", but 'r' before 'sh' is not terribly distinguishable from 'sh' alone, at least after the "ah" sound (hence the "warsh"/"Warshington" phenomenon, pretty much limited to these words and any derivatives). But it could also just be the ambiguity of 'a'.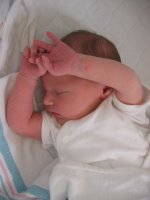 A final note in a more self–promoting vein. (For those keeping track of the categories at home, here's where the Awesomeness comes in.) On Sunday night, 10:42pm PDT, my wife Karen Shelby gave birth to our baby girl Katya Aurelia Baković Shelby, pictured on the right. As my colleague Sharon Rose pointed out — jokingly, and in reference to our student Cindy Kilpatrick's dissertation research — we chose a first name that is technically unpronounceable ("phonotactically illegal" in the lingo) as an English word: the 'ty' sequence is a palatalized voiceless coronal stop [t], kind of like a "ch" sound but not quite. Even an approximate pronunciation of a [t] followed by the palatal glide [j] is not found in English (well, except for British English, but then only before [u]; tune is homophonous with toon in American English, but sounds something like "tyoon" in British English). But Katya's name also has an 'a' — two, in fact, but the second, unstressed one will just be schwa ("uh") in English anyway — so I expect there to be some people in her life who will say "KAT-yuh" instead of "KAH-tyuh". I won't care much, and I hope she won't, either — even when she's President.
---