« previous post | next post »
Rich Scottoline sent in the following photograph of a box of crackers that he happened across in a Nonghyup food store in South Korea: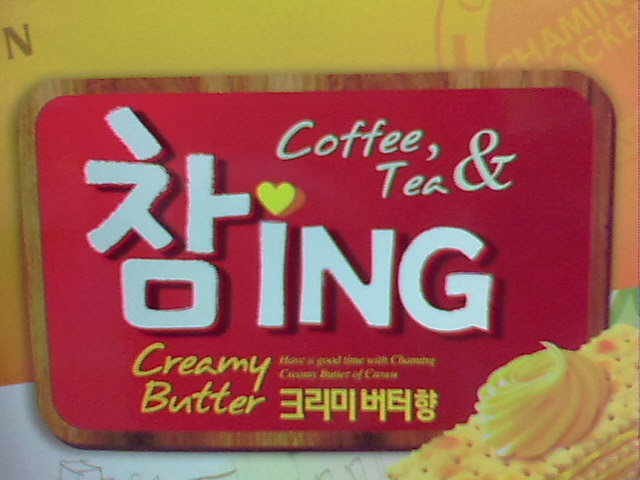 참 (1. truth; 2. really, truly)ING –> cham-ing –> charming
Romanization: Cham-ing (Revised Romanization), Ch'am-ing (McCune-Reischauer)
Cham-ing is straight up what it looks like: a Korean transmogrification of "charming". But it's also playing on the Korean word cham ("genuine"), which can connote "attractive", and that Korean meaning is of course what will jump out at a glance to a Korean (note that the Hangul is much larger than the Roman letters). Crazy but clever.
These crackers are said to have a "creamy butter scent" (MR k'ŭrimi pŏt'ŏ hyang); "hyang" is 香 ("fragrance; scent").
While we're looking at -ing words in Korean, there is a credit card called #ing.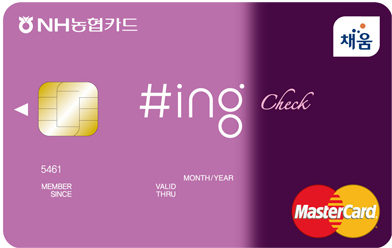 #ing–> sharp-ing–> shopping
쇼핑(shopping in Korean) — Romanization: syo-ping (RR), syo-p'ing (MR)
We have already seen that English -ing has been borrowed into Chinese to indicate the present continuative ending. In these Korean examples, we have -ing being borrowed as a participle and gerund. Other than this grammatical distinction, I think that there's a fundamental difference in the way the -ing is being used here in the Korean and the way it is used in Chinese. In Chinese it is borrowed as a productive morpheme that can be tacked on to any appropriate verb. In Korean, however, it is being used as the ending of a transliterated English word. The English words "charming" and "shopping" might just as well have been transliterated entirely in Hangul, but I suppose that the -ing was used to emphasize their foreign flavor.
[Thanks to Bill Hannas, Bob Ramsey, and Haewon Cho]
---