« previous post | next post »
John Considine found this circa 1880 advertisement in the Hong Kong 2013 catalog of Bernard Quaritch (with the note that "We have not been able to locate any other example of this kind of trade card"):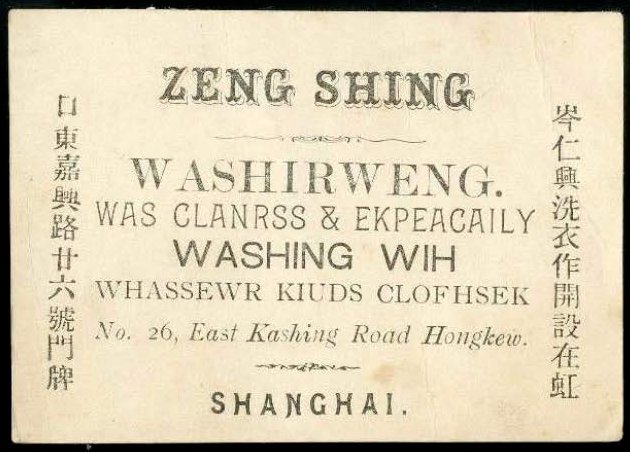 The characters to the right and left of the English give the name and address of the laundry. Even though the right vertical line and the left vertical line are separated by the English wording, the sense of the Chinese runs on without a break. Notice that the first syllable (虹) of the Chinese name for Hongkew is at the bottom of the right vertical line and the second syllable (口) is at the top of the left vertical line. The Chinese is of no use in figuring out the mangled English.
I have posted this under "Lost in Translation", but it's not really a problem of mistranslation. It's hard to say exactly what configuration of circumstances resulted in what is printed on the card. Perhaps a Chinese-speaking compositor was trying to select Roman type which would correspond to a written text in front of him, but, not being familiar with the language, he had no idea what words he was supposed to spell and could only approximate what he was seeing. Language Log readers who are more clever than I may be able to come up with other scenarios that better account for what is found on the card.
---