« previous post | next post »
Gloria Bien sent in the following photograph and asked what to make of the Chinese text in it, especially the unusual character 叻, which is pronounced lè in Modern Standard Mandarin (MSM; but see below for the Cantonese pronunciation and meaning). Wenlin says it's part of a name for Singapore, but not used alone, as it is in this picture. Google says Overseas Chinese use it for Singapore. But, as Gloria observes, "I'm the most Singapore" doesn't make sense.
This is from a package of noodles from Emeryville, CA, and says "Product of China," but complex characters are used throughout.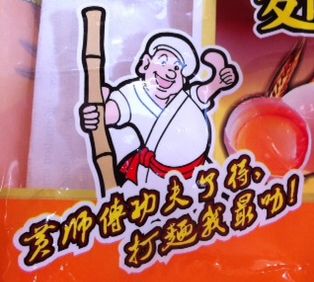 Here's what the Chinese says (transcribing the characters in MSM):
Huáng shīfu gōngfu liǎodé, dǎmiàn wǒ zuì lè!
黃師傅功夫了得,打麵我最叻!
"Master Huang has remarkable kung fu! I am
(–> he is / we are [i.e., our shop / company is]) the best at making noodles!".
All of the translation software systems that I've tried this on fail miserably to provide an intelligible rendering of these two clauses.
For extensive notes on "kung fu", see this post. Its essential meaning here is "skill (attained through long practice and concentrated discipline)".
Dǎmiàn 打麵 ("make noodles", lit., "beat noodles [with a bamboo stick]", which is illustrated in the above photograph) also throws translation software for a loop, because it is not in MSM. The term would seem to have originated in Cantonese along with the technique, but it is present in other Southern topolects as well.
Although liǎodé 了得 ("terrible; amazing; able, capable; settle; understand, know") has been in Chinese since the medieval period (over a thousand years ago), its polysemous quality and colloquial flavor also pose challenges for translators.
However, it is the last, five-stroke character, 叻, that is most troublesome for readers of MSM who are not familiar with Cantonese.
Basically, in Cantonese 叻 is used to transcribe the sound (lek1) of an adjective meaning "clever; smart; competent; good at (some skill)", but it also has the Cantonese pronunciations lik1 lak6, in which case it indicates an alternative name for Singapore as used by overseas Chinese.
For a list of many Cantonese compounds containing the syllable lek1 and lek1 as used in example sentences, see here.
When I was living in Singapore, I very much enjoyed eating a dish called laksa, the name of which is transcribed in Chinese characters as 叻沙 (Cantonese lak6 saa1, MSM le4 sha1). This is a spicy, prawn-based Chinese-Malay (i.e., Peranakan) noodle soup. The origin of the word "laksa" is unclear, but it may come from Hindi-Persian lakhshah, referring to a type of vermicelli.  Perhaps through an attempt to Sinicize the name, laksa has also become known in Chinese as làshā 辣沙 ("spicy-sandy", which some people explain as derived from its hot, gritty [because of the many shrimp heads and shells in it] quality). Since là 辣 has a final -t in the southern topolects that have preserved the entering tones, làshā 辣沙 is not a viable candidate as a source for the name laksa.
We have already seen that another use for 叻 is as an alternative designation for Singapore. Again, though, nobody knows for sure the derivation of the usage. Singapore (which comes from Sanskrit ["Lion City"], through Malay) used to be known as Shílèpō 石叻坡 (lit., "Stone-lak-slope"), which sort of sounds like "Singapore", so perhaps the usage of 叻 as an alternative designation for the "Lion City" is an abbreviation of that Chinese transcription. It is also claimed that Shílèpō 石叻坡 comes from the Malay term "selat" which means "straits", with the pō 坡 ("slope") serving to indicate a place name. I have my doubts about this because both 石 and 叻 have a final consonant (-k, -t, -g) in the southern topolects with entering tones, so 石叻 pronounced in the relevant southern topolects would not sound like "selat".
Regardless of its derivation, 叻 was a widely used Chinese designation for Singapore, as in the name of the Singapore newspaper called Lè bào 叻报. 叻 is also used to transcribe the Thai word "rath" meaning "state; country".
In the end, 叻 appears to be a highly versatile character possessing many meanings. In point of fact, 叻 — in and of itself — doesn't really mean anything. In all its many uses that I know of, it is used to convey the sounds of diverse morphemes from various languages. One might think that 叻, and other such transcriptional characters, would offer the possibility of evolving into a syllabary. Unfortunately, Chinese transcriptional characters do not indicate a specific, constant sound, but vary from topolect to topolect (and even within topolects) and from language to language. Thus 叻 is pronounced lè in MSM, lak6 lek1 lik1 in Cantonese, let8 lit8 | liak8 liag6 in Hakka, la̍t, le̍k in Taiwanese, rath when referring to Thai, roku ryoku in Japanese, sựt in Vietnamese, and there are countless other pronunciations in other topolects and languages. Clearly, relying on transcriptional characters like 叻 is not a workable path for the development of a phonetic script for China.
[Thanks to Geoff Wade, Bob Bauer, Yilise, Stephan Stiller, Caixia Liu, Fangyi Cheng, and Janet Williams]
---