« previous post | next post »
This fine instance of Saudinglish is found, together with other prime examples, in the following article: "Vous avez aimé le 'chinglish', vous allez adorer le 'saudinglish'!"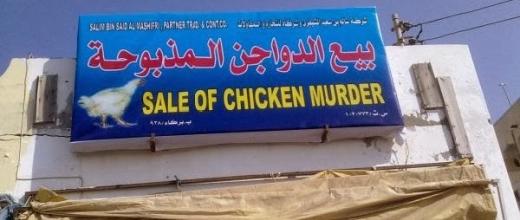 Roger Allen has transcribed and translated the Arabic on the sign as follows:
bay` al-dawaajin al-madhbuuhah
(double vowels in English for elongated vowels in Arabic).
the sale of slaughtered poultry
Perhaps Language Log readers familiar with Arabic will explain subtleties and nuances that are not immediately apparent to the non-specialist.
[Hat tip Nathan Hopson]
---