« previous post | next post »
The obituaries for the great comic Sid Caesar invariably mention his proficiency in "double-talk," mimicking the sounds (but not the sense) of foreign languages. (On the phenomenon of double-talk, see Mark Liberman's posts on yaourter here, here, here, and here.) It turns out that this was a talent Caesar had cultivated ever since he was a boy clearing tables at his father's restaurant in multi-ethnic Yonkers.

The New York Times:
He could seem eloquent even when his words were total gibberish: Among his gifts was the ability to mimic the sounds and cadences of foreign languages he didn't actually speak.
Some of Caesar's most popular bits were built around pompous or outlandish characters – such as Professor von Votsisnehm – in which he spoke in a thick accent or mimicked foreign languages in comic but convincing gibberish.
"He was the ultimate, he was the very best sketch artist and comedian that ever existed," [Carl] Reiner said of his friend. "His ability to double talk every language known to man was impeccable."
After his stint in Hollywood, Caesar returned to New York and landed a gig as the opening act for Joe E. Lewis at the legendary Copacabana nightclub. He performed in the Broadway revue Make Mine Manhattan, which featured "The Five Dollar Date," one of his signature pieces in which he sang, did sound effects and double-talked — using nonsensical utterances that sound like French, German, Japanese, Italian and other languages (in real life, he spoke English and Yiddish). […] At the 2006 TV Land Awards, he was presented with the Pioneer Award and performed his famous double-talk for more than five minutes.
One of his virtuosic double-talk performances is captured on YouTube — in the space of five minutes he moves from fake French to fake German to fake Italian to fake Japanese:
So how did Caesar get to be so good at double-talk? He goes into great detail in his memoir, Caesar's Hours: My Life in Comedy, with Love and Laughter: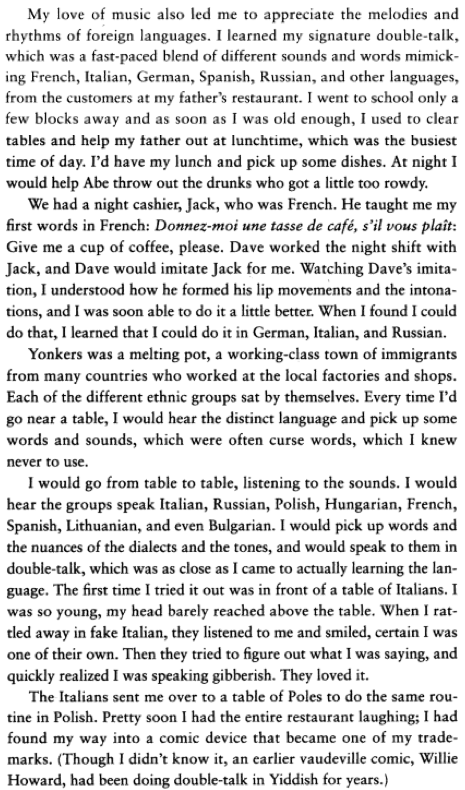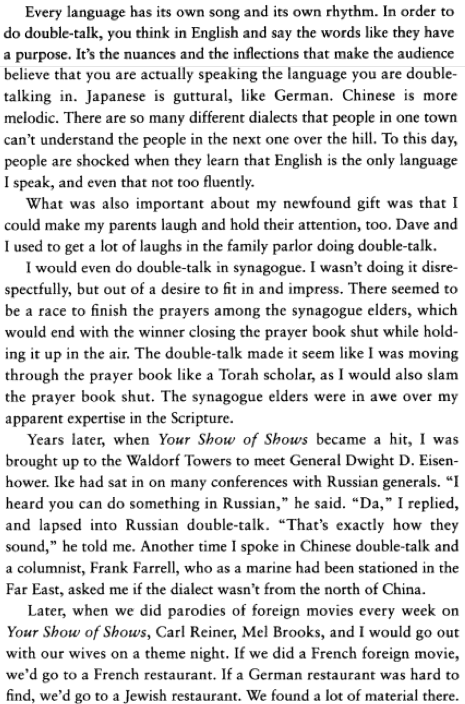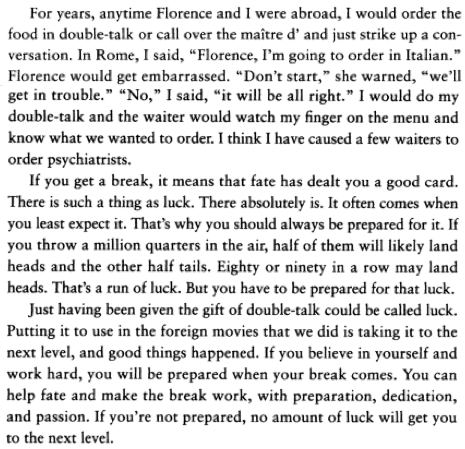 While I greatly admired Caesar's chops in double-talk, I always felt he was at his funniest when he said hardly anything at all.
---