« previous post | next post »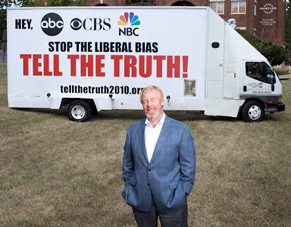 Jim Romenesko, "Brent Bozell urges liberal media to 'tell the truth,' while he fibs about writing a column", 2/13/2014:
The conservative Media Research Center often urges liberal news outlets to TELL THE TRUTH, but the Reston, VA-based press watchdog isn't telling the truth about its own leader: Brent Bozell doesn't write the syndicated column that appears under his byline. 
It is longtime MRC media analysis director Tim Graham who writes "almost everything published under [Bozell's] name," a former MRC employee tells me in an email. "That includes his weekly column. Same goes for his books, which at least carry Graham's name in a secondary billing, but also aren't written by Bozell (but Bozell keeps 80-90% of the advance and all profits!)"
Two other people with ties to MRC confirmed that Graham is Bozell's ghostwriter – and that Graham is not happy with the assignment.
"Tim just resents having to do it," says a former employee.
According to his Wikipedia entry,  L. Brent Bozell III is a graduate of the University of Dallas, which bills itself as "The Catholic University for Independent Thinkers", and has this to say about Mr. Bozell's authorship practices:
Plagiarism includes any act of claiming as your own the words or ideas of others. Whenever you take someone else's work and try to pass it off as your own, you are plagiarizing.  […]
It does not matter if the source is a friend or family member, a published critic or an anonymous webpage, a book, a journal article […] —if the original source of any of the ideas or words in your work is someone else, and  you do not cite that source, you are plagiarizing.
Romenesko reports some pushback of the "but everybody does it" variety:
I was advised to contact a third MRC employee who, I was told, would confirm Graham's ghostwriting duties. He did that, but defended the practice of "people signing off on agreeable words written for them." He asked me: "How many speeches has Obama written the last ten years? Should he have prefaced the State of the Union with 'My fellow Americans – I didn't write this?'"
I agree with this defense, to a certain extent. It's long past time for our society to have an honest conversation about honesty, honor, and authorship. We give students a clean, hard, harsh definition of plagiarism, according to which it's obvious that every politician and senior executive in the country is a plagiarist. Students, not being stupid, see this implicit contradiction — and therefore file anti-plagiarism strictures under the category of "irrational adult rules that I need to be careful not to be caught breaking, even though they have no moral or practical basis".
At least in the case of the equally-hypocritical rules about under-age drinking, we no longer pretend that alcohol is forbidden for everyone: it's just forbidden for most college students.
I agree that students should not be allowed to cut-and-paste their essays and research papers. And much more seriously, students should also be forbidden to hire others, or to have their parents hire others, to do their assignments for them. But rules of this kind make no sense in the absence of a discussion about why political speechwriters are nevertheless OK — or where the boundaries should be for columnists, historians, novelists, and so forth.
I know of one case where "a syndicated column that appeared twice weekly in 100 of the largest newspapers in the United States, with a combined circulation of 35 million readers", under the byline of a University president no less, was actually written by a series of poorly-paid graduate students. I don't know what the general practices in this area are, but it wouldn't surprise me to learn that many other long-running columns have been partly or entirely ghostwritten. However, it would surely surprise the readers of these columns, as the existence of Romenesko's scoop attests.
And that, I think, is the point. It would be bizarre for Jim Romenesko to write a piece revealing that Obama's speeches (or Rand Paul's speeches) are actually written by staffers. Everybody knows this, or at least assumes it. But everybody doesn't assume that Brent Bozell's column is actually written by one of his employees — that's why Romenesko's piece on the subject can exist.
It would be helpful (at least to teachers and students) if newspapers and magazines had clear, written policies on this issue. The policy might be "The columnists that we publish are brand names, not people, and the text that appears under their bylines may have been written by others, just as Aunt Jemima doesn't personally prepare the pancake mix and syrup sold under her name."
But this is surely not the way that most readers now think about about syndicated columns. Everyone knows that Aunt Jemima is a fiction, and that political speeches are written by speechwriters. But our current (probably naive) belief is that columnists actually exist and mostly write their own columns.
Earlier LLOG posts on related topics:
"Unwritten rules and uncreated consciences", 5/4/2006
"Plagiarism and restrictions on delegated agency", 10/1/2008
'The writer I hired was a plagiarist!", 7/13/2010
"Rand Paul's (staffers') plagiarism", 11/7/2013.
Update — For another set of domain-specific "plagiarism" issues in the news, see Dana Milbank, "Rand Paul and Ken Cuccinelli accused of stealing NSA lawsuit", WaPo 2/12/2014:
Sen. Rand Paul (R-Ky.) has been caught using purloined passages in several of his speeches. Now the aspiring presidential candidate stands accused of filing a lawsuit stolen from its author.
Since December, the libertarian lawmaker, a tea party favorite, had been working with former Reagan administration lawyer Bruce Fein to draft a class-action suit seeking to have the National Security Agency's surveillance of telephone data declared unconstitutional; the two men appeared together as early as last June to denounce the NSA's activities.
But when Paul filed his suit at the U.S. District Court in Washington on Wednesday morning, Fein's name had been replaced with that of Ken Cuccinelli, the failed Republican gubernatorial candidate in Virginia who until last month had been the state's attorney general.  […]
Fein, who has not been paid in full for his legal work by Paul's political action committee, was furious that he had been omitted from the filing he wrote. "I am aghast and shocked by Ken Cuccinelli's behavior and his absolute knowledge that this entire complaint was the work product, intellectual property and legal genius of Bruce Fein," Mattie Fein, his ex-wife and spokeswoman, told me Wednesday. "Ken Cuccinelli stole the suit," she said, adding that Paul, who "already has one plagiarism issue, now has a lawyer who just takes another lawyer's work product."
Back on the Bozell issue, this note from an acquaintance is relevant:
FWIW, I wrote a newspaper column for 15 years and knew a lot of other columnists, from conventions and listservs, and I think Bozell's write-for-hire would have been regarded as way outside normal behavior for columnists, and more normal (and accepted) from politicians and executives, who after all have other jobs.
Since Bozell is basically a political agitator/entrepreneur, perhaps this puts him on the "politicians and executives" side of the fence?
Update #2 (hat tip to Eugene Volokh) — Adam Serwer, "Rand Paul didn't plagiarize his NSA lawsuit", MSNBC 2/13/2014:
A spokesperson for RANDPAC forwarded an email from Fein denying Mattie Fein's allegations. "Mattie Lolavar was not speaking for me," Fein said in the email. "Her quotes were her own and did not represent my views.  I was working on a legal team, and have been paid for my work." Bruce Fein confirmed to msnbc that the email was from him.
This seems consistent with (what little I know of) the norms of legal drafting, where the people who file a lawsuit are not normally expected to have written all (or even any) of the text that makes it up. If that's an accurate view, then this is yet another area where the idea of "plagiarism" needs to be refined or modified or even eliminated.
Update #3 — More on the Bozell situation in Ben Jacobs, "Ex-Employees of Conservative Figure L. Brent Bozell Say He Didn't Write His Books or Columns",  Daily Beast 2/13/2014:
Employees at the MRC were never under any illusion that Bozell had been writing his own copy. "It's an open secret at the office that Graham writes Bozell's columns, and has done so for years," said one former employee. In fact, a former MRC employee went so far as to tell The Daily Beast: "I know for a fact that Bozell didn't even read any of the drafts of his latest book until after it had been sent to the publishers."
---