« previous post | next post »
A friend of Brendan O'Kane in Beijing posted this screenshot of the Chinese-localized interface for her new Jawbone UP fitness tracker (alarm function) on Weixin last night: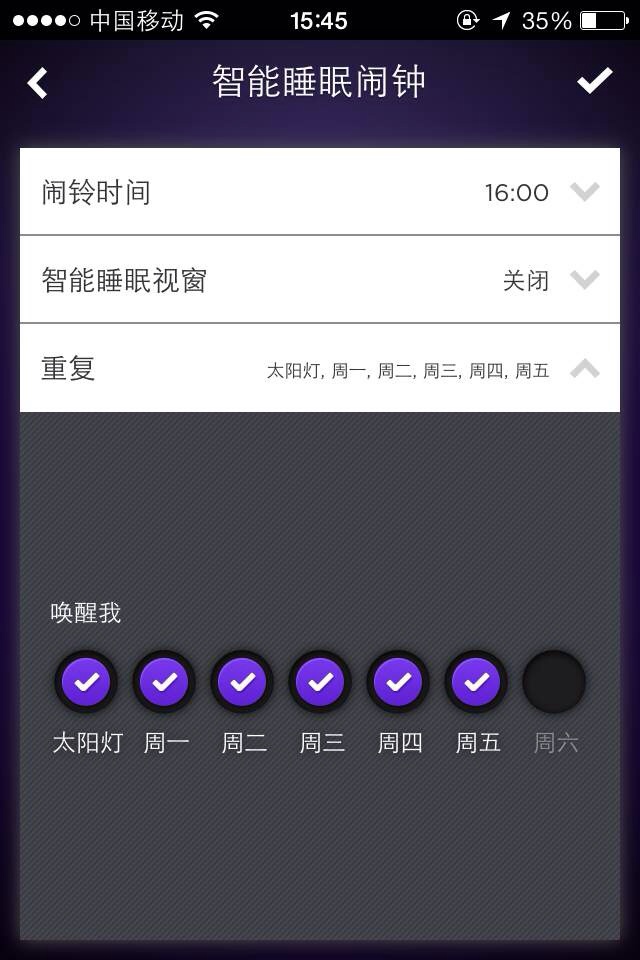 Somehow, somewhere along the way from English to Chinese, "Sunday" has become "sunlamp".
Here are the words I know for "Sunday" in Chinese:
Xīngqítiān 星期天
Xīngqírì 星期日
Zhōurì 周日
Zhōutiān 周天
Lǐbàirì 礼拜日
Lǐbàitiān 礼拜天
Zhǔrì 主日 (the day of the Lord)
Rìyàorì 日曜日 (used in ancient Chinese astronomy; cf. Japanese Nichiyōbi)
Ānxírì 安息日 (Sabbath; the day of rest)
Sēndí 森迪 (person's name)
Sēndài 森戴 (person's name)
But I've never heard of it being called tàiyángdēng 太阳灯 ("sunlamp").
As Brendan says,
I tend to assume that in most cases of bizarro translation, a robot is to blame — but I'm having a hard time imagining any situation, short of deliberate sabotage, that could result in a machine translation screwing up something as basic as "Sunday".
It is, of course, a fact of life that nobody wants to pay for translation — but as my friend noted, if Jawbone is charging 900 kuai – about $150! – for a piece of hardware, surely it can afford to get the days of the week right.
Followup: The traditional Chinese-localized interface has "星期日" for Sunday. Doesn't do anything to explain where they got "sunlamp" from, but it's another data point at least.
I should note that Brendan sent that to me under the subject heading of "Reverse Chinglish".
[Thanks to Fangyi Cheng, Rebecca Fu, and Jing Wen]
---