« previous post | next post »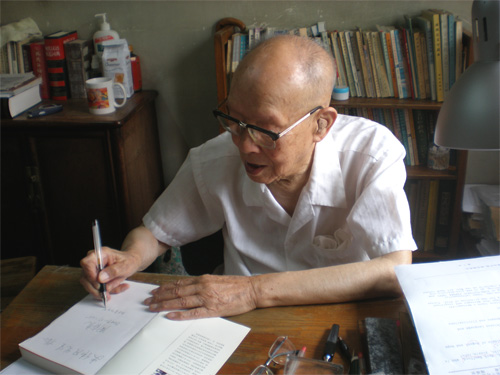 Zhou Youguang, the main architect and early advocate of Hanyu Pinyin (the official romanized orthography for Modern Standard Mandarin), had his 108th birthday yesterday.  Although I've been a close friend and admirer of Professor Zhou since 1981, I've never dedicated a Language Log post exclusively to him, so it's about time that I do so.

Mostly, this post will consist of pertinent links, but first just a few notes:
1. Zhou xiansheng (xs) still writes every day — sharp as ever.
2. He types (Pinyin inputting, of course) on a tiny Sharp typewriter that he helped design (uses floppy disks for storage).
3. He tells me that one of his secrets of longevity is to sleep whenever he feels like it and get up and work whenever he feels like doing so.
4. He still lives in the same apartment where I first visited him in 1981 and which is described by Peter Hessler in Oracle Bones.
5. Zhou xs was responsible for ensuring that the entries in the Chinese edition of the Encyclopaedia Britannica and the Zhōngguó dà bǎikē quánshū 中国大百科全书 (Great Encyclopedia of China) are in alphabetical order.  This, I believe, is a major achievement that eventually will have a monumental impact on the way Chinese view their own language.
6. One of the most dogeared books in his library is a volume published about 30+ (?) years ago listing (with short biographies) the most eminent linguists of China.  Every time I go to visit him, he pulls it out and shows me — year after year — that all the others have passed away.  Then he smiles and chuckles in his inimitable way, and says, "I wonder how long I'll last".  Whereupon I say, "There's no limit, Zhou xiansheng.  Just keep studying and writing and sleeping and studying and writing."
Here, here, here, and here are some earlier Language Log posts in which Zhou Youguang is mentioned.
Wikpedia article on Zhou xs.
Several posts about Zhou Youguang on Pinyin.info.
Characteristic article by Zhou himself dating to 1980:
"The Chinese Finger Alphabet and the Chinese Finger Syllabary"
Essay on Zhou xs in The World of Chinese.
Message from Zhou xs on the occasion of his 108th birthday.
Recent article by Zhou xs:
"To Inherit the Ancient Teachings of Confucius and Mencius and Establish Modern Confucianism."
This work, the two-hundred-and-twenty-sixth issue of Sino-Platonic Papers, can be downloaded for free from the journal's Web site at http://www.sino-platonic.org/
Direct link to this issue (it's a pdf).
Happy Birthday, Zhou xiansheng!  May you have many, many more!
---