« previous post | next post »
Paul Krugman, "You're all losers", NYT 1/13/2014:
The other day someone — I don't remember who or where — asked an interesting question: when did it become so common to disparage anyone who hasn't made it big, hasn't gotten rich, as a "loser"? Well, that's actually a question we can answer, using Google Ngrams, which track the frequency with which words or phrases are used in books:

Sure enough, the term "losers" has become much more common since the 1960s. And I think this word usage reflects something real — a growing contempt for the little people.
The ngram graph does indicate that the word "losers" increased in frequency in the last half of the 20th century, at least in published books. But it doesn't actually answer the question that Prof. Krugman asks, since "loser" can be used for many things besides disparaging someone who "who hasn't made it big, hasn't gotten rich".
There are literal or semi-literal losers in various sorts of competitions: games, sports, gambling, elections, court cases, awards:
The Spurs (losers to the Suns) were without injured starters David Robinson, Willie Anderson and Rod Strickland, and the Lakers (losers to the Blazers) were minus Magic Johnson (retired after testing HIV positive), James Worthy and Sam Perkins.
The Chicago Cubs, the lovable losers, are once again making a run at the playoffs.
But Haitians now have to rise to this opportunity to create a political system of local culture where violence isn't the solution to the problem, where the losers of elections are respected, as well as the winner, where the military is subservient to civilian power.
Asked whether he thought the loser of the California primary should withdraw, he replied: "That's a decision the loser would have to make."
We might then run the risk of not infrequent election of the loser of the popular vote, and it is a risk that may seem prohibitive.
Trading a diamond loser for a heart loser was a most profitable exchange. South was able to trump the next heart, keeping East from gaining the lead.
Hence, the honor roll supplements the valedictorian, and the quiz-show loser wins a Cadillac.
Russia can not hope to be anything but the loser in an all-out war.
The costs of litigation are notoriously high, especially the loser's side in an appeal.
The high court usually waits until the loser in such an action has had twenty-five days in which to ask for a rehearing.
There are literal losers of weight, money, and so on:
"I just decided this was going to be it," confided one successful weight loser.
The result was ownership of a group of smallish hospitals, none of them dominant in their market, some of them money losers, and many of them low occupancy in highly competitive urban markets.
Signing stars like Outfielder Richie Zisk to a ten-year, $2.9 million contract made a perennial money loser of the Texas Rangers.
There are good losers and bad losers and sore losers, none of whom are especially likely to be "little people":
"I like a gambling woman and a good loser," he says. "I like class in horses and women."
Accordingly, the battle is not over yet. Khrushchev is not the world's ideal of a good loser.
[That machine] isn't a good loser, and it isn't a bad loser. The damned thing doesn't even know it lost, and even if it did, it wouldn't care.
Andrew was delighted to find that besides being a braggart Charles was a liar and a bad loser.
So tonight we ask, are Republicans being sore losers, or simply serving their constituents?
There are people who are losers by virtue of being unpopular or unattractive or unhappy or generally denigrated, without any economic or social-class implications:
Cher is somewhat of a loser. She's lonely. She's unhappy. She's very miserable.
Actually, she'd never had a boyfriend. He'd probably think she was a loser if she said that, though.
Nerds all love it when there's a hot chick whom they know is one of them," says Family Guy creator Seth MacFarlane, who cast Kunis as Meg, the show's "frumpy, pathetic loser," as he puts it, more than a decade ago.
(The Family Guy character Meg is a useful case in point, since she's obviously in the same socio-economic class as the other members of her family.)
And finally, there are metaphorical losers who are simply worse off as a result of some change, and may not even be people:
He said that everyone would be the gainer if Mr. Nixon were successful — and that everyone would be the loser if Mr. Nixon were not able to come to grips with' the pressing problems of the day.
Whoever wins the great European struggle, liberty will be the loser.
In the rush to rebuild after the war, archaeology was usually the loser.
So to support Prof. Krugman's theory, we'd need to classify a sample of examples over time, and show that the increased frequency of "losers" really reflects "a growing contempt for the little people", rather than more writing about winners and losers in sports, gambling, politics, law, adolescent social clique formation, and so on.
I don't have time for that exercise this morning, but I'll sweeten the lexico-historical pot by observing that the plural "losers" has increased more than the singular "loser" has (multiplication by 10000 to turn percentages into counts per million):

The ratio between the frequency of "losers" and the frequency of "loser" has gone up from about 0.4 to about 1.4:

The data from the Corpus of Historical American English is noisier, but shows an even stronger overall increase in the frequency of both forms (blue 1s are the frequencies of "loser " by decade, red 2s the frequencies of "losers"):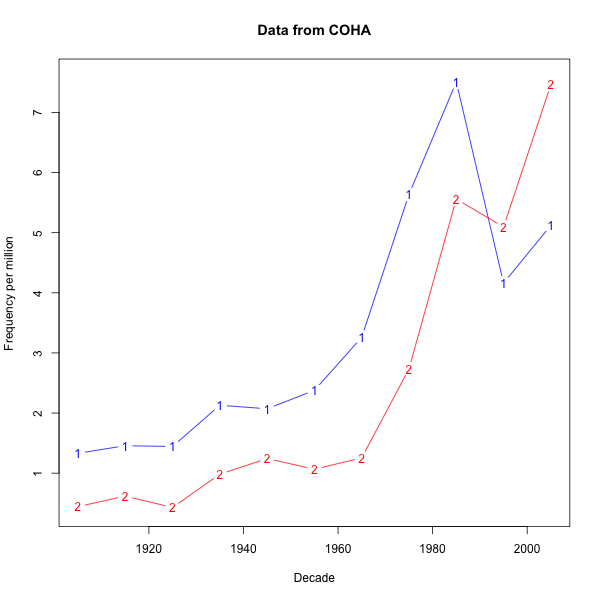 And a roughly similar increase in the plural/singular ratio: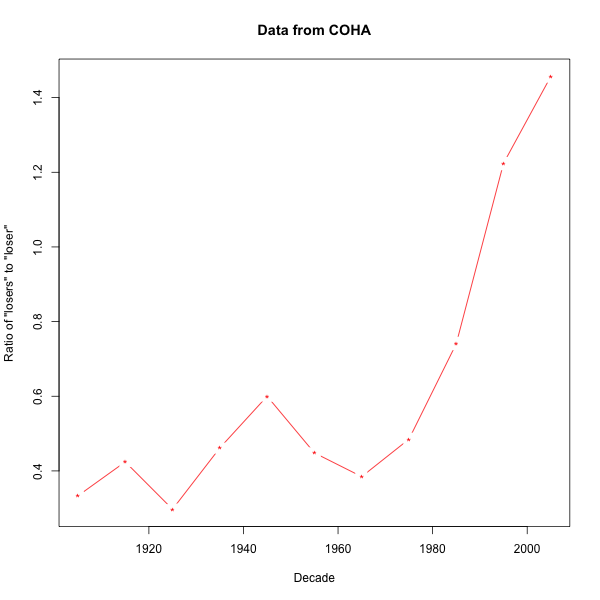 But does this really reflect "a growing contempt for the little people"? A quick glance at a random sample of "losers" examples from the past couple of decades suggests that even at the end of the change, the proportion of examples expressing socio-economic class prejudice is not large. What then accounts for the increased frequency of the word, and especially of the plural form? I don't know: more on this later.
Update — in a random sample of 100 instances of "losers" from COCA (out of 2719), I could not find any examples that really fit Krugman's story. There were several cases were the competition involved was in the arena of business, but where the losers in general were hardly "little people", e.g.
The idea of radically simplifying the tax system remains an orphan issue because (a) it's almost impossible to rejigger taxes without someone paying a little bit more, and the losers hire lobbyists; (b) all politicians love the game of making things happen with tax credits, because you get to be both a social engineer and a tax-cutter; and (c) it has tended to be a pet project of ideology-driven Republicans like Steve Forbes, whose real agenda was to cut taxes and starve the government.
Institutional investors, mutual funds and bank trust departments were among the biggest losers in Thursday's U.S. Surgical stock plunge
There are some others that might be made to fit, but seem to me to be more nonconformist losers than socio-economic losers:
In keeping with his past musicals animating the passions of the certifiably insane (" Anyone Can Whistle ") and mass murderers (" Sweeney Todd "), this songwriter gives genuine, not mocking, voice to the hopes, fears and rages of two centuries' worth of American losers, misfits, nuts, zombies and freaks.
---