« previous post | next post »
Sunday's Pearls Before Swine: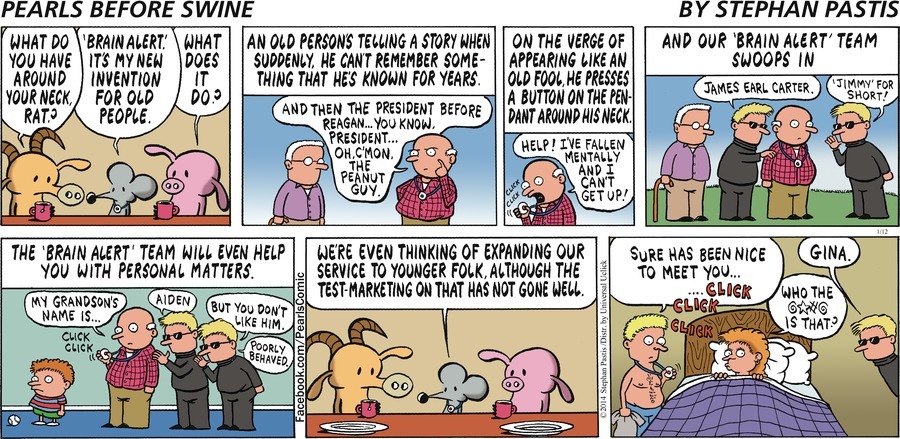 This strip illustrates a well-documented aspect of aging:
While it is clear that more people now live longer than ever before in history, it is less obvious that this is a blessing. In Greek mythology, Tithonus was the mortal lover of Eos, goddess of the dawn. Eos asked Zeus to make Tithonus immortal but failed to mention "eternal youth," dooming Tithonus to an eternity of physical and mental decay. The tithonean account of aging echoes loudly in the literature of the psychological and brain-sciences, which portrays adulthood as a protracted episode in mental decline, in which memories dim, thoughts slow, and problem-solving abilities diminish (Deary et al., 2009; Naveh-Benjamin & Old, 2008), and where researchers seem to compete to set the advent of cognitive decrepitude at an ever younger age (Salthouse, 2009; Singh-Manoux et al., 2012). Thus, although studies indicate that older adults are, on average, happier than younger adults (Charles & Carstensen, 2010), in the light of the foregoing, even this small crumb of comfort might be seen as further evidence of their declining mental prowess.
That's a quote from the start of a new paper by Michael Ramscar, Peter Hendrix, Cyrus Shaoul, Petar Milin, and Harald Baayen: "The Myth of Cognitive Decline: Non-Linear Dynamics of Lifelong Learning", Topics in Cognitive Science 2014. But as its title suggests, the paper argues that the conventional view is wrong, and the effects of aging on cognitive test results are mostly not the result of neural decay, but rather the consequence, put crudely, of knowing more stuff.
Their abstract:
As adults age, their performance on many psychometric tests changes systematically, a finding that is widely taken to reveal that cognitive information-processing capacities decline across adulthood. Contrary to this, we suggest that older adults' changing performance reflects memory search demands, which escalate as experience grows. A series of simulations show how the performance patterns observed across adulthood emerge naturally in learning models as they acquire knowledge. The simulations correctly identify greater variation in the cognitive performance of older adults, and successfully predict that older adults will show greater sensitivity to fine-grained differences in the properties of test stimuli than younger adults. Our results indicate that older adults' performance on cognitive tests reflects the predictable consequences of learning on information-processing, and not cognitive decline. We consider the implications of this for our scientific and cultural understanding of aging.
As I understand it, their model explains several otherwise-puzzling phenomena, including one that I discussed a few years ago in "Words and age", 12/23/2009. Roughly, if you probe word knowledge by asking people to go from words to meanings (as in typical vocabulary tests), average performance increases up to age 80, in the absence of dementia; but if you ask people to go from meanings to words (as in picture naming or category listing), average performance declines from the mid-30s on, with the decline accelerating through the 50s, 60s and 70s.
For those of us in increasing need of the Brain Alert Team, this a comforting theory. We're not getting slower and more forgetful, we're just getting more knowledgeable.
It's a whole new take on Too Much Information.
---