« previous post | next post »
One of the first things a student learns when studying Mandarin is the third person pronoun, tā. This was originally written 他 (with "human" radical), and it stood for feminine, masculine, and neuter — "he", "she", and "it". During the early 20th century, however, some bright folks — undoubtedly in emulation of European languages — thought it would be a good idea to introduce gender into the Chinese writing system, so 她 (with "female" radical) came to be used for the feminine and 它 (with "roof" radical) for the neuter. I always thought that rather odd, because no attempt was made to differentiate the three forms in speech, only in writing, hence 他, 她, and 它 were still all pronounced tā.
Well, it's not quite right to say that no attempt was made to differentiate the three forms in pronunciation, since there was a half-hearted effort to introduce yī for feminine and tuō for neuter, but it didn't catch on.
Beyond 他, 她, and 它, there are also 牠 (with "bovine" radical) for animals and 祂 (with "spirit" radical) for deities, etc. All of these were — and still are — pronounced tā.
In recent years, however, there has been an attempt to get rid of the gender distinctions for the third person pronoun and go back to a genderless stage. What is most curious, though, is the manner in which this is being done, namely, through Pinyin. Instead of 他, 她, 它, 牠, and 祂 — all pronounced tā — these are now being replaced by none other than "ta"!
As a specimen of how this is being done, let us look at this interesting notification from Rénrén wǎng 人人网 ("Renren Network" [rénrén means "everybody"]). Rénrén wǎng 人人网 ("Renren Network") is one of a few Chinese Facebook clones which have been more or less popular with younger Chinese.
Here is a screen shot of the notification from Renren: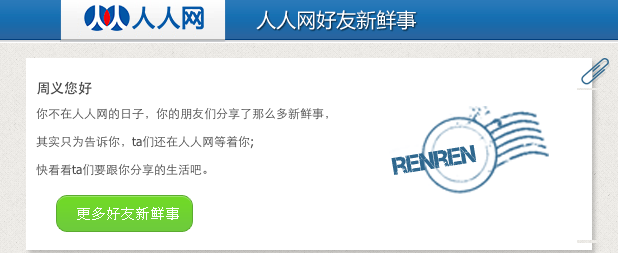 The pronoun "ta" (actually the plural "ta们" ["they"]), referring to your friends, occurs twice. Here's the first instance: ta men hái zài Rénrén wǎng děngzhe nǐ / ta们还在人人网等着你 ("they're still waiting for you on Renren").
The same usage was also in the subject line of the e-mail from Renren with the following formula:
X, nǐ de hǎoyou Y, Z hé nǐ fēnxiǎngle tamen de shēnghuó, kuài qù kànkàn ba / X, 你的好友Y、Z和你分享了ta们的生活,快去看看吧
("X, your good friends Y and Z have shared their life with you, hurry up and take a look").
In Taiwan, the gendered nǐ 你 ("you") (e.g., 妳) is also in evidence.
In any case, it is noteworthy that some native speakers feel the need to resort to using Pinyin in order to avoid indicating gender. My guess is that they do so, instead of simply junking all the concocted gendered forms of the second and third person pronouns and just going back to genderless tā 他 ("he, she, it") and nǐ 你 ("you"), because the characters seem somehow to be palpable and eternal. Once they come into existence, it is hard ever to let go of them. This is why dictionary makers and font designers have to contend with tens of thousands of characters, even though the vast majority are completely obsolete.
One final observation:  once again, this switch from 他 and 她 to "ta" mirrors / emulates the collapsing of "he" and "she" into "they" in English, about which so much has been written on Language Log.
[Thanks to Eric Pelzl]
---