« previous post | next post »
As used by the Chinese air force, according to a post on Twitter that Joel Martinsen sent to Brendan O'Kane, and Brendan relayed to me: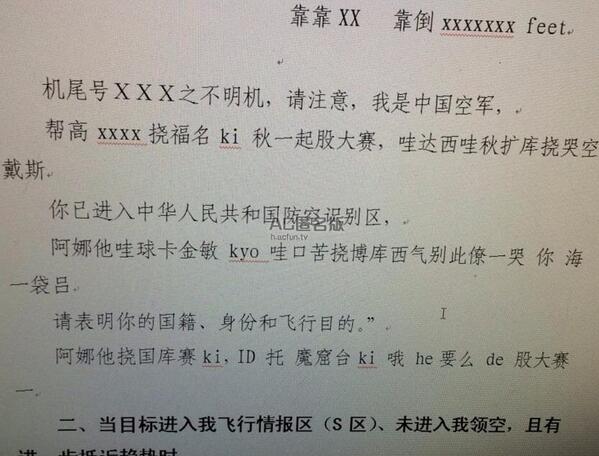 Before proceeding to an explanation of method and contents of the notification, I should mention that the context of this sort of warning is the recent Chinese government announcement of its claim to the entire South / East Sea, which brings it into direct conflict with over half a dozen other governments, and its even more recent unilateral establishment of an Air Defense Identification Zone (ADIZ) whereby it asserts the right to control whoever enters said ADIZ by whatever means it deems necessary (hint: we might shoot you down, or — for starters — we just might "bump" you, i.e., collide with you).
The Twitter thread cited at the beginning of this post has some back and forth between people about whether or not it's real. One wonders why the People's Liberation Air Force would require pilots to make these announcements themselves instead of using recordings, but stranger things have happened. Still, it seems doubtful that the hated Japanese have ever, once, been able to understand any of these messages — if this is genuine, that is. Indeed, it may be a joke along the lines of giving pūláigènánde 扑来个男的 ("a man comes a-pouncing") as a "pronunciation guide" for "pregnant."
Returning to the transcribed warning (the image alone is here), the top line in each pair is Chinese; the bottom line is an unbelievably clunky transcription of the Japanese words using Chinese characters, resorting to Romanization for pesky sounds like "ki," "kyo," "he," and "de." Kudasai ください ("please") is gǔdàsài 股大赛 ("crotch / thigh / shares of stock [great] competition"), which seems oddly appropriate here. I will not trouble to "translate" all of the Chinese transcriptions, but they are generally of this sort, or worse. If anyone wishes to "translate" the complete Mandarin transcription of the Japanese, they are welcome to it. I have one request, however: if you use any characters or kana, please include their romanization for the benefit of the vast majority of Language Log readers who do not read Chinese and Japanese.
I.
Jīwěi hào XXX zhī bùmíng jī, qǐng zhùyì, wǒ shì Zhōngguó kōngjūn,
机尾号XXX之不明机,请注意, 我是中国空军,
Bānggāo xxxx náo fúmíngki, qiūyī qǐ(te) gǔdàsài, wadáxi wa qiūkuòkù náo kūkōng dàisī.
帮高xxxx挠福名ki, 秋一起(te)股大赛, 哇达西哇秋扩库挠哭空戴斯.
II.
Nǐ yǐ jìnrù Zhōnghuá Rénmín Gònghéguó fángkōng shìbié qū,
你已进入中华人民共和国防空识别区,
Ānàtā wa qiúkǎ jīnmǐn kyowa kǒukǔ náo bókù xīqì biécǐ liáoyīkū nǐ hǎiyīdài (yi)lǚ.
阿娜他哇球卡金敏kyo哇口苦挠博库西气别此僚一哭 你 海 一袋(yi)吕.
III.
Qǐng biǎomíng nǐ de guójí, shēnfèn hé fēixíng mùdì.
请表明你的国籍,身份和飞行目的.
Ānàtā náo guókùsàiki, ID tuō mókūtáiki ó heyàome (shi)de gǔdàsài
阿娜他挠国库赛ki, ID 托 魔窟台ki 哦 he 要 么 (shi)de 股大赛
A Chinese citizen who knows Japanese fairly well comments thus on the quality of the transcription:
But actually there are many mistakes in the Japanese script, as well as some inappropriate use of words.
…It's so bad…
I'm shocked that the Chinese air force would be so careless with their words.
Given that the Chinese transcription is so execrable, it is not easy to render into proper Japanese, but here is a go at it:
Bangō XXXX no fumei-ki, chūi shi(te) kudasai. Watashi wa Chūgoku no kūgun desu.
番号XXXXの不明機、注意し(て)ください。私は中国の空軍です。
Anata wa Chūka Jinmin Kyōwa Koku no bōkū shikibetsu ryōiki ni haitte iru.
あなたは中華人民共和国の防空識別領域に入っている。
Anata no kokuseki, ID to mokuteki o hyōmei shite kudasai.
あなたの国籍、IDと目的を表明して下さい。
Both the Chinese and the Japanese may be roughly rendered into English as:
I.
Unidentified aircraft with the number XXX on its tail, please note: I am [a member of] the Chinese air force.
II.
You have entered the Air Defense Identification Zone of the People's Republic of China.
III.
Please indicate your nationality, identity, and purpose of your flight.
When I was in Leningrad during the bad old days of the Soviet Union, I was shown handbooks for policemen and KGB agents that were full of English written out in Cyrillic that sounded laughable, until I realized that it said things like "Put your hands behind your back so that I can handcuff you" and "Now step up into the paddy wagon."
[Thanks to Brendan O'Kane, Miki Morita, Karen Yang, and Nathan Hopson]
---