« previous post | next post »
Bob Ramsey sent in the following photograph of a portion of a Chinese restaurant menu (source; originally from engrish.com):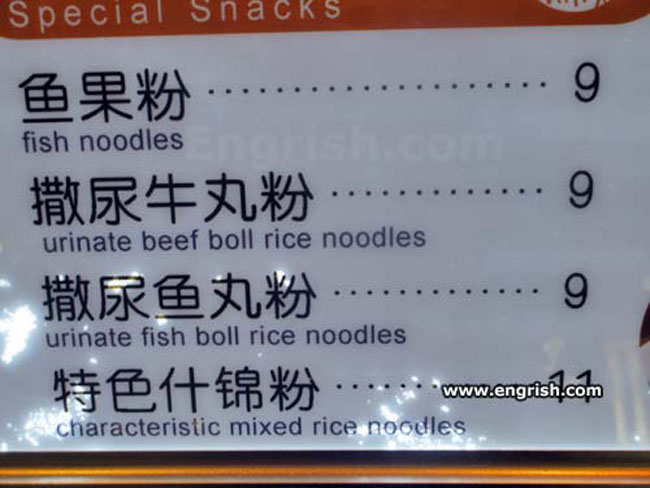 All of the English translations on this menu are problematic (or disastrous) in one way or another, and I will point out some of the main problems. The most spectacular fail, it would seem, is that we have to face the dire prospect of ordering rice noodles with "urinate beef boll" and "urinate fish boll". As will be shown, however, the translations of the names of these two dishes are closer to what the Chinese actually says than you might imagine.
First, a straightforward translation of each item:
yúguǒ fěn 魚果粉
("fish balls [?] with rice-flour noodles")
I honestly don't know what yúguǒ 魚果 (lit., "fish fruit") is. It's not something we normally encounter in MSM. At first I suspected that it might be Japanese, but I can't find it there either. In China, we do find some Rìshì yúguǒ 日式魚果 ("Japanese-style fish balls"), but — from the advertisements online — these appear to be packaged snacks, not the sort of dish that is on this menu. Since the term also shows up in Taiwan contexts, perhaps it is a Taiwanese expression, but I haven't been able to verify that.
The fěn 粉 in these recipes is mǐfěn 米粉 ("rice-flour noodles / vermicelli").
sāniào niúwán fěn 撒尿牛丸粉
("rice noodles with mantis shrimp and beef balls")
sāniào yúwán fěn 撒尿魚丸粉
("rice noodles with mantis shrimp and fish balls")
tèsè shíjǐn fěn 特色什錦粉
("rice noodles with special assorted ingredients")
Now, sāniào 撒尿 really does mean "urinate", but it is also short for sāniào xiā 撒尿蝦, more often called là(i)niào xiā 攋尿蝦, that is, the mantis shrimp. It gets its bizarre alternative name ("pissing shrimp") from a peculiar form of behavior that it exhibits when it is picked up.
From Wikipedia:
In Cantonese cuisine, the mantis shrimp is known as "pissing shrimp" (攋尿蝦, Mandarin pinyin: lài niào xiā , modern Cantonese: laaih niu hā) because of their tendency to shoot a jet of water when picked up. After cooking, their flesh is closer to that of lobsters than that of shrimp, and like lobsters, their shells are quite hard and require some pressure to crack. Usually they are deep fried with garlic and chili peppers.
In MSM, the mantis shrimp is called more prosaically xiāgū 虾蛄, but it has over a dozen other names, many of them quite colorful (and some of them slightly off-color!).
By the way, I am serious when I say that defense systems researchers, developers of armaments and weapons, and scientists who study vision should carefully examine the extraordinary characteristics and capabilities of the mantis shrimp (see several sections of this article). This is a living fighting machine.
My earthy Shandong friends used to say lāniào for "to piss" and lāshǐ for "to shit". Those expressions always sounded crude, if not vulgar, to me, and when I asked my friends to write them out, they always refused. Later, I discovered that the former is written as 拉尿 and the latter is written as 拉屎. Knowing how to write these expressions in characters didn't help make them sound any better to me, since they literally mean "to pull, draw out piss / shit". Those actions were hard for me to conceptualize until recently I saw my pet snail, Arnold, literally pulling a long string of poo-poo out of his anus (which is located near his neck) with his foot!
The sā 撒 of sāniào 撒尿 means "sprinkle; spill; scatter", while the là(i) 攋 of là(i)niào 攋尿 means "to clutch; to grab at; to rub or scrape; to tear; (Cant.) to leave behind, omit", hence I suppose one may think of it as "excrete". So far as I know, these usages for là(i) 攋 are found in Cantonese, Hakka, and Teochew (Chaozhou). When I hear là(i) 攋 used this way, it always make me think of the lāniào 拉尿 ("to piss") and lāshǐ 拉屎 ("to shit") of my Shandong friends, but they are probably separate morphemes.
Be all of that as it may, sāniào niúwán 撒尿牛丸 ("mantis shrimp and beef balls") is a famous dish which you can read about here and here. When you eat these delicious meat balls, you simply have to block out the surface signification of their name and try to think of the formidable shrimp that went into them.
[Thanks to Fangyi Cheng]
---