« previous post | next post »
I'm in Georgetown for a few days to meet with colleagues and do some research.  Shortly after I left my hotel and headed down Wisconsin Avenue toward the Potomac for a morning run, I stopped dead in my tracks when I crossed over the canal and saw this: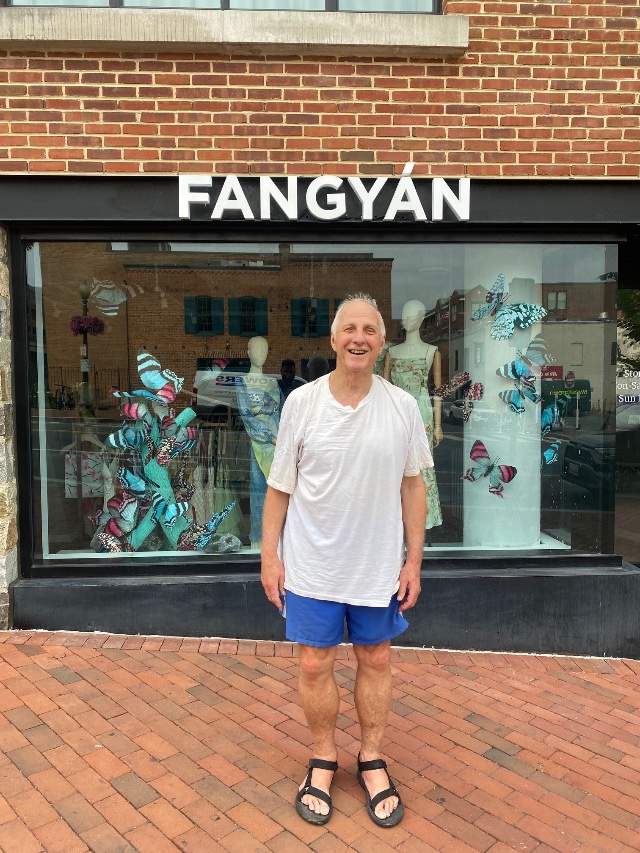 Especially with all the butterflies in the window, I thought I was dreaming.  Since they describe themselves as a "high-end clothing brand inspired by Asian culture" (source), I wondered, could they possibly have fāngyán 方言 ("topolect" — they even went to the trouble of putting a second tone mark on the second syllable) in mind?
Upon investigating further, it turns out that they really did:
FANGYÁN 方言 (fāng yán) is a brand and US-based multi-label retail e-commerce. The name is inspired by the language diversity in China, paying homage to the brand's aim of curating pieces from all around the country.
FANGYÁN is translated as "dialect", meaning a variety of Chinese languages.
It is a representation of the country's melting pot culture where chaos meets order. In this context, FANGYÁN arises in its true colors, as a fashion project that delivers not only great designs but actively plays a role in this trend of redefining what China actually is to a new and curious global audience.
(source)
That put a spring in my step!
Selected articles
[Thanks to Ameen Shallal for the photograph]
---