« previous post | next post »
Readers of Language Log will be thoroughly familiar with "topolect", since it is one of our regular categories (see, for example, here, here, here, here, here, and especially here).  Imagine my delight when I received from Neil Kubler the following photograph of a label in an ethnographical museum in China: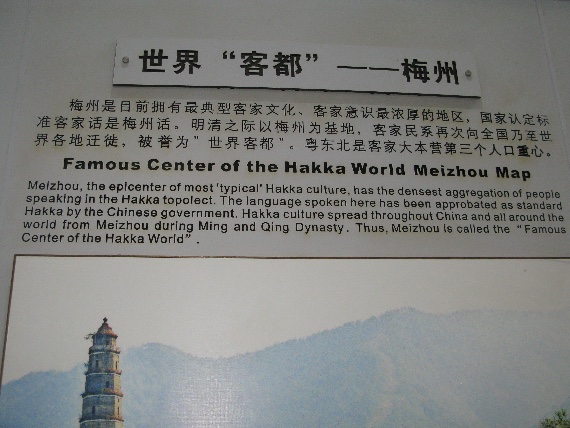 An initial note from Neil:
At the Hakka Culture Museum in Meixian that I visited one morning they have a large display showing different Hakka (sub)dialects; and in the English version they use the word "topolect" that you first created and popularized. So topolects have made it to China!
Another, later note from Neil:
I have to admit, I was (pleasantly) surprised to see the word "topolect" staring me in the face 10 days ago at the Zhōngguó Kèjiā bówùguǎn 中國客家博物館 HAKKA MUSEUM OF CHINA in Meizhou, Guangdong Province. I'm genuinely curious as to how it got there. Perhaps one of your students, or a student of a student, eventually returned to China and began using or spreading it?
We all know, of course, why it's the Zhōngguó kèjiā bówùguǎn 中國客家博物館 HAKKA MUSEUM OF CHINA and not just the Kèjiā bówùguǎn 客家博物館 ("Hakka Museum"). The same reason why one of my favorite Southern Min dictionaries published by the Maryknoll Fathers in Taichung, Taiwan is titled the Zhōngguó Mǐnnányǔ Yīngyǔ zìdiǎn 中國閩南語英語字典 (China Southern MIn-English Dictionary), though the English title is merely Amoy-English Dictionary.
Three cheers for topolects.
I'm all the more intrigued that the word "topolect" on the Hakka Museum label occurs not as a direct translation of fāngyán 方言, which it was designed to render with exactitude into English, but as the equivalent of Kèjiāhuà 客家话 ("Hakka [language]") (the translation of the Chinese into English is not an exact one-for-one rendering, but more of a loose paraphrase).  Indeed, the word fāngyán 方言 doesn't even appear on the label at all, which is fine by me.  Instead, the only other linguistic term on the label is Méizhōu huà 梅州话 ("Meizhou speech").  This indicates all the more that "topolect" has been indigenized in Chinese English, at least as it is used in Meizhou, and is not viewed simply as a makeshift equivalent of fāngyán 方言.
A couple of earlier posts on Hakka language and people:
---