« previous post | next post »
[This is a guest post by Jichang Lulu, with some minor modifications and additions by VHM]
You might have seen this — the PRC embassy in Poland has given Badiucao's forthcoming exhibition in Warsaw (coorganised by Sinopsis) some very welcome, completely unexpected publicity by trying to have it shut down. Lots of international reporting:
The Guardian, Sydney Morning Herald, &c., &c.
The 'cannibalistic' theme (picture below [with Badiucao standing next to the poster featuring his art] via the Sydney Morning Herald):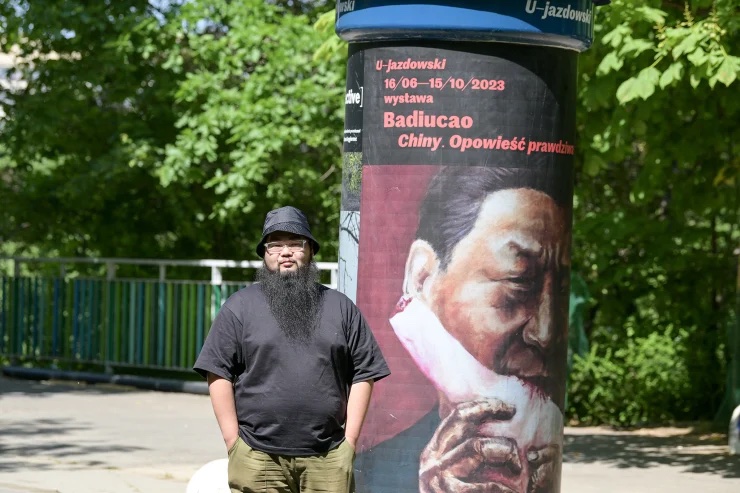 of course alludes to Cronus eating his sons, as in Hesiod:
καὶ τοὺς μὲν κατέπινε μέγας Κρόνος, ὥς τισ ἕκαστος
νηδύος ἐξ ἱερῆς μητρὸς πρὸς γούναθ' ἵκοιτο,
τὰ φρονέων, ἵνα μή τις ἀγαυῶν Οὐρανιώνων
ἄλλος ἐν ἀθανάτοισιν ἔχοι βασιληίδα τιμήν.
— or as in the recent-ish verse translation by Schlegel and Weinfeld:
But these the mighty Kronos swallowed up as soon as from
Out of their mother's holy womb each toward her knees would come,
Deeming that no one else but he, of those who dwell on high,
Should hold the rank of king among the gods who never die.
— which is remarkably literal: the two arguable licenses (the insertion of 'gods' and 'those who dwell on high' for the original ~'the Sky's noble descendants') cancel each other, as it were, to the extent they let one nitpick at all.
The same passage in Schirnding's also fairly literal hexameters, for the lulz of it:
Alle verschlang sie der mächtige Kronos, kaum daß ein jeder
aus der heiligen Mutter Schoß seinen Knien genaht war.
Keiner, so sann er, von allen erhabenen Uranionen
sollte unter den Göttern die Königswürde besitzen.
Yummy at the moment perhaps, but it doesn't end up terribly well for Cronus, which is presumably why the embassy didn't appreciate it. Ironic isn't it, since one could say Xi himself has his own rhymed version of the passage, for which see the remarkable Rubao Remix in this post, "Xiist music" (2/25/20 — with a lengthy bibliography focusing on Xi's linguistic gaffes):
chībǎo le méishì gàn,
qiánsuǒwèiyǒu de tiǎozhàn!
shān zàigāo ,wǎngshàng pān,
jīnhòu dōuděi lā qīngdān。
吃饱了没事干,
前所未有的挑战!
山再高,往上攀,
今后都得拉清单。
"eating too much then idle around
an unprecedented challenge
the mountain is high, continue to climb
someday you will all be liquidated"
(translation from the subtitles)
Detail from the poster: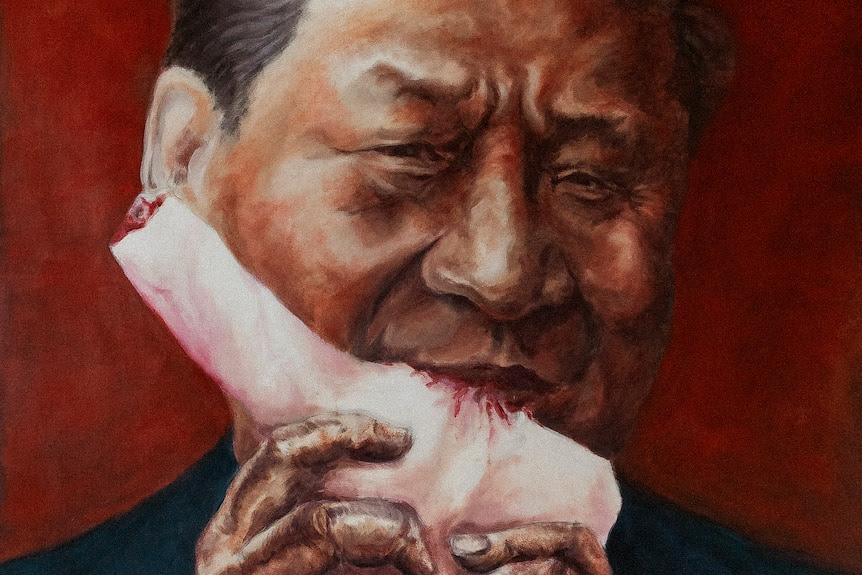 What's going on here?
At first I thought he was biting into a rat's head attached to a duck's neck, all cloaked in white, but then I realized that Badiucao's theme here is based on Francisco Goya's (1746-1828) famous "Saturn Devouring His Son":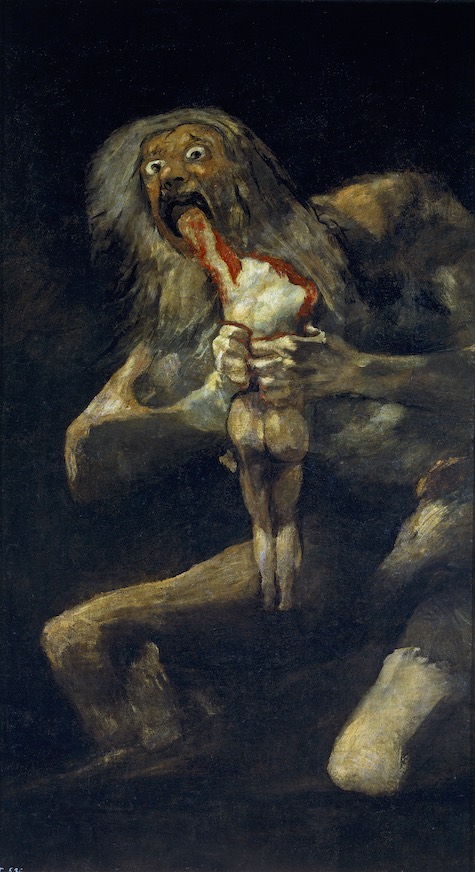 (source)
The play on Goya's painting has been a common theme in Badiucao's work for some time. In 2017 the allusion to Goya was clearer, as seen in his "Self-determination for Catalonia":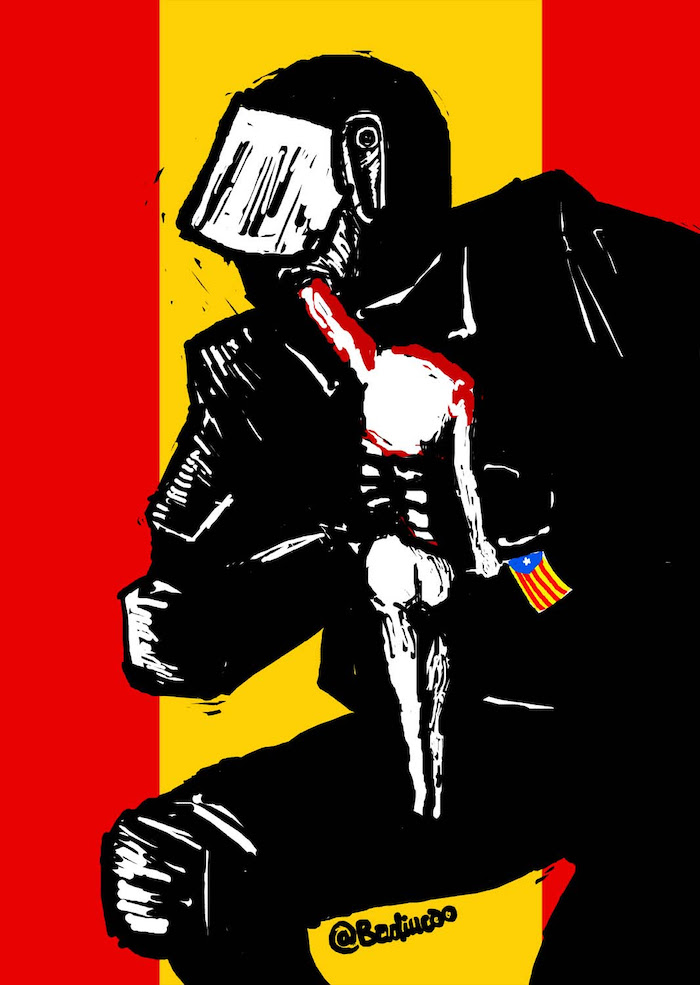 Original caption: The painting Saturn by the Spanish artist Goya.
Cartoon: Badiucao.
As seen through this link, Goya himself made an earlier drawing on the same theme — Time devouring men, thus explicitly following the common (folk-etymological) connection of Saturn / Cronus (Κρόνος) to Chronos (Χρόνος).
Selected readings
---