« previous post | next post »
As we have pointed out countless times on Language Log, if one wishes to learn a Sinitic language, one can concentrate on the characters (writing system), one can rely exclusively on romanization or other phoneticization, or one can devise various means for combining the two approaches.  Here is a clever, fun method for learning Cantonese that tackles the problem head on.
Hongkonger creates colourful Cantonese font to foster language learning
Jon Chui's new font shows coloured, context-sensitive jyutping for Chinese text. He created it as his partner "had a hard time with the tones" when learning Cantonese.
Mandy Cheng, Hong Kong Free Press (5/16/23)
Jon Chui "has created a new Cantonese font, which combines over 8,000 characters with colourful, Romanised pronunciation guides in order to foster language learning and teaching."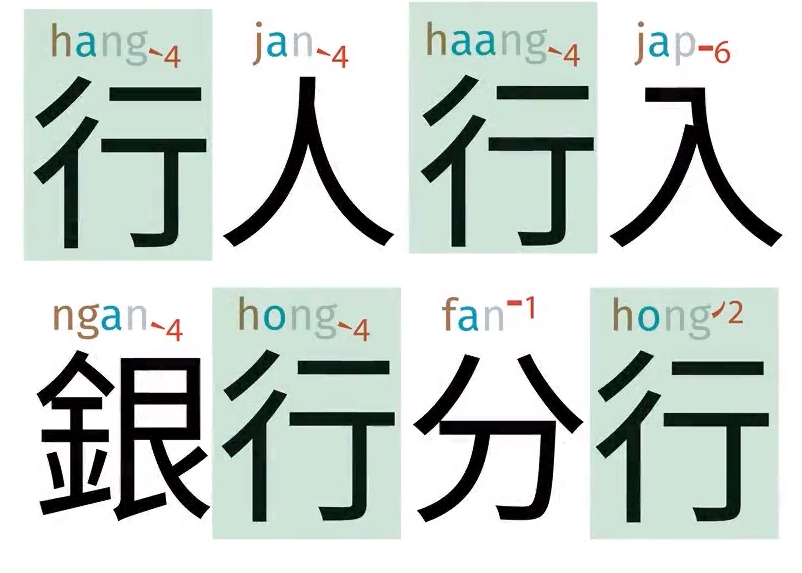 Cantonese Font. Photo: Jon Chiu.

"Initially I just wanted to do this because my wife is Argentinian and I tried to teach her Cantonese," said Jon Chui. "She had the hard time with the tones."
…
Chui told HKFP that the biggest problem when learning Cantonese is mapping different pronunciations to characters: "It is difficult for people to think about how Cantonese has one character that maps to many sounds."
Cantonese is a Chinese language with a complex series of tones – there are six lexical tones and three allotones in Hong Kong Cantonese.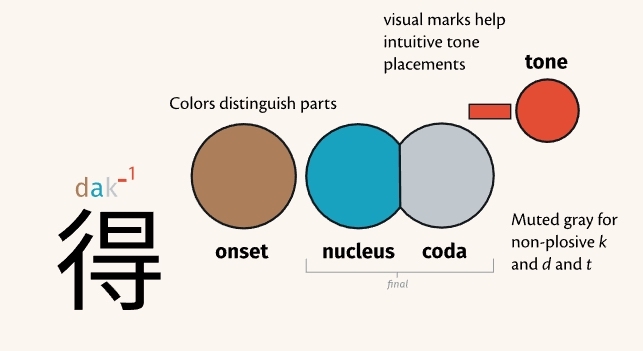 To deal with the issue of tones changing in different contexts, Chiu set the most common pronunciation as the default tone for each character. When the character is followed by a specific character to form a special word, the pronunciation guide will automatically change.
The pronunciation is shown in Jyutping, a Cantonese romanisation system. The jyutping is coloured to distinguish different parts of the pronunciation including the onset, nucleus and coda.
There are visual markings to show tone placements, and the font also includes a Hong Kong oriented mini-dictionary feature, which translates English into Chinese as users are typing.
…
Romanisation 'gives clarity'
"It's really great to see more tools that support Jyutping romanisation," Maggie Holmes, the co-founder of NGO Chinese as an Additional Language Hong Kong, told HKFP on Wednesday.
"Learners of Chinese as an additional language need romanisation because it gives us clarity about how to pronounce each character," said Holmes, whose organisation supports students studying Chinese in Hong Kong.
However, she had some reservations about "plastering Jyutping indiscriminately above long chunks of Chinese text," as it can be difficult to focus on the characters. Nevertheless, she added that using Jyutping is still vital when new vocabulary is being introduced.
I can't vouch for how successful and efficient Jon Chui's Canto Font is in producing Cantonese learners who are comparably competent in speech and writing of this Sinoglyphic language, but at least he has given the matter serious thought and come up with an ingenious system.
Selected readings
[Thanks to Don Keyser]
---