« previous post | next post »
This is a clever attempt to write a spring couplet (chūnlián 春聯), not in the usual Sinoglyphs / Chinese characters, but in pictographs: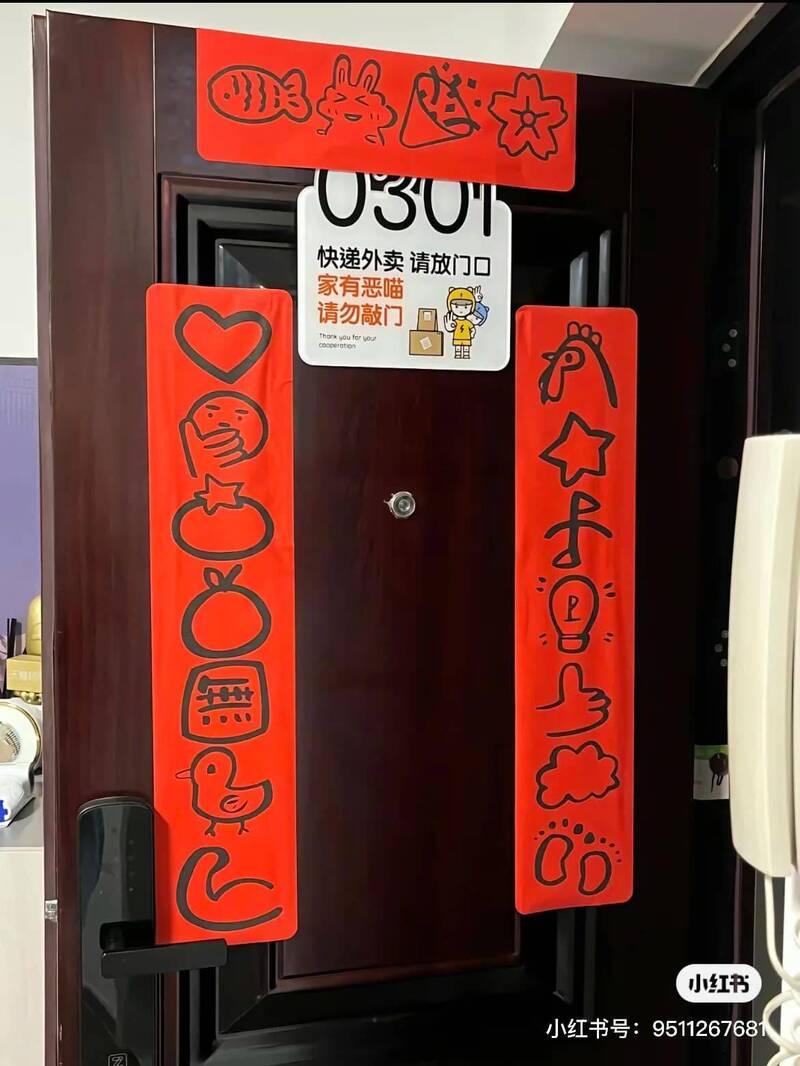 (source)
I could figure out about half of the character equivalents (rebuses and puns) quickly just from the pictures, most of which are deftly chosen.  Below I present first the horizontal scroll at the top, then the right and left vertical hangings in romanization, characters, English meanings syllable by syllable, then English translations of the three components.
yùtù yíngchūn
jíxīng gāo zhào hǎoyùn dào
xīn xiǎng shì chéng wú yālì
玉兔迎春
吉星高照好運到
心想事成無壓力
fish rabbit welcome flower
chicken star tall shine good cloud feet
heart think persimmon orange nothing duck strength
——
(May the) jade rabbit welcome spring,
An auspicious star (from on) high shine good fortune to arrive,
The things we think of in our heart be achieved without any pressure.
Of all the symbols, the lamest is the one for "nothing", which is a real cop-out, simply using the character wú 無, which means "nothing".
So now I must ask, why is it so hard to depict "nothing" (they could perhaps have drawn an assemblage of five objects for the near homophone wǔ 五)?
The abstract idea of "nothing" is hard to depict in a morphosyllabic script like Chinese, so the devisers of the oracle bone script borrowed the glyph for "dance" to stand for the homophonous "there is not; nothing").  Later, to distinguish the latter meaning from "dance", they invented another character by adding a component at the bottom, thus wǔ 舞. 
There are several other characters used to convey the notion of "nothing" (wú 无,  wáng / wú 亡, líng 零, líng 〇), but the story of how to depict "nothing" in writing is much more complicated than just listing these characters, because most of them are also used as particles for grammatical negation or have other meanings such as "scattered", were adopted / adapted relatively late, etc.. 
Selected readings
[Thanks to Chau Wu]
---