« previous post | next post »
The following photograph was taken by Matt Marcucci in the throne room of the Forbidden City in Beijing. The two large characters on the plaque over the throne constitute the famous dictum of the Taoists: WU2WEI2. This is usually translated as "inaction" or "non-action," but more highly nuanced and fanciful translations such as "nonpurposeful action," "effortless doing," etc. are also to be found.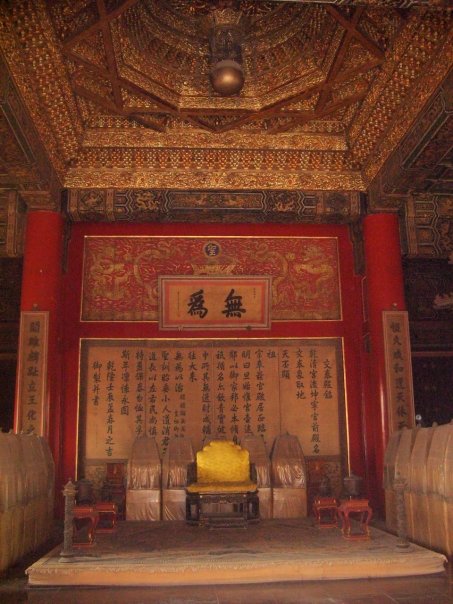 A curious, contradictory aspect of this Taoist Golden Rule was pointed out by the great 20th-century Chinese author, Lu Xun (1881-1936), who wrote the following in chapter 3 of his Han wenxue shi gangyao (An Outline of Chinese Literary History): "Lao Zi's words are inconsistent. He warned against prolixity, yet from time to time he gave vent to indignant words; he valued non-action, yet wished to rule all under heaven."
The grammarians argue over whether this is an injunction ("do nothing") or a negative declarative sentence ("there is no action"). It is normally rendered in English as a noun. Regardless of the part of speech, WU2WEI2 has had an enormous impact on Chinese thought for the past two millennia and more.
In the Afterword to my Bantam translation of the Tao Te Ching / Dao De Jing, I pointed out a number of Sanskrit terms (e.g., AKRTA [non-action], AKARMA [inaction], NAISKARMYA [freedom from action or actionlessness], KARMANAM ANARAMBHAN [noncommencement of action] — diacriticals omitted here), especially numerous in the Bhagavad Gita, that mean essentially the same thing as WU2WEI2. The Indian notions, while equally subtle and elusive, are quite different in their moral implications. Whereas the Taoist concept is both ethical and socio-political, the Hindu complex of ideas is metaphysical and existential.
---