« previous post | next post »
[This is a guest post by Bob Ramsey]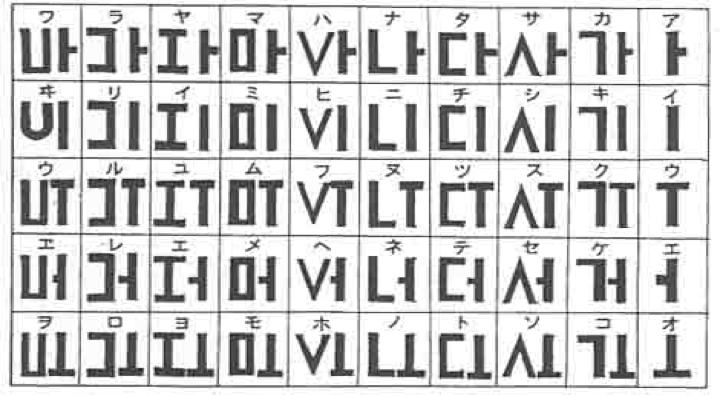 Writing from the Age of the Gods (Jindai moji)
Writing was a problematic issue for Japanese nationalists.
Why is all Japanese writing derived from Chinese characters, many wondered. Why did we Japanese not invent writing ourselves? Why, they asked, were we not already writing with our own letters when Chinese characters reached our shores?
During the Tokugawa period, these questions haunted nativists. If, as they fervently believed, the Japanese people were by nature superior to the crafty Chinese, well then, how could Japanese have been reduced to borrowing something so important from the Chinese?
These frustrated nativists had noticed something that piqued their interest, though. In the 13th-century, a historian named Urabe Kanekata had written of an ancient Japanese writing system that had been a gift from the gods. He wrote: "The masters of old have taught us that Chinese characters reached our kingdom during the reign of the Emperor Ōjin (r. 270-310 [trad.]); [but] the origin of Japanese letters was [far earlier] in the age of the gods…"
A script like that was just what the nativists longed for. But…where were those sacred Japanese letters now?
With what could only be called religious passion, Japanese nativists and nationalists searched the archives of temples and shrines for the holy letters, and, in the end, they "discovered" at least a dozen varieties of exotic writing presumed to be in indigenous Japanese scripts.
One of them is shown in the above photograph.
The result was that these jindai moji were taught during the height of Japan's nationalism before World War II and cited in Japanese scholarly books on the history of writing. Some "patriots" even had them inscribed on their tombstones!
Of course, all of these 'ancient Japanese letters' were complete fakes, and provably so, since the language they transcribed did not have the structure of Old Japanese at all, but rather that of the modern language. Today, whenever jindai moji are mentioned, their fake origins are usually pointed out.
And yet, there remains a particularly bitter irony in nationalists' use of these writings to prove Japanese superiority. That's because many, perhaps even most, of the so-called 'Characters from the Age of the Gods' were in fact copies of Korean writing—including those seen in the photograph, above. This particular chart of sacred letters is actually nothing more than an attempted pronunciation guide for Hangul letters!
---