« previous post | next post »
Michael Robinson sent in this photograph of a strip mall in Flushing Meadows taken by Spencer Kiser and posted on Flickr: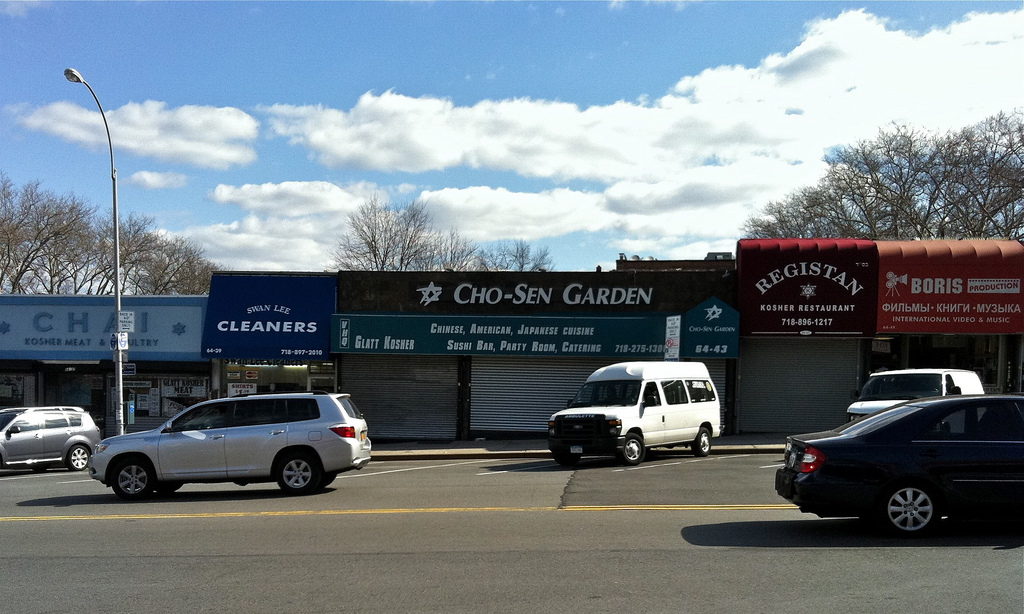 Underneath the photograph, it says: "The puns run thick on 108th St. Kosher Chinese / American / Japanese place on the way to the zoo." But the name of the restaurant makes me wonder whether the proprietors might be Korean or might at least want to evoke a feeling of Koreanness. "Chosen" (Joseon, Chosŏn, Choson, Chosun) 朝鮮 is an old name for Korea. The spelling "Chosen" indicates the Japanese name for Korea when it was under imperial Japanese rule.
"Chosen" 朝鮮 is usually understood as meaning "Morning Calm", but as S. Robert Ramsey has shown (see the second paragraph here), the two characters used to write the name cannot possibly have that interpretation. Instead, in this Chinese transcription, they were undoubtedly being used as phonograms to represent the sounds of a native Korean name, the meaning of which is no longer known.
Be that as it may, it would seem that the word was hyphenated as the name of this restaurant to avoid confusion with the English word "chosen" (which would be particularly salient in this Jewish neighborhood) and perhaps also to make it somehow seem more "Oriental".
Next door is the Registan restaurant. Registan is the name of the impressive public square in the heart of the ancient city of Samarkand, Uzbekistan, so I suppose it serves Middle Eastern or Central Asian food. Moreover, it seems that the Star of David on the sign above the Chinese-American-Japanese restaurant has been drawn to look as though it were a Chinese character.
At the far left of the photograph is a shop selling meat and poultry. All three of the establishments in this strip mall that sell food, including the Chinese and Islamic (?) restaurants, advertise that they are kosher.
---