« previous post | next post »
Photograph taken by Yuanfei Wang in Baihou Town 百侯镇, Tai Po 大埔, Guangdong Province: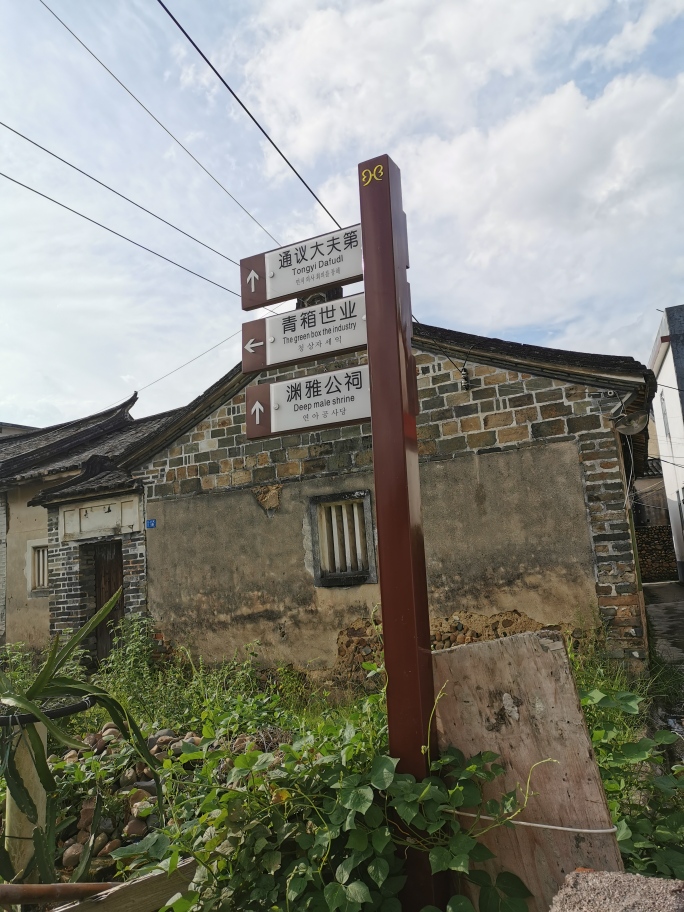 The sign at the top points the way to a famous former residence of Qing Dynasty (1644-1912) officials:
Tōngyì dàfū dì
通议大夫第
"Residence of the Grand Master for Thorough Counsel"
The second sign reads:
Qīngxiāng shìyè
青箱事业
"[House of a family that was] bookish for generations."
This requires some unpacking.  "Green bookcases" (qīngxiāng 青箱) refers to chests in which books are collected and stored. Unlike its usual contemporary meaning, "shìyè 世业" is not an industry, but family property handed down through generations. Thus qīngxiāng shìyè 青箱世业 indicates that it is a family which has led a scholarly life for generations.
The bottom sign reads:
Yuānyǎ gōng cí
渊雅公祠
"Shrine to His Honor Yuanya ('Profound and Elegant')"
According to Tong Wang, this shrine was built in memory of a local official and celebrity named Yang Peide 杨培德, whose posthumous title is Yuanya 渊雅, by his descendants.  In other words, it is the memorial hall of Honorable Yuanya.
Haewon Cho comments about the Korean on the signs:
Unfortunately, I was not able to read the first sign (too blurry to make out when I enlarged it), but I could read the second and third signs, 청상자 세익 (Cheong Sang Ja Se Ik) and 연아공사당 (Yeon A Gong Sa Dang).
They do not make sense in Korean and it seems they are the combination of the readings (Korean pronunciation) of the Chinese characters and the translation of the English signs.
2nd sign: Reading 청상세익 (Cheong Sang Se Ik) + 상자 (Sangja = box)
3rd sign: Reading 연아공사 (Yeon A Gong Sa) + 사당 (Sadang = shrine)
Tourists who come to this area better have a guidebook ready to hand to help them interpret the signs.
---