« previous post | next post »
From Becki Kanou: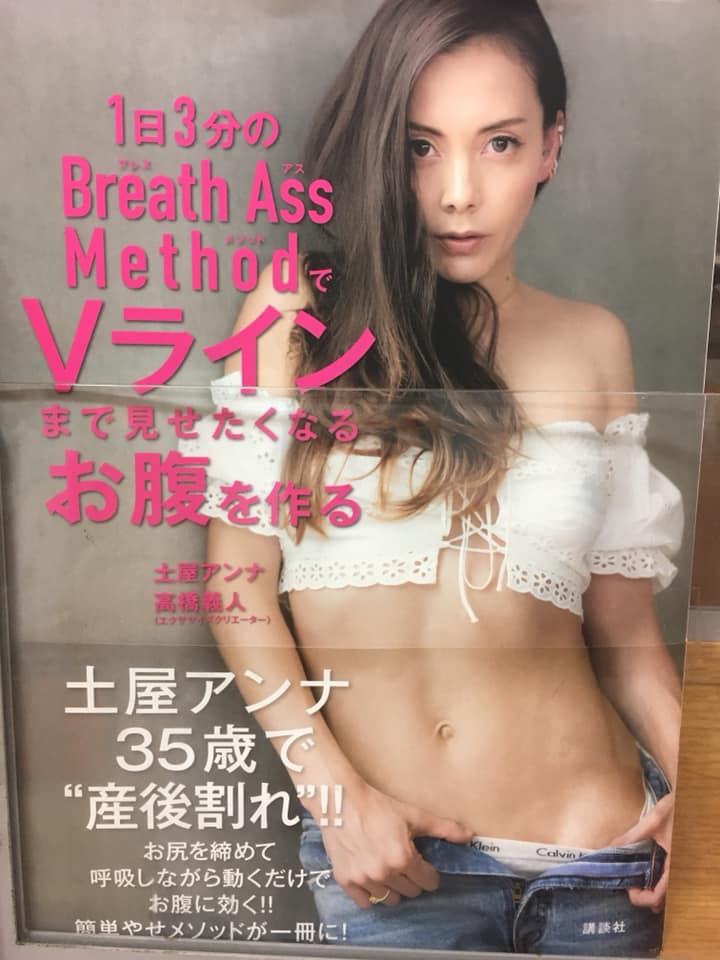 Explanation from Nathan Hopson:
Cover of a book [in Japanese] that is being sold on Amazon. The difference between the two photos (above and in the Amazon link) is that the one Becki provided has the obi (I don't know what that is in English, and Wikipedia only notes that it's sometimes called a "belly-band" in English, which is more a term I associate with keeping your pet dog from peeing on the carpet — but I digress).
The pink reads:
1-3. With the 3-minute daily Breath Ass Method
4-6. Make a stomach you'll want to show off even your V-line*
1日3分の
Breath Ass
Methodで
Vライン
まで見せたくなる
お腹を作る
Ichinishi sanpun no
Breath Ass
Method de
V-rain
made misetakunaru
onaka o tsukuru
*V-line: I posted before that letters of the alphabet are commonly used to describe shapes in Japanese. The V-line is the "bikini line," which is why she's showing it off. This is one of several alphabetic euphemisms to describe parts of the female body that are variously hidden, shown, depilated, etc. The Google Image search is more or less SFW, though you might have a hard time explaining it….  The clearest — ergo least SFW explanation — might be this one.
Anyway (I digress again)…
The last two lines are the names of the author and cover model, Tsuchiya Anna (土屋アンナ) and the "exercise creator" Takahashi Yoshito (高橋義人).
Tsuchiya is a bit of a "bad girl" type, and one of the early successful ハーフ ("half-Japanese") celebrities in contemporary Japan. Her English-language Wikipedia entry opens with this amazing bio:
Anna Tsuchiya (土屋 アンナ Tsuchiya Anna, born March 11, 1984) is an American Japanese singer, actress and semi-retired model of Polish and Irish descent. Since 2005, she is primarily known as a singer.
In this photo, she's showing off her postpartum six-pack abs at age 35. That's the substance of the white obi text, which follows:
1. Tsuchiya Anna
2. at 35 years old
3. "postpartum six pack!!"
4. Just tighten your ass
5. And move while breathing
6. It works your abs!
7. [This] easy slimming method [all] in one book!
Tsuchiya Anna
Sanjūgosai de
"sango ware"!!
oshiri o shimete
kokyū shinagara ugoku dake de
onaka ni kiku!!
kantan yase mesoddo ga issatsu ni!
土屋アンナ
35歳で
"産後割れ"!!
お尻を締めて
呼吸しながら動くだけで
お腹に効く!!
簡単やせメソッドが一冊に!
Essentially, she's advertising a cure for "mom bod."
What intrigues me [VHM] about this cover is the riot of different scripts and their orthographical presentation:  Arabic numerals, kanji for Japanese nouns and verbs, Japanese grammatical particles in hiragana, English in Roman letters with katakana ruby phonetic annotations (furigana), letter of alphabet to indicate shape, English in katakana (largest type on the cover), personal names in kanji or kanji plus katakana,  Western punctuation.  It's almost as though they're showing off the plethora of different components in their writing system.  Is there any other writing system in the world that can compete with Japanese for complexity?
---