« previous post | next post »
[This is a guest post by Jichang Lulu.]
A recent paper by Alex Joske features Sitar སྲི་ཐར་ (Wylie Sri thar, Chinese transcription Sita 斯塔), a senior CCP united front cadre. Sitar's career included decades at the Central United Front Work Department, of which he was a vice head between 2006 and 2016. He later became a deputy director of the office of the Party's Central Coordination Group for Tibetan Affairs (Zhōngyāng Xīzáng Gōngzuò Xiétiáo Xiǎozǔ 中央西藏工作协调小组). On at least two occasions, he led Central United Front Work Leading Small Group inspection groups, thus earning mention in Joske's paper, of which said Group is the main topic.
'Xi Jinping Thought', another 1499 Tibetan neologisms, and more
A more recent thing Deputy Director Sitar has presided over should perhaps earn him a mention on this Log, by virtue of its subject-matter. On 28 April 2018, Sitar was the top cadre speaking at the presentation of "more than 1500" Tibetan neologisms coined since the 18th Party Congress (held in November 2012), compiled by the National Tibetan Terminology Standardisation Commission (Rgyal yongs Bod skad brda chad tshad ldan can las don u yun lhan khang རྒྱལ་ཡོངས་བོད་སྐད་བརྡ་ཆད་ཚད་ལྡན་ཅན་ལས་དོན་ཨུ་ཡོན་ལྷན་ཁང་, Quánguó Zàngyǔ Shùyǔ Biǎozhǔnhuà Gōngzuò Wěiyuánhuì 全国藏语术语标准化工作委员会). I know this because it was reported on various media and other government websites that reported, in Chinese and Tibetan, on the Commission membership change taking place on that day.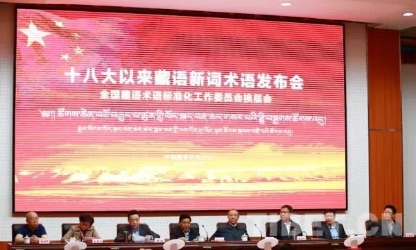 The more than 1500 new Tibetan vocabulary items coined since the 18th CCP Congress are "closely related to the everyday lives of the Tibetan masses".
Sadly, only one example of such indispensable vocabulary is given in these reports, namely "Xi Jinping Thought on Socialism with Chinese Characteristics in the New Era". In the Chinese reports, the item is not even given in Tibetan. That Tibetan term is, of course, ubiquitous: Zhi Cin Phing gi dus rabs gsar pa'i Krung go'i khyad chos ldan pa'i spyi tshogs ring lugs kyi dgongs pa ཞི་ཅིན་ཕིང་གི་དུས་རབས་གསར་པའི་ཀྲུང་གོའི་ཁྱད་ཆོས་ལྡན་པའི་སྤྱི་ཚོགས་རིང་ལུགས་ཀྱི་དགོངས་པ་. (Xi's surname is sometimes transcribed 'Zhis', so as to better approximate the tone in, e.g., the Lhasa pronunciation.)
Xi Jinping Thought has been discussed by Victor Mair and mastered by Kevin Carrico, a Macquarie University Chinese studies lecturer who claims to have earned a certificate after completing an online Xi Thought course. It remains unclear whether other masters of Xi Thought share Carrico's description of Xi as "a dictator who has overseen the arrest of hundreds of human rights lawyers, the destruction of civil society, and the arbitrary and indefinite detention of more than a million Muslims in internment camps". Western politicians (e.g., these in Iceland) and others keen to hype Xi's opus are often less eloquent about those central aspects of Xiist theory and practice, perhaps a sign of a shallower understanding of the underlying Thought.
Important though that lone vocabulary item is, it still leaves the masses who only have read these news items (including me) short of more than 1499 vocabulary items that might be closely related to their everyday lives.
United Front mascot emojis
Those familiar with united front work should not, however, feel constrained in their ability to express their thoughts and feelings. The shortage of post-18th Congress everyday vocabulary items is made up for by the Guiyang United Front Work Department's deployment of a set of emojis featuring Xiǎo Xīn 小新 ('Lil' New'), a mascot representing the city's 'new social strata individuals' (xīn de jiēcéng rénshì 新的阶层人士). Joske has referred to the release of these items in the paper cited above, as well as in a Twitter thread.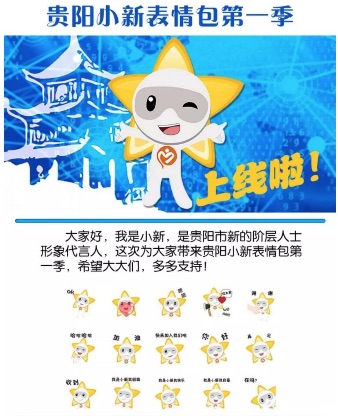 The emojis depict Lil' New's star-shaped head in at least fifteen mental states, allowing the United Front mascot to represent them in a range of communicative tasks (e.g., from 'I'm Lil' New, I'm happy' to 'OK'). Somewhat unusually for emojis, these mostly include textual annotations. While this adds readability to Lil' New's otherwise enigmatic smile, it makes the emoji set less suitable for communication with non-Chinese readers along the Belt and Road (in particular, for cosmic intercourse). They have, however, proved sufficient for some within Guiyang city, where Lil' New-themed props have been used by at least one spontaneous flash mob.
Interactions between Xiism and Tibetan culture, other than the former's repression of the latter, have been noted before. A Language Log post discussed the Sagerean Section, the process of cutting segments of a recording of a Xi speech and reassembling them in order to conceal his mispronunciation of the name of the hero of the Epic of King Gesar as 'Sager'. Together with the Great Scattering of Spondulix, also covered on this Log, the Sagerean Section belongs to the linguistically remarkable aspects of Xiist Imperial lore.
The idea of united front work as a tool for the CCP to represent what you want to say is one of those suggested by this image, by Jiao Haiyang 焦海洋 for the website of the Guangming Ribao 光明日报.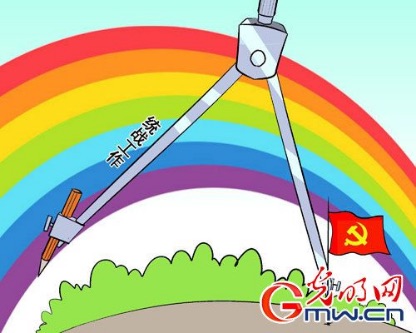 ---