« previous post | next post »
Gene Buckley sent this photograph of a sign in Los Angeles: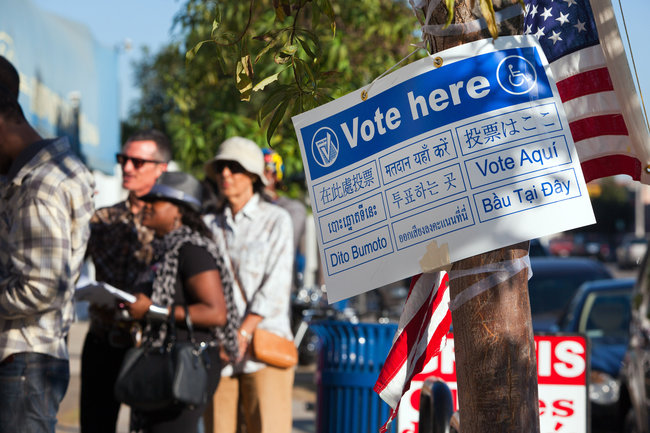 At first Gene wondered why the sign doesn't have Spanish in a more prominent position. Then he realized that the (non-English) languages are in alphabetical order according to their English names: Chinese, Hindi, Japanese, Khmer, Korean, Spanish, Tagalog, Thai, Vietnamese. He was also briefly puzzled about why what he thought was "Cambodian" was out of order, since that's the default name he has for that language.
Inasmuch as we have been speaking of the Sinosphere, Gene remarked that 投票 is used in Chinese (tóupiào) and Japanese (tōhyō).
For the Korean, Bill Hannas observes:
Reading from left to right, the first two composite symbols are "t'u p'yo" (Chin. toupiao). The next symbol is "ha", the root form of the verb "hada", which means "to do" but is used, like "suru" in Japanese, to make a verb out of a noun. The next symbol "nun" is a verbal affix (don't worry about it). The fifth symbol "kos" (the "s" is pronounced like a "t" here) means "place." Symbols 3-5 are all indigenous Korean.
Vietnamese follows a rather different pattern. According to Eric Henry,
Of the three words (Bầu tại đây) on the Vietnamese part of the sign, the only one that can definitely be written with a Chinese character is the one in the middle: "tại." This is "在," "at, located at." There is some chance that "bầu" "to cast, throw" has some sort of primordial relationship to Chinese "拋," (pao, 1st tone), which means "to cast or throw," but it is not a word that most Vietnamese would recognize as being of Chinese origin. The third word, "đây," is a word of purely indigenous origin meaning "here."
Bill Hannas points out that even the second word — tại < 在 "at, located at" — is thoroughly indigenized. A similar sign may be seen on this week's (November 12, 2012) cover of the New Yorker: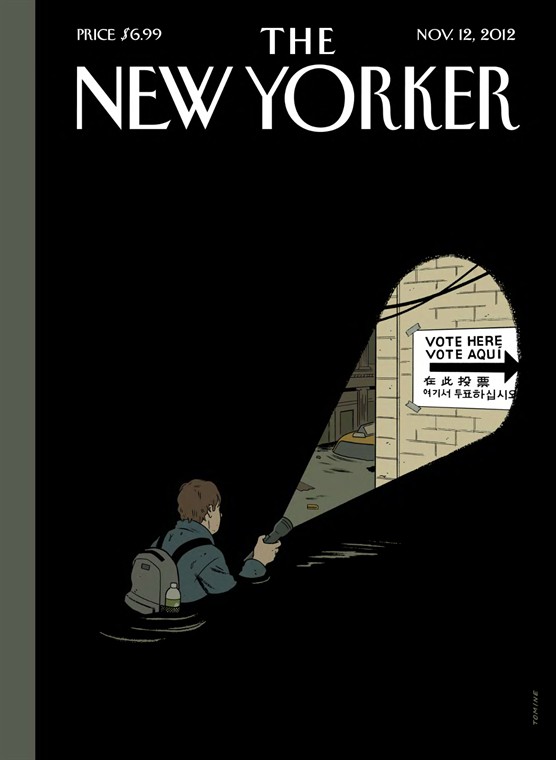 The Chinese is almost the same as on the sign in Los Angeles, but consists of four characters (zài cǐ tóupiào 在此投票 [lit., "at here vote"]) instead of five (zài cǐ chù tóupiào 在此處投票 ["at this place vote"]).
The more expansive Korean version on the New Yorker cover is quite different from the one on the LA sign. As Eric Henry explains:
First the transliteration:
"여기서 투표하십시오" comes out as "Yeogiseo t'up'yo hashipshio." The spelling "eo" stands for a vowel sound like "-aw" in "saw." "Sh" would be just "s" in both cases if I were to transliterate strictly, but the sound is more like "sh," so I thought it would conduce to a better sound to use "sh."
"Yeogi" (여기) means "here." The suffix "seo" (서) means that an action is going to take place at the location indicated by "yeogi." "T'up'yo is Sino-Korean for "投票." "Hashipshio" (하십시오) is a form of the verb "hada" (하다), "to do." In Korean, it is necessary to add "hada" to Chinese verb-object compounds in order to give them verbal force in a sentence. The form of "hada" used here ("hashipshio") is gently imperative, so the whole sentence means something like "Go ahead and cast your ballots here."
Thus, just from this short notice to "vote here", for Japanese, Korean, and Vietnamese — presumably all members of the "Sinosphere" — we see that the nature of Sinitic influence in each differs markedly. Perhaps readers will comment on the Khmer, Tagalog, and Thai versions with regard to the Indosphere vs. Sinosphere divide.
---