« previous post | next post »
Zits for 11/7/2012:

But it's not just land lines — "In Constant Digital Contact, We Feel Alone Together", Fresh Air 10/18/2012:
Terry Gross: You had said before a lot of parents complain that their children will accept the parents' text message and respond to that, but they won't pick up the phone, they won't answer the cell phone.
Sherry Turkle: Yes.
Terry Gross: I'm sure you've spoken to children and teenagers about that. What's the explanation?

Turkle's explanation seems much too broad to me:
Well, I'm working now on sort of this flight from conversation project because really what I'm hearing is people saying to me, I mean this kind of phone-phobia, and also conversation-phobia. And people basically say – I mean, one 18-year-old says to me: someday soon, but certainly not now – I mean as though I was going to do something to him – certainly not now, I'd like to learn how to have a conversation.
And when I say to people, what's wrong with conversation, they say, I'll tell you what's wrong with conversation: You can't control what you're going to say, and you don't know how long it's going to take or where it could go. And that's exactly what's wrong with conversation, but that's exactly what's right with conversation.
And this is the kind of thing that people feel they don't have time for in the incredibly busy lives and stressed lives that they have, and it's what people are getting used to not wanting to make space for, emotionally.
I see high-school and college age students having face-to-face conversations all the time, with one another and with adults; and adults seem to be having face-to-face conversations more or less as much as they ever did; and I don't hear people of any age telling me that they strongly dislike such conversations. (At least not more than they ever did.)
Perhaps there are more communicative alternatives now –though if texting and (among older people) email are up, paper letters and telegrams are correspondingly down. But if there's any increased general aversion to face-to-face conversations, it's not obvious to me, nor can I find any systematic evidence supporting this idea. In contrast, an aversion to voice telephone calls on the part of teenagers is openly discussed among the teens that I know.
I haven't seen any survey evidence supporting this anecdotal impression, but at least it's objectively verified that voice calling rates are down in the relevant demographics (Dino Grandoni, "Texting Dominates As Teens And Young Adults Make Fewer Phone Calls", HuffPo 7/18/2012).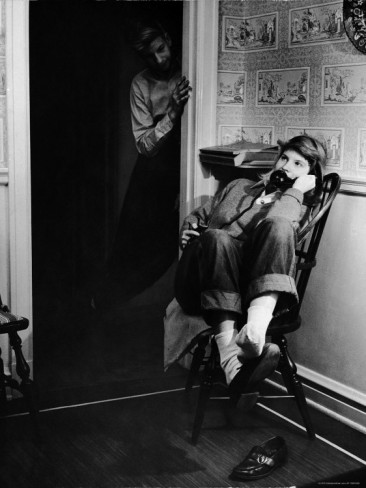 Things used to be different, at least stereotypically.  The picture on the right, from some time around 1950 (?), comes from Nina Leen's photographic ethnology of American life:
Nina Leen's fascination with the world viewed through a camera lens extends to both the human and animal kingdom. Born in Russia, Leen grew up in Germany, Italy, and Switzerland, where she achieved acclaim as an animal photographer. Upon first arriving in the United States in 1939, her reporter's eye led to a series of wryly amusing works on the habits and rituals of her newly adopted homeland. Her series on, "A Teenager Monopolizes the Telephone," or her descriptions and images of "The American Male," are timeless evocations of symbols of modern American society.
More recently, the internets were full of advice like Jae Ireland's "How to stop a teenager from using the phone" 12/4/2009:
When your teenager is constantly monopolizing your phone line or causing you to miss calls, changing your policy for the home phone might be necessary for everyone's sanity. Whether you decide to get your teen his own phone or simply unplug the phone altogether, expect some resistance. If your teenager's phone use is disrupting your life, stop him from using the home phone and find other solutions that will keep everyone happy.
Or consider the telephone scene in "Bye Bye Birdie", where teens in Sweet Apple, Ohio, are shown "monopolizing telephones in seemingly endless and inconsequential conversations":
And less than ten years ago, hardly anyone in the U.S. had ever sent or received a "text message", long after SMS messaging had been ubiquitous in Europe and Japan (see the discussion and links in "What caused the texting tsunami", 6/6/2011).
Over the past decade, there have been two apparently-connected developments. First,  in 2001 Americans sent an average of only 0.3 SMS per month per mobile subscriber, and in 2003,  the Economist headlined an article as "No text please, we're American: Text messaging is popular in Europe and Asia, but not in America. Why?". As late as 2004, I had a hard time finding any American college students who had ever sent or received an SMS. But things were changing in 2008, and in 2010 CNNTech asserted (following Nielsen) that "the average [American] teenager sends over 3,000 texts per month. That's more than six texts per waking hour." And second, among at least some younger people, the obviously associated decline in the number of voice calls is apparently developing into an outright aversion for the older technology, not just a preference for the newer one.
This story involves a complex pattern of technology, economics, and culture, each of which is clearly both a cause and an effect. It's a story that someone should tell. But I'm skeptical that "flight from conversation" is the plot summary.
---