« previous post | next post »
Sign on a toilet door: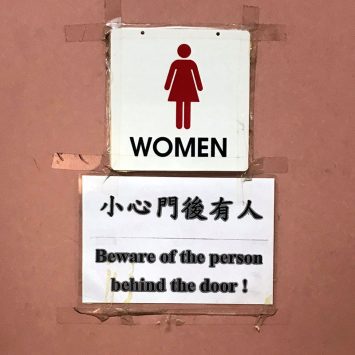 Source:  "In the first flush:  China's toilet revolution remains in full swing", Week in China 453 (5/24/19)
The Chinese sign says:
xiǎoxīn mén hòu yǒurén
小心門後有人
"Be careful of the person behind the door"
Chinese translators invariably have problems with "xiǎoxīn 小心" (lit., "little heart / mind" –> "[be] careful; take care"), typically rendering it as "carefully [vb.]; take care [of]", but also often as "beware", which is utterly inappropriate in most cases.
That's just by way of introduction to the main part of the article from which the picture is taken, namely, the urgent, ongoing toilet revolution in China.
The fearless Chairman of the Chinese Communist Party enjoins his people:
"The toilet issue is not a small issue. It is an important part of civilised construction in both urban and rural areas," was the declaration by Chinese leader Xi Jinping in 2015. That was the year when he officially launched the "Toilet Revolution" – the campaign terminology even featured in the State Council Information Office's "Dictionary of Xi Jinping's new terms".
….
For those not upholding Xi's sanitary standards, the punishments can be severe. Recently Phoenix News reported that the public toilets in the Zhushan Scenic Area in Guangxi were inspected by Li Wenchao, a senior Party official who is also deputy mayor of the city of Dongxing.
Li swiftly declared the facilities to be disgusting. As a punishment – and to set an example to others – he made all workers in the tourism department responsible for the unsanitary toilets clean up the mess themselves. He then returned to check the loos were fit for purpose….
Forsooth, China's Great Toilet Revolution (GTR) has just begun, as has its War Against Chinglish (WAC).  If they continue at their present pace, both the Revolution and the War will still be going on a century from now.
Readings
"A quantum leap in the Chinese toilet revolution" (5/6/19) — with links to nearly two dozen earlier posts on the subject, including especially the following one, the last comment of which has a regularly updated list of numerous articles on the toilet revolution in the Chinese press:
"Toilet Revolution!!" (11/26/17)
"Crimes against English " (4/25/15)
"Free souvenirs " (8/15/15)
"Sandwiched in an escalator " (2/9/15)
"Signs from Kashgar to Delhi " (10/11/13)
"Slip carefully " (5/6/14) —  the classic instantiation of mistranslating "xiǎoxīn 小心" (lit., "little heart / mind" –> "[be] careful")
"Mind your head" (8/28/15) — with nearly two dozen flagrant mistranslations listed
[H.t. John Rohsenow]
---