« previous post | next post »
From "CLAUDE E. SHANNON: An Interview Conducted by Robert Price, 28 July 1982":
[Shannon is talking about a visit to Alan Turing in Manchester in 1950.]  So I asked him what he was doing. And he said he was trying to find a way to get better feedback from a computer so he would know what was going on inside the computer. And he'd invented this wonderful command. See, in those days they were working with individual commands. And the idea was to discover good commands. And I said, what is the command? And he said, the command is put a pulse to the hooter, put a pulse to the hooter. Now let me translate that. A hooter is an English, in England is a loudspeaker. And by putting a pulse to it, it would just be put a pulse to a hooter. Now what good is this crazy command? Well, the good of this command is that if you're in a loop you can have this command in that loop and every time it goes around the loop it will put a pulse in and you will hear a frequency equal to how long it takes to go around that loop. And then you can put another one in some bigger loop and so on. And so you'll hear all of this coming on and you'll hear this "boo boo boo boo boo boo,"[CS vocalizing in a sing-song fashion] and his concept was that you would soon learn to listen to that and know whether when it got hung up in a loop or something else or what it was doing all this time, which he'd never been able to tell before. That was a great idea, but I don't think it was really a very good idea. That command seems to have disappeared from the vocabulary. [laughs]
These days you'd just have the program write out status updates, I guess.
There was a time when the state of your program could be seen (and modified!) via a large panel of blinking lights connected to register bits and other things, as in this picture of the operator's panel for the DDP-224 we used at Bell Labs when I first worked there (shown behind Laurie Spiegel in another image):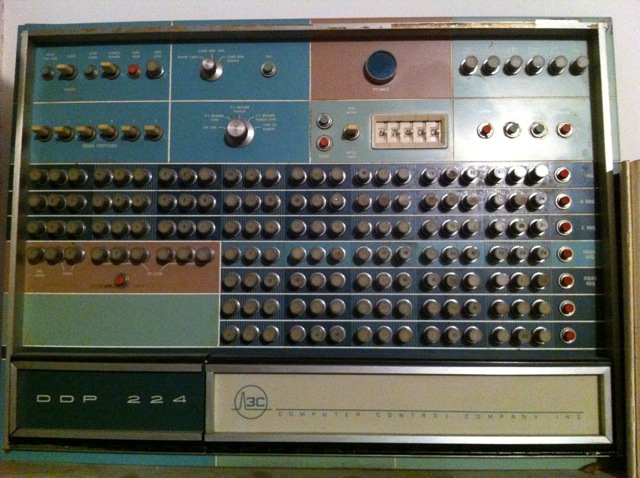 When we switched to a PDP-11, whose console was less informative and also was in another room, someone arranged to place two cables next to each other — one of them connected the computer to the external disk drive (a machine about the size of a washing-machine that could store a full 1.5 megabytes), and the other one provided input to an amplifier connected to the audio output system.
Through the magic of electromagnetic induction, we could then hear variable-rate clicking and chittering and humming as the machine went through various stages of a process.
---