« previous post | next post »
Zeyo Wu spotted this table of variants on the microblogging site Sina Weibo: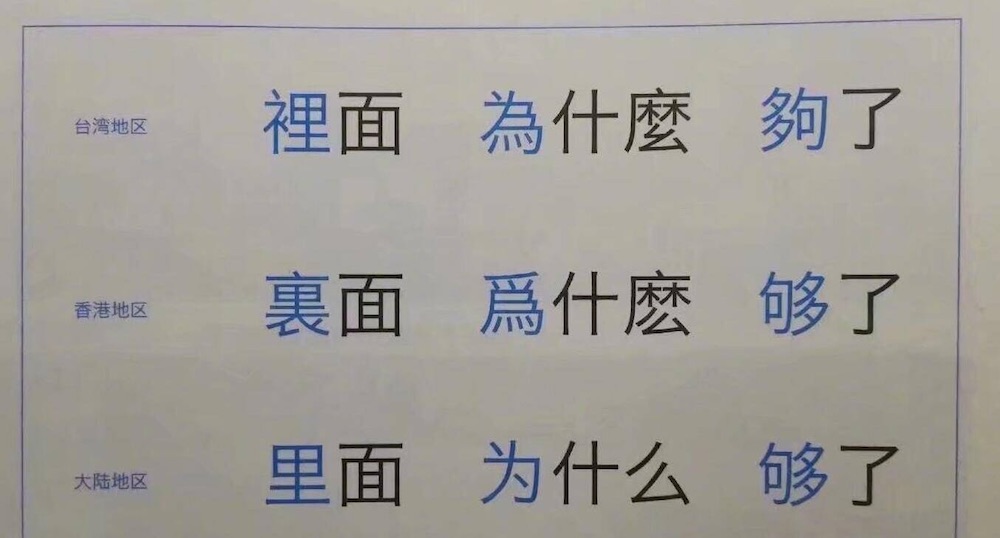 This plethora of different Sinographic ways for writing the same words is something that bedeviled me during the very first year of my Chinese language studies half a century ago.  I won't get into how kanji are written differently in Japan.
Anyway, even if you don't know Chinese, you can readily see the differences among the characters in blue in the three lines, respectively Taiwan, Hong Kong, and the PRC.
They read (in MSM):
lǐmiàn ("inside")
wèishéme ("why")
gòule ("enough")
Actually, it gets even more perplexing.  For example, some Chinese would write miàn 面 ("surface; face; aspect") as 靣, and 面 stands both for miàn ("surface; face; aspect") and the official simplified form of miàn ("noodles; pasta; dough; flour; floury"), whose traditional form is 麵, but was originally written 麪.
This causes lots of problems when one tries to convert automatically from simplified to traditional or vice versa.  This is also a major cause of Chinglish mistranslations, especially when you consider that such a common character as that used to write one of the words for "say" is also used to write another common homophonous word, "cloud".  In the simplified set of Chinese characters, such instances are legion.  This is one reason why I dislike books and articles that cite early Chinese texts extensively but are printed in simplified characters.  My Sinology students from the PRC, who grew up knowing only simplified characters, are quite willing to learn traditional characters when writing papers on premodern topiics.
As for the Chinese word for "why", I was first taught to write it as 為甚麼, not 為什麼, and to pronounce it as "wèishénme", not "wèishéme".  And my teachers wrangled among themselves over how to write such common characters as xué 學 ("study; learn; imitate") and huì 會 ("meet; can; be able to; conference; association; party").  Consequently, I often just threw up my hands and wrote the requisite morphemes in Romanization.
---