« previous post | next post »
Katie Heaney, "What Kind of Person Fakes Their Voice?", The Cut 3/21/2019:
There are many fascinating, upsetting details in the story of Elizabeth Holmes, but my favorite is her voice. Holmes, the ousted Theranos founder who was indicted last year on federal fraud charges for hawking an essentially imaginary product to multi-millionaire investors, pharmacies, and hospitals, speaks in a deep baritone that, as it turns out, is allegedly fake. Former co-workers of Holmes told The Dropout, a new podcast about Theranos's downfall, that Holmes occasionally "fell out of character" and exposed her real, higher voice — particularly after drinking. (Holmes's family recently denied these claims to TMZ, insisting her voice is naturally low, just like her grandmother's.)
Heaney links to this 2015 CNBC interview with Jim Cramer, in which Holmes' first extended turn is this:

Her median f0 in that passage is 165 Hz. If we compare that to the distribution of median f0 values for male and female speakers in the TIMIT dataset, which I discussed in "Biology, sex, culture, and pitch" (8/16/2013), we can see that 165 Hx is on the low side for female voices, but definitely above the boundary between the male and female distributions: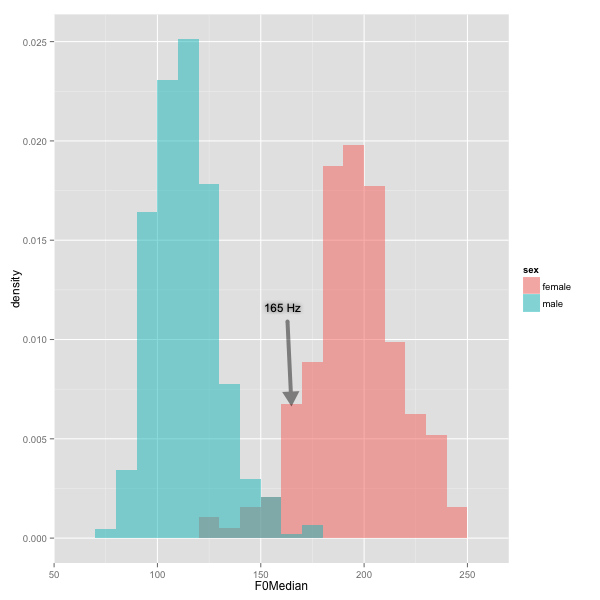 As an ironic counterpoint, compare Lake Bell complaining about what she calls "Sexy baby vocal virus", one aspect of which is supposed to be pitching the voice in a fake high register:
Ms. Bell's median f0 in that passage is 154 Hz. Density plots comparing the two women's f0 distributions: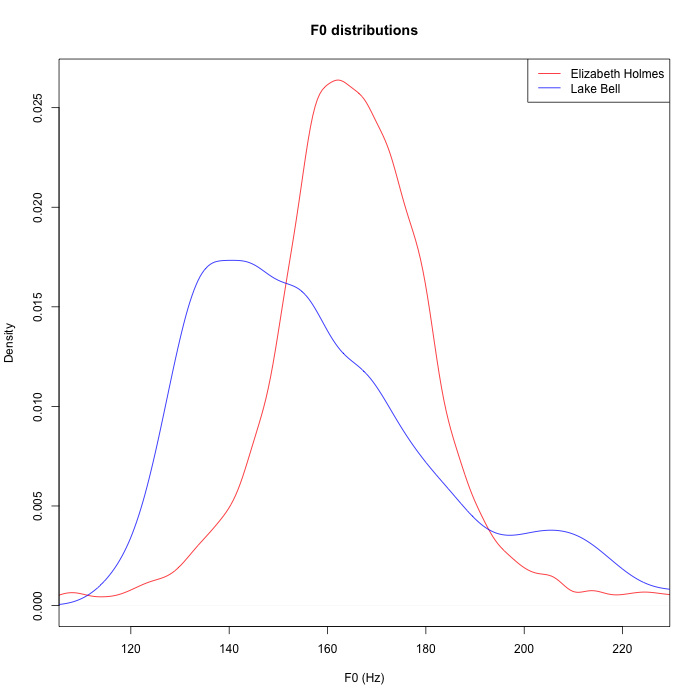 For some general commentary, see "Fresh Air on 'policing' young women's voices", 7/23/2015.
And consider the widespread discussion of the new Q synthetic voice:
If we add Q's distribution to the plot, we can see that both Bell and Holmes are well above Q's "gender neutral" range: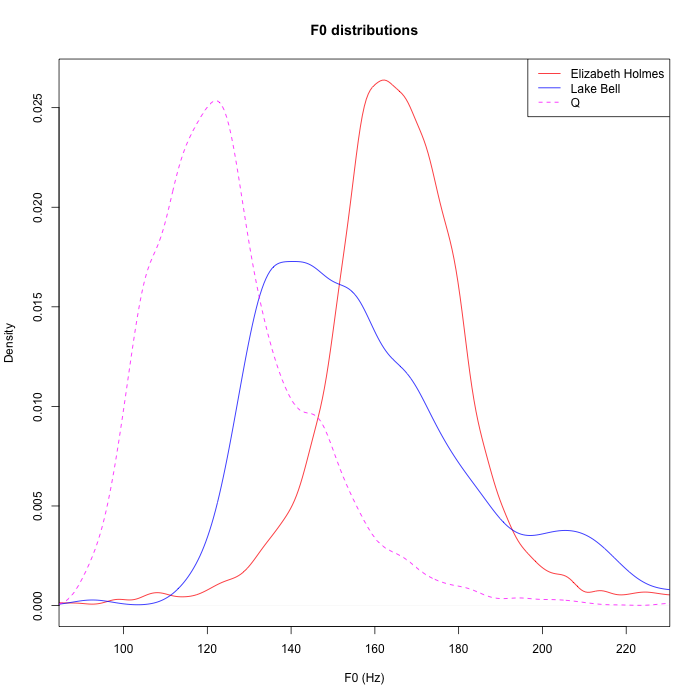 Of course there are lots of gendered aspects of speech besides F0, but …
---