« previous post | next post »
Here's what it looks like: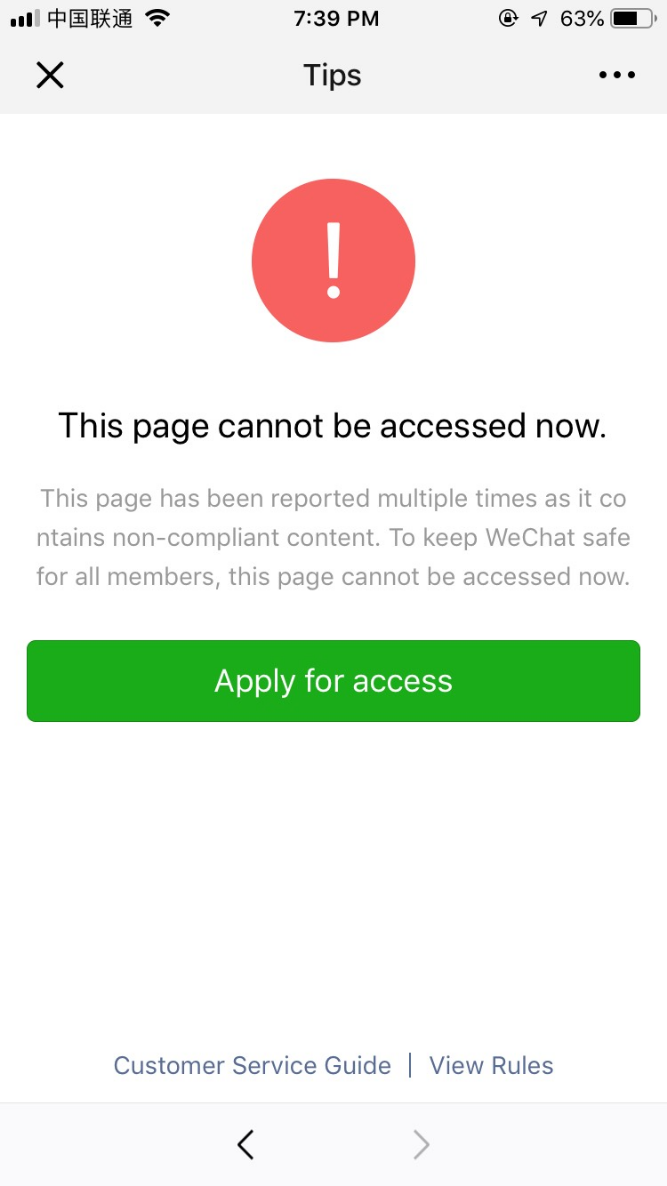 The page they are talking about is this one, the article I mention at the very beginning of this post:
"More literary troubles for Xi Jinping" (1/3/19)
Although the censors do not tell you precisely what the "non-compliant content" is, they undoubtedly do not want Chinese readers encountering satire directed at President Xi Jinping over his alleged inappropriate quotation from a poem that is nearly two thousand years old.
For those who have not heard of it, WeChat (in Chinese it's called Wēixìn 微信 (lit. "micro-message") is a multi-purpose messaging, social media, and mobile payment app.  It has over 1 billion monthly active users (902 million daily active users), and people use it to pay bills, buy things, text, make video calls, send money, etc., etc.  It's China's "app for everything".  So if something gets censored on WeChat — and many things do get censored by the WeChat powers that be — it has a huge impact on pubic awareness of whatever it was that the authorities did not want the Chinese people to know about (e.g., Tibet, Taiwan, Uyghurstan, Falun Gong, feminism, rights lawyers, dissidents, organ trafficking, Winnie the Pooh, Xi Jinping's use of language, and so forth and so on).
Because the censors refer to all such topics as "non-compliant content", users are often not certain of exactly what they have said that is objectionable.  Since they can have their account cancelled or receive negative social credit scores or worse (e.g., taken out by the police to "drink tea") if they post objectionable content that is too serious or they do it too much or too often, people are careful to self-censor.
The feeling one experiences when hit with an unspecified "non-compliant content" accusation is similar to that of individuals whose application for a visa is turned down or travellers to China who are turned away at the border when they ask "why?" and are told simply — with no further explanation — "You should know why".
Readings
"Bad words on WeChat: go directly to jail" (12/17/17)
"The letter * has bee* ba**ed in Chi*a" (2/26/18)
"Censoring 'Occupy' in China" (10/24/11)
"Using riddles to circumvent censorship in China" (3/6/18)
"Peppa Pig has been purged" (5/2/18)
"Censored letter" (12/19/14) — about a nine-year-old boy who suggested that Xi Jinping lose weight
"Excessive quadrisyllabicism" (2/17/18)
"Censored belly, Tibetan tattoo" (8/28/17)
"Chinese translation app with built-in censorship" (11/29/18)
"Lepus oryzinus" (2/10/18)
"Banned in Beijing" (6/4/14)
"Where's Xi?" (9/11/12)
"Digraphia and intentional miswriting" (3/12/15)
"It's not just puns that are being banned in China" (12/7/14)
"Annals of literary vs. vernacular, part 2" (9/4/16)
[H.t. Francis Miller]
---