« previous post | next post »
Photograph of a sign in downtown Taitung, Taiwan: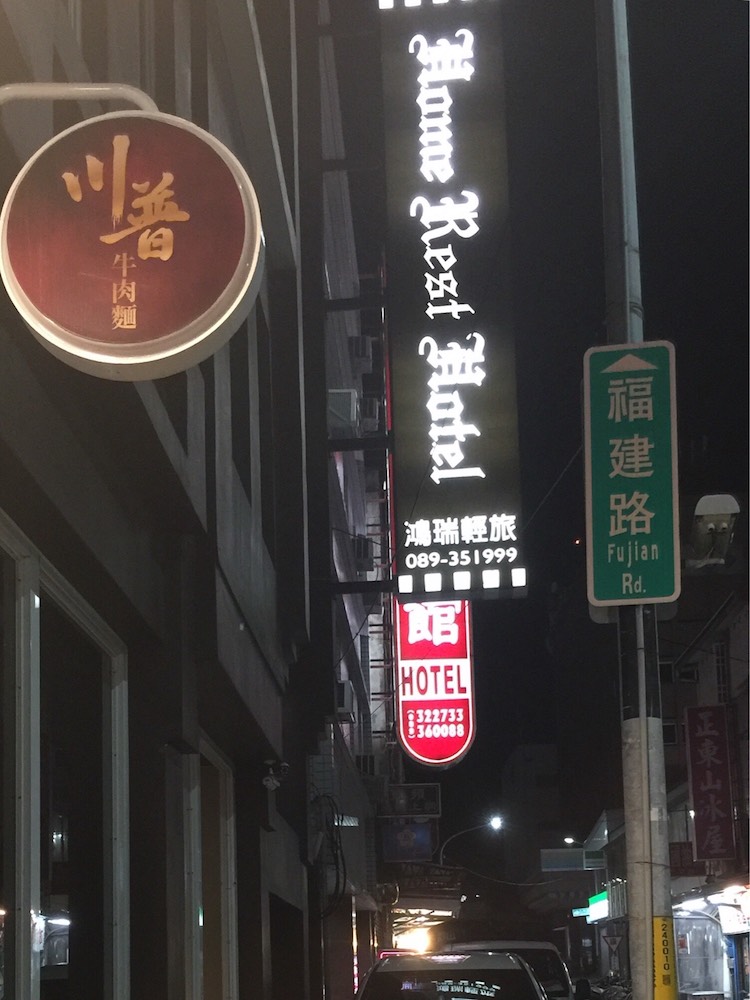 (Courtesy of Anthony Clayden)

The Chinese characters read:
Chuānpǔ niúròu miàn 川普牛肉麵
I cannot help but simultaneously parse that as "Trump beef noodles" and "Sichuan pidgin beef noodles".  Perhaps that's what the proprietors intended.
Native speakers from the mainland have different reactions to the sign.  Some say it refers to one of those two meanings, some say to the other, and some say to both.  In any event, it leaves most people a bit disoriented.  Here's one response:
I searched this restaurant, and it is not Sichuan style. Its must-have dish is Chuanpu noodle — beef noodle with a special spicy seafood sauce. According to my knowledge, Sichuan people seldom use seafood sauce.
Taiwanese call Trump 川普. And they are very familiar with America. So I guess Chuanpu noodle is simply referring to Trump.
Something else in the photograph catches the eye if one looks long enough, namely the translation on the hotel signboard behind the noodle restaurant sign.  "Home Rest" for Hóngruì 鴻瑞 ("grandly propitious").  Pretty clever!  It makes total sense to native English speakers semantically, and adheres fairly closely to the Chinese name Hóngruì 鴻瑞 ("grandly propitious"), to the extent that one is not even sure which was originally the object of translation.  Next time I go to Taidong I will check out the hotel, and the "Trump beef noodles" / "Sichuan pidgin beef noodles" restaurant too!
Readings
[Thanks to Yixue Yang, Qing Liao, Zeyao Wu, and Tao Tang]
---