« previous post | next post »
Taiwanese master baker Wu Pao-chun 吳寶春 with a loaf of his famous bread: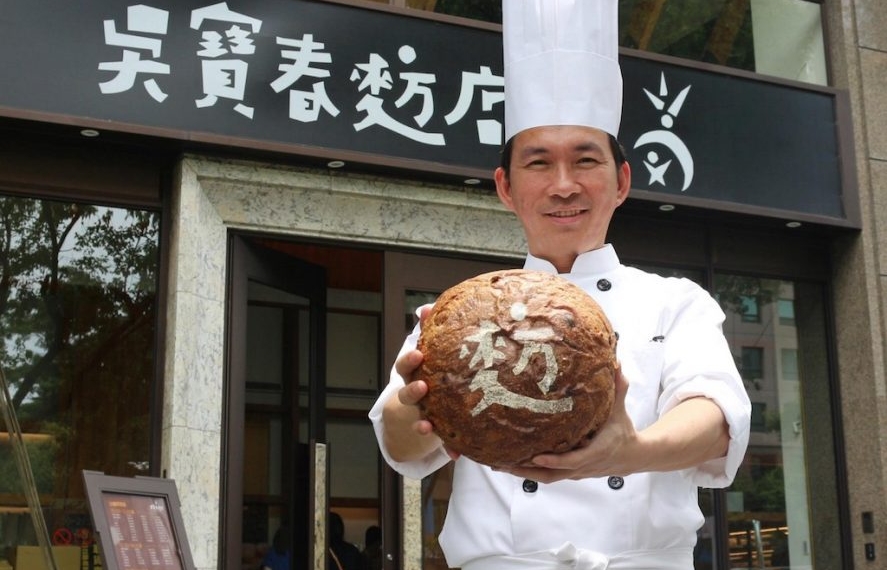 The photograph comes from this article:
"Cross-straits outrage rises up over Taiwan baker's remarks:  Wu Pao Chun defends himself as Shanghai shop opening is blighted by China and Taiwan fury", Jethro Kang, Shanghaiist (12/12/18)
The tempest surrounding the opening of Wu's new store in Shanghai arose because of the following remarks by Wu (maliciously dredged up from a 2016 interview with Taiwan People News):
Wu said he was uninterested in opening in the mainland then: "China has a market of 1.3 billion people, but the whole world has more than 7 billion people, so I won't just look to China."
Mainland netizens interpreted Wu's statement as support for Taiwanese independence and flooded the store's page on Dianping, a Chinese food review platform, with hateful comments and patriotic images. The listing has since been taken down.
So much for the politics.  Now for the linguistics.
Unless you are literate in Sinographic Taiwanese, chances are that you will not recognize the non-Unicode character written on the loaf of bread held by Wu and occurring in the name of his shop: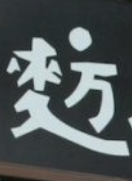 That's 
 (mài 麥 ["wheat"] + fāng 方 ["square; topo-"])
Apparently, it's supposed to be pronounced pàng in Taiwanese (as the link below states, describing the name of a movie about this baker, " 'Shìjiè dì yī màifāng' de 'màifāng' wéi Táiyǔ fāyīn pang4《世界第一麥方》的「麥方」為台語發音ㄆㄤˋ" ("the 'màifāng 麥方' of 'The number one bread [màifāng 麥方] in the world' is pronounced pàng in Taiwanese") — though this pronunciation looks more like Mandarin than Taiwanese), and it means "bread", so it's apparently a phonetic loan from the Japanese / French / Spanish / Italian / Portuguese pan パン / pain / pan / pane / pão.
Starting in 1543, the Portuguese were the first modern Europeans to visit Japan.  Consequently, many words of Portuguese origin entered the Japanese vocabulary, including, of course, the word for bread:  pan パン, from Portuguese pão.
Surprisingly, such a quintessential Japanese dish as tempura derives from Portuguese (cf. tempero ["seasoning"]).
The Japanese word for "pants; trousers") is a little bit more complicated.  Portuguese jibão ("underwear") led to Japanese juban / jiban ("underwear for kimonos"), but its cognate in French, jupon, led to zubon in Japanese.
Likewise, kappa ("raincoat") derives from Portuguese capa (nowadays yielding to reinkōto).
A few more:
Jap. manto < Port. manto ("cloak")
Jap. chokki < Port. jaque ("jacket; vest")
Jap. kurusu < Port. cruz ("cross")
Jap. rozario < Port. rosario ("rosary")
Jap. fetisshu < Port. feitiço ("spell; charm; sorcery"), though I suppose this may have come via English
The name of the establishment, then, is Wú Bǎochūn pàng diàn 吳寶春

店 ("Wu Pao-chun's bakery").  This information comes from this blogpost, which you can find by Googling "麥方字", though there are plenty of other articles about it online, including this Baidu Baike entry and this Wikipedia article, which was the source of the image of the character (

).
[Thanks to Matt Anderson]
---