« previous post | next post »
Here we go again.  With the 2022 Beijing Winter Olympics coming up, China aims to eliminate Chinglish, and all sorts of negative examples are adduced.  We've covered scores of them on Language Log, but here's one I hadn't seen before: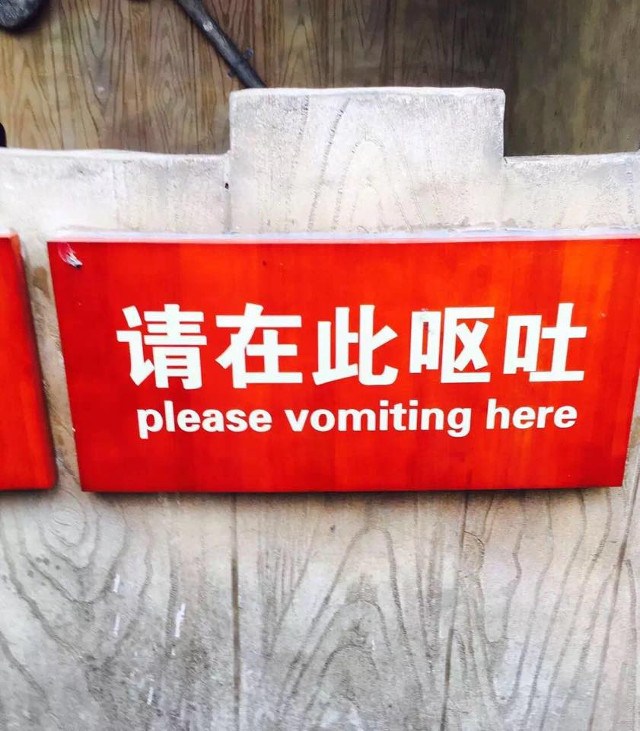 Source:
"Beijing is trying to rid city of Chinglish before 2022 Winter Olympics:  Enjoy them while you can, folks!", by Alex Linder, Shanghaiist (12/4/18)
And there are many other compilations of Chinglish chestnuts popping up now, such as this one:
"Beijing Is Trying To Get Rid Of Bad Translations Before 2022 Winter Olympics", by Julia Banim, UNILAD
The subtitle of Linder's article indicates that he thinks the current Chinglish eradication campaign will rid China of this odious language beast forever.  Sorry, Alex, I don't think that's going to happen anytime soon.  The PRC authorities have sponsored such Chinglish eradication movements in the past — before the 2008 Olympics, the 2010 Shanghai Expo, and other major events.  Doesn't work.
They need to pay skilled, qualified translators to do the work — but such specialists cost a pretty penny, and it seems that the concerned authorities are unwilling to fork over the necessary cash.
The Chinese on the sign pictured above says:
qǐng zài cǐ ǒutù 请在此呕吐 ("please vomit here")
Aside from the wrong form of the verb, the translation is not bad.  They even use the polite request form "please" and jazz it up with the literary word cǐ 此 for "here" instead of the more vernacular or colloquial zhèlǐ 这里 or zhèr 这儿.
Anyone who is literate in English will be able to understand the meaning of "please vomiting here".  This points to another aspect of the perennial movements to weed out Chinglish.  Namely, it's not just a matter of having correct grammar and accurate translations.  One also has to take into account the sheer cultural difference in the subject of what is being written about.  Even if the sign said "please vomit here", visitors to the Middle Kingdom would still think it's weird.  I personally have never seen such a sign anywhere else in the world.
The closest parallel I could think of are the stories about vomitoria where decadent Romans would go to relieve themselves after their alleged gorge and purge cycles.  I actually learned about Roman vomitoria in high school history class and remember seeing historically oriented paintings depicting scenes of Romans at banquets and repairing to a nearby vomitorium to disgorge the contents of their bloated bellies, only to go back for second and third helpings.
So the stories go.
Turns out that this is all a myth.  In fact,
A vomitorium is a passage situated below or behind a tier of seats in an amphitheatre or a stadium, through which big crowds can exit rapidly at the end of a performance. They can also be pathways for actors to enter and leave stage. The Latin word vomitorium, plural vomitoria, derives from the verb vomō, vomere, "to spew forth". In ancient Roman architecture, vomitoria were designed to provide rapid egress for large crowds at amphitheatres and stadiums, as they do in modern sports stadiums and large theatres.
(Source)
Thus, a vomitorium is an architectural feature of stadiums or amphitheaters through which crowds disgorge after a performance.
Selected readings
---