« previous post | next post »
Here we go again.  More Roman letters and English words on police and security guard uniforms in China (see below for some earlier posts).  Here's a doozy: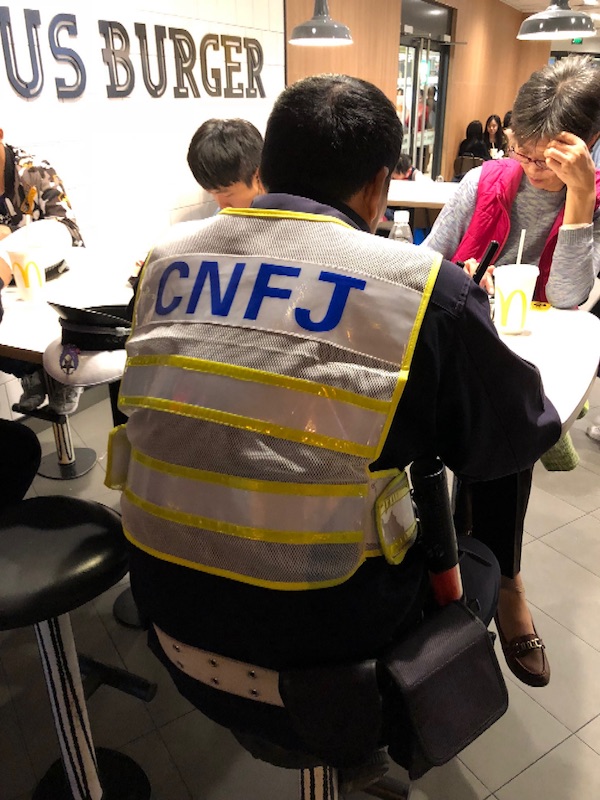 I suspect that only an infinitesimal number of people on the planet would be able to figure out what "CNFJ" on the back of this officer's vest stands for (no, it's not "Commander, U.S. Naval Forces Japan").  I'm guessing that it means:
Chángníng fújǐng 长宁服警 ("Changning service police"), or maybe the FJ is for fǔjǐng 辅 警 ("auxiliary police")
Changning is the name of a district in Shanghai where this photograph was taken.  It would be pronounced Zan1nyin1 in Shanghainese.
In the following portfolio, we see a variety of police and security guards identified solely in English or in a combination of English and Chinese.
tèjǐng 特警 ("special police")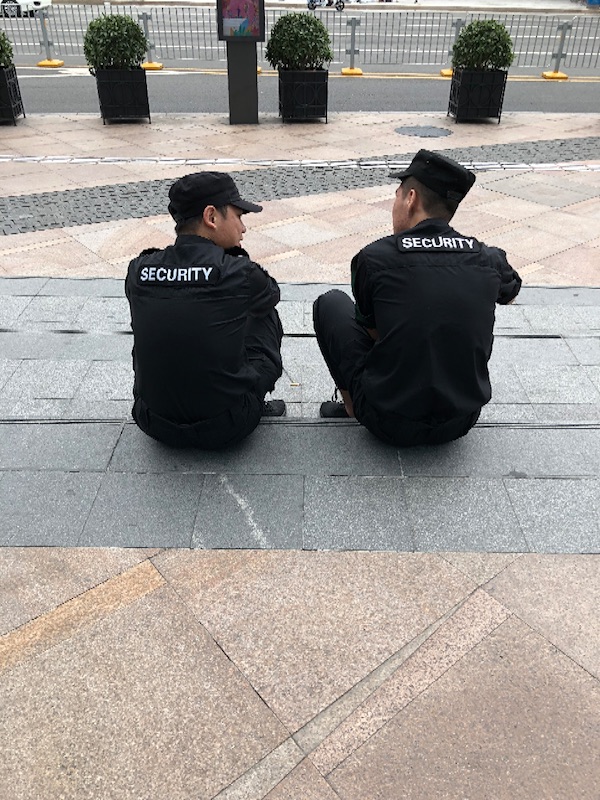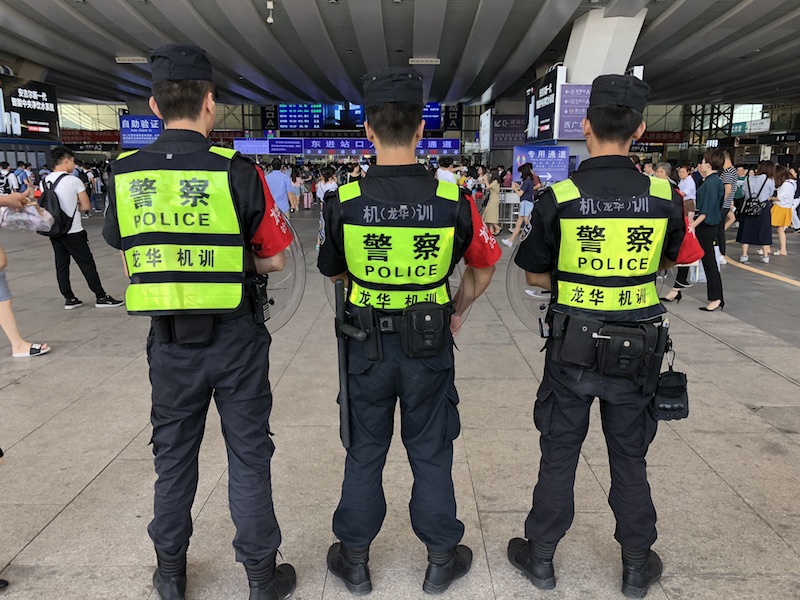 jǐngchá 警察 ("police")
Lónghuá jīxùn 龙华机训 ("Longhua machine training") — Longhua is a subdistrict of Shenzhen; "machine training" refers to familiarizing the public with the use of various types of bomb detection apparatuses.
Paul Midler remarks:
We see the uniforms getting a more standard, better look, while there remains no real standardization of terminology and language usage.  I think the biggest point can be made with the word SECURITY. Most people in China (Shenzhen here) don't readily read English. Chinese understand this person is important or powerful because of the English lettering alone?  Martin Jacques, in When China Rules the World: The End of the Western World and the Birth of a New Global Order, promised us that we would all be speaking Mandarin! This is hardly the case it seems. I don't ever see the world learning Mandarin.
Ticket machines in a train station: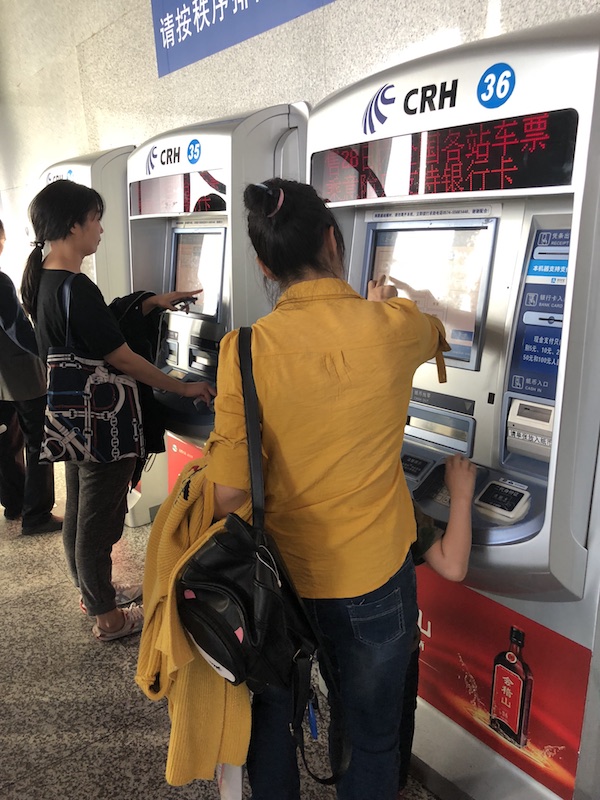 For CRH, I sort of guessed "China Railway High-speed".
"Again", asks Paul, "where has Martin Jacques gone? Where's all that Middle Kingdom jingoism? China's rise was supposed to make us all speak Mandarin! Their high-speed rail is most popularly known by three English letters—CRH?"
Finally, on the ubiquitousness of Roman letters and English names and words, Paul quotes the following passage (see especially the second paragraph below) from his recently published book, What's Wrong with China?: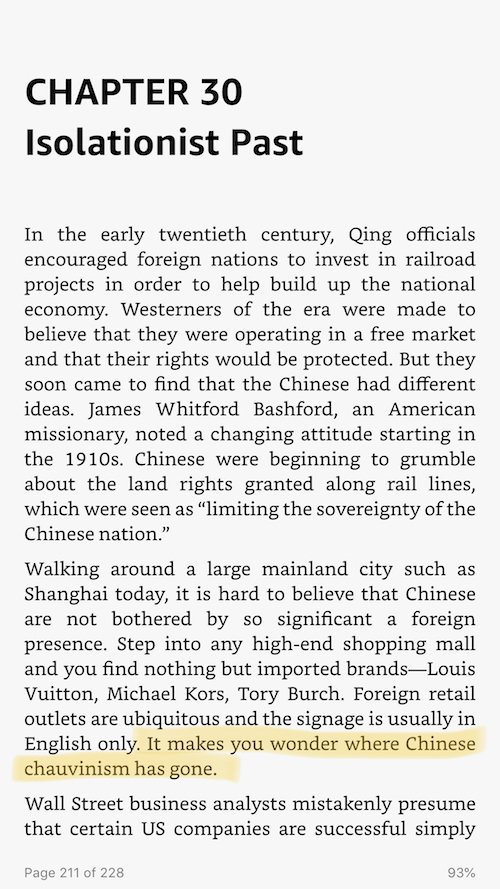 In this particular regard, I don't think anything is wrong with China.  I think that China has simply "opened up" (kāifàng 開放), as Deng Xiaoping advocated four decades ago.  As we are keenly aware, attitudes towards foreign languages — English in particular — can serve as a bellwether for predicting changes toward foreign cultures and countries that may be in the offing.  So long as the communist authorities do not radically and ruthlessly prohibit the use and spread of the Roman alphabet and English language — no matter what their rhetoric concerning them might be — it means that they are essentially following a policy of linguistic laissez-faire with regard to the Roman alphabet and the English language (which is not what they are doing vis-à-vis, say, Cantonese, Tibetan, Uyghur, and Mongolian).
Readings
---