« previous post | next post »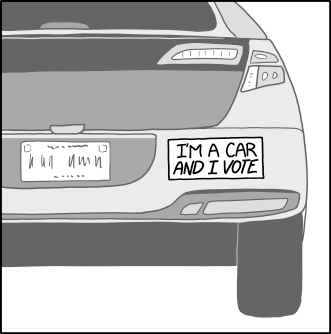 Mouseover text: "I'm the proud parent of an honor student, and the person driving me is proud, too!"
From Geoffrey Nunberg, "The pragmatics of deferred reference" (in L. Horn and G. Ward, eds., The Handbook of Pragmatics, Blackwell, 2003):
Meaning transfer is the process that allows us to use an expression that denotes one property as the name of another property, provided there is a salient functional relation between the two. … Meaning transfers can apply to predicates of any kind, whether lexical or phrasal, and whether used attributively or predicatively. By way of developing some of the features of the process, let's consider (3):

(3) I am parked out back.

One might be tempted to say that the transfer in (3) applies to the subject I, in a sort of "driver for car" metonymy. But there are a number of reasons for assuming that the transfer here applies to the conventional meaning of the predicate. For example if the speaker has two cars, he wouldn't say:

(4) We are parked out back.

though of course this would be an appropriate utterance if there were two people who were waiting for the car. Note, moreover, that we can conjoin any other predicate that describes the speaker, but not always one that literally describes the car:

(5) I am parked out back and have been waiting for 15 minutes.

(6) *I am parked out back and may not start.

For both these reasons, we assume that the predicate parked out back in (3) carries a transferred sense, which contributes a property of persons whose cars are parked out back.
I'm disappointed to have to report that explain xkcd hasn't picked up on this possible connection. Very extremely disappointed. Because I totally wouldn't have minded getting scooped on this. In any case, they helpfully explain that a bumper sticker "is generally a thin rectangle piece of plastic with a message on one side and adhesive on the other side in order to stick to a car." But if you're wondering what a car is, you'll have to look elsewhere.
---