« previous post | next post »
Jonathan Merritt, "The Death of Sacred Speech", The Week 9/10/2018:
America boasts more Christians than any other country on planet Earth. But you wouldn't know it from listening to us.
According to Google Ngram Viewer data, a searchable database of millions of printed works stretching back 500 years, most of the central terms in the Christian vocabulary are rapidly declining. One 2012 study in the Journal of Positive Psychology, for example, analyzed 50 moral terms associated with Christianity and found that a whopping 74 percent were used less frequently over the course of the last century […]
"Whopping "? If the frequency of each word were following a random walk, we'd expect 50% of them to decline and 50% of them to increase. And to be confident that 74% is "whopping", or even meaningful, we'd need to do something that neither Merritt nor the cited paper do, namely verify that there's no overall bias in the data source for reasons other than changing "cultural salience", either towards decreasing frequency of certain types of words, or decreasing frequency of individual words in general, But in fact there's good reason to believe that both sorts of bias exist — see below.
The cited paper is Kesebir & Kesebir, "The cultural salience of moral character and virtue declined in twentieth century America", The Journal of Positive Psychology 2012. Their work is based on results from the Google Books ngram viewer. And the first problem is that the distribution of types of material included in that collection changes over time.
One aspect of this problem is amply documented (among other places) in Pechenick, Danforth, and Dodds, "Characterizing the Google Books Corpus: Strong Limits to Inferences of Socio-Cultural and Linguistic Evolution", PLoS One 2015.  Kesebir & Kesebir don't discuss this issue, but Merritt cites a popular-press version of the Pechenick et al. paper, only to dismiss it:
Ngram data is complicated and susceptible to misinterpretation, of course. The overabundance of scientific literature in the database can skew findings, for example, and it is often difficult to account for all colloquial, synonymous terms that have arisen during the same period. But the data we have cannot be dismissed out of hand, and at the very least indicates that traditional sacred speech is dying in the English-speaking world.
"Indicates that traditional sacred speech is dying"? Geoff Nunberg pointed out in email that words for physical aspects of churches like pew, spire, apse, rectory — not exactly "sacred speech" — also generally declined in apparent frequency, by amounts comparable to the declines cited for "moral character and virtue words":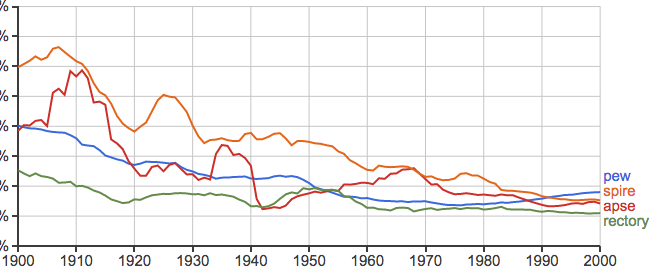 In fact, the Google Ngram viewer also shows declines for the first six words for general architectural features that occurred to me — stairway, foundation, roof, eaves, arch, cornice:

[The multiplications are to get words of different frequency ranges into the same graphical range.]
So is "traditional architectural speech" dying in America as well?
But there's a second problem. It's not just that the range of publications is shifting over the course of time, it's also that the overall total of "words" in the collection is increasing, so that there's a tendency for the relative frequency of individual words to decrease. I put "words" in scare quotes in that sentence because in fact the great majority of "word" types in the Google Books unigram corpus are actually not words at all, but rather OCR errors, typographical errors, number strings, and so on.   See "The birth and death of typos", 3/17/2012, and "Word string frequency distributions", 2/3/2013.  I don't know that the proportion of pseudo-word tokens increases over increasing publication time (as the proportion of pseudo-word types definitely does), but it might well, and if it does, it would be another source of a general bias towards decreasing frequency of ordinary, real words.
As one simple test of this general bias, I
had a program choose 10 words at random from the 34,691 distinct all-alphabetic words found in 16 Dickens novels;
ran those ten words through Google Books ngrams;
pulled the percentage values for the 20th century (look at the page source from a search if you want to see one way to get those);
took the average of the first half of the century and of the second half of the century; and compared them (here presented as frequency per million words):
Word     FirstHalf SecondHalf


sport     0.1244    0.1036




edges     0.1819    0.1601




wasteful  0.0329    0.0245




narrow    0.5750    0.4363




sewn      0.0121    0.0148




healths   0.0023    0.0007




toddling  0.0016    0.0008




row       0.2146    0.2337




idler     0.0067    0.0039




squibs    0.0021    0.0010
As you can see, a "whopping" 80% of these words declined in frequency over the course of the century!
This is not the end of the story, obviously. Did 80% of random Dickens words decline in Google ngram frequency because of an increasing admixture of scientific and technical writing in the underlying collection? Because of increasing pollution by letter-strings that are not words at all? Because of overall changes in linguistic fashion? All of the above?
The one thing we can be sure of is that the premise of Merritt's argument is faulty. His neo-Whorfian next step is also problematic:
As the language of faith has declined in usage, it should not surprise us that our collective thinking and behaviors are less dependent on spirituality than they once were. In the same way, we speak far less of grace, mercy, patience, and compassion. While we may decry that our world is not as gracious, merciful, patient, or compassionate as it might be, we must also take responsibility for the way our use of language has contributed to it.
But more on this later.
Update — Discussing some joint research with a colleague, I used this work as one of many examples of why it's often dangerous to take "yes" for an answer when you've asked the world a question. As Richard Feynman said, "The first principle is that you must not fool yourself – and you are the easiest person to fool."
Update #2 — (hoisted from a response to a confused commenter):
For the word "pew"

Year           1900   2000
Count         16819  27767
Frequency      2.97   1.03

So the token count of "pew" increased by a factor of 27767/16819 = 1.65, while the token frequency (per million words) decreased by a factor of 1.97/1.03 = 1.91.
That's because in 1900 the collection has 7.52 billion "word"  tokens (i.e.  letter strings separated by punctuation or space), whereas for 2000 it has 26.882 billion "word" tokens.
---