« previous post | next post »
Charles Belov sent in this photograph of a sign posted on the Pho 2000 restaurant on Larkin Street in San Francisco: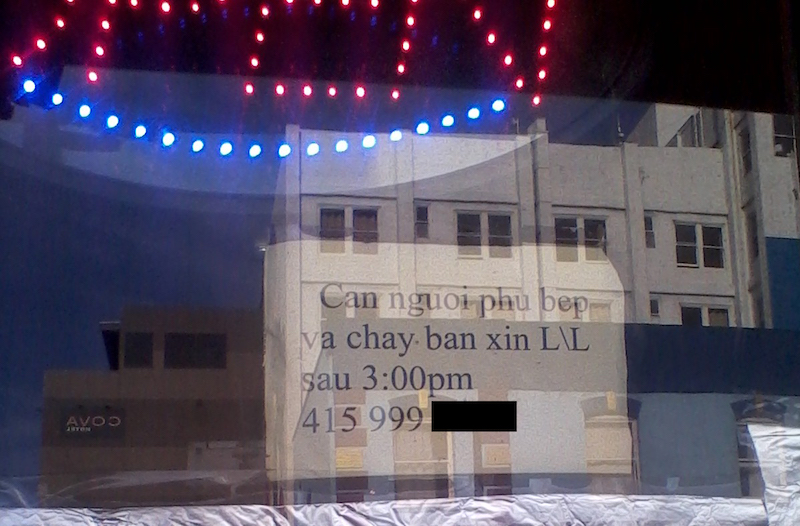 This is the wording on the sign:
Can nguoi phu bep va chay ban xin L/L sau 3:00 pm
Google Translate gives the translation:
Help the vegetarian and vegetarian L / L after 3:00 pm
Eric Henry gives a complete explication:
L/L stands for "liên lạc," to communicate with, make contact with. It's the Vietnamese pronunciation of the Chinese verb liánluò. People use "liánluò" all the time in Taiwan; in the mainland "liánxì" is used instead.
The whole sentence with diacritics is: "Cần người phụ bếp và chạy bàn, xin liên lạc sau 3:00 [ba giờ] p.m."
It means "[We] need a person to help in the kitchen and wait on tables; please communicate [with us] after 3:00 p.m.
Word by word, the meanings are as follows: "cần" ~ need; "người" ~ person; "phụ" ~ assist; "bếp" ~ kitchen; "và" ~ and; "chạy" ~ run; "bàn" table(s); "chạy bàn" ~ wait on tables; "xin" ~ please; "liên lạc" ~ get in touch; "sau" ~ after; "ba" ~ three; giờ" ~ hour.
Google translate thought that the sentence was about vegetarian food, since "chay" with no diacritics means "vegetarian."
Lingering questions:
1. How common is Vietnamese writing without diacritics?
2. Would it be easier to read if the syllables were joined together into words?  In this particular sentence, though, except perhaps for "chạy bàn" ("wait on tables") and "liên lạc" ("get in touch"), it seems as though the individual morphemes pretty much stand on their own.
3. How widespread is the use of abbreviations like "L / L" in Vietnamese (or, for that matter, in other languages written in or transcribed with Roman letters)?
[Thanks to Steve O'Harrow and Nguyen Ngoc Hung]
---