« previous post | next post »
From a menu in a restaurant in Oxford, Ohio: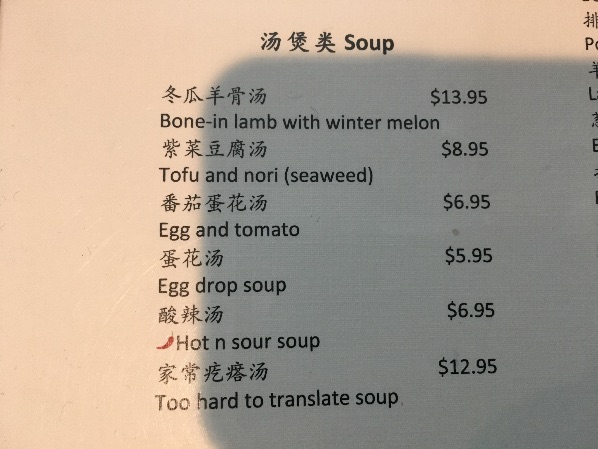 What gives?  The rest of the translations of the soup dishes on this menu are not bad (fairly standard).  What happened with the last one?
David Costa, who sent in the photograph, explains:
When I asked the waiter what the last item was, he couldn't describe it either. He just hemmed and hawed, gesticulated a lot and kept saying it included 'flower' (or 'flour'?). I asked him to just translate the Chinese name and that didn't work either. Ideas?
Google Translate offers "Home-cooked soup", which doesn't account for the main ingredient.  Bing Microsoft Translator has "Homemade pimple Soup", which is decidedly unappetizing.  Baidu Fanyi gives "Dough Drop and Assorted Vegetable Soup", which ignores the first part of the name and adds "Assorted Vegetable".
The problem is with gēda 疙瘩, which is one of those very cool, two syllable Sinitic words, neither of whose syllables means anything by itself (i.e., not only is it a disyllabic lexeme, it is also a disyllabic morpheme).  Furthermore, gēda 疙瘩 is highly polysemous, with the following meanings:  "pimple; knot; swelling on the skin; lump; nodule; blotch; a knot in one's body or heart (–> hangup; problem; preoccupation)".
I remember when my mother-in-law first made this soup and served it to the family, I almost didn't want to eat it because the name sounded as though it meant "zit soup" (it also looked fairly ghastly).  Note that both of the constituent sinographs of this word have as their semantic classifier the "sickness" radical, Kangxi number 104:  疒, pronounced chuáng or nè.  Usually, if you see a character with this semantophore, you know it's bad news, because it has to do with illness and malignancy.
When I encounter Sinitic words of this nature — lexically and morphemically disyllabic — especially if they have variant writings, in this case 疙垯, 疙墶, I tend to think that they may have arisen through dimidiation (perhaps of a consonant cluster) or other type of phonological expansion and that they may reflect a non-Sinititic background.  For those who might wish to pursue the origins of gēda (Pekingese variant gāda) 疙瘩, the following topolectal pronunciations may be useful:
Cantonese (Jyutping): gat6 daap3
Min Nan (POJ): kit-tap
Wu (Wiktionary): keq taq (T4)
One of my favorite Chinese expressions derived from gēda 疙瘩 is jīpí gēda 雞皮疙瘩/鸡皮疙瘩 ("goosebumps; goose pimples"), which I often experience when describing something deeply moving, eerie, or transcendent.
What the Chinese for the last item on the menu says is this:
jiācháng gēda tāng
家常疙瘩汤
home-cooked / home-style dough drop soup
You make it by mixing flour (that's what the waiter was trying to tell David) and water into a runny paste, then dropping it glob by glob, blob by blob into a pot of boiling water.  It's a kind of quick and dirty way to make pasta.
It's not "too hard to translate" after all, once you get over the gēda 疙瘩 ("hangup") of thinking that something that is supposedly edible also has pustular connotations.
---