« previous post | next post »
Screenshot: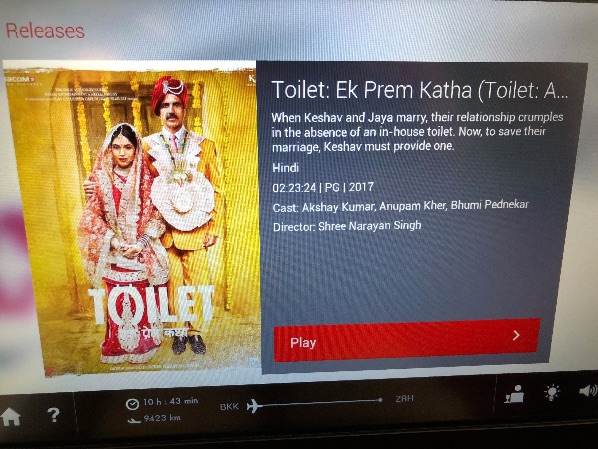 The title of the film is:
"Toilet:  ek prem kathā | Toilet: एक प्रेम कथा" ("Toilet:  A Love Story")
It would seem that English "toilet" has been adopted into Hindi, Roman letters and all.  Yet there are plenty of words for privy, latrine, etc. in Indian languages; the one I remember for Nepali is "charpi".
When I tried to look up "charpi", I couldn't find it right away.  If you're not a specialist, it is sometimes a bit daunting to find what you're looking for online or in printed dictionaries, because determining whether a consonant is aspirated or not, whether it is retroflex or not, whether a vowel is long or short, and so forth, requires a keen ear and a good sense of orthography.
I knew that I must distinguish "charpi" from "chhurpi छुर्पी" ("yak milk cheese") and a number of other similarly sounding words, but I still couldn't find it.  Finally, I located it in Ruth Laila Schmidt's A Practical Dictionary of Modern Nepali:
1) चपीर् (p. 211) capīr , pr. carpi, NOM. latrine, toilet. (Note: used in rural areas only; in urban areas the term is considered uncouth and the loan word baatharuma is used.) —See also बाथरुम baatharuma.
That's one thing that makes learning languages difficult, when the dictionary entry is quite different from what people actually say.
The charpi where I lived in Bhojupur, Nepal was very simple.  I simply squatted over the edge of a terraced field behind the house.  The pigs in the sty below were waiting for their predigested meal.  An advantage of this arrangement is that I could examine my stool as it went downward to see what nonmicroscopic parasites were present if I needed to inspect it on the fly, so to speak.
My charpi was rather fancy, because it had simple woven split bamboo mats on all four sides so people couldn't watch me doing my business, and also a mat on top for a roof that kept me from getting drenched when it rained.
While far from being a luxurious commode, my charpi was superior to what most people in South Asia use:  open fields, bushes, and shrubs.
I shall never forget the uncanny experience of riding on Indian trains, especially in the morning, and — upon looking out the window — seeing hundreds of moons down low near the ground shining in my face.  Occasionally, some of the people squatting in the fields would look casually over their shoulder at the train as it trundled along.
Open defecation has many disadvantages, including spreading disease and leading to rape.  There are still more than a billion people on earth who do it daily.  At all levels, the Indian government is making a determined effort to eradicate open defecation.  One way is to build toilets with running water in convenient locations, as shown in the following video, which is one of my all-time favorites:
"How to use Eastern Latrine: Wilbur Sargunaraj" (8/8/10) — over two million views, a real classic; covers all facets of latrine usage in India, including terminology; must watch (and practice listening to Indian English)!
In India, more people have cell phones than have toilets, as noted in this UN video:
"India – No toilet, no bride" (11/13/13)
You can see from the title that the UN documentary ties right in with the theme of "Toilet:  ek prem kathā | Toilet: एक प्रेम कथा" ("Toilet:  A Love Story"), which aside from being a commercially successful Bollywood satirical comedy, also complements the government's attempts to eliminate open defecation.
The approach of the Chinese Communist Party in the People's Republic of China is altogether different, as we have already seen in this long-running Language Log post (see especially the last comment):
"Toilet Revolution!!" (11/26/17)
[h.t. Jim Fanell; thanks to Sunny Jhutti]
---