« previous post | next post »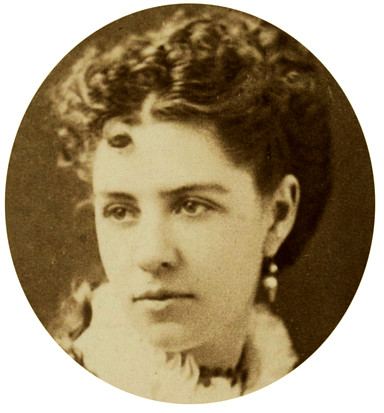 A couple of weeks ago, Larry Hyman and I walked through the Berkeley Hills to visit John and Manju Ohala, who live not far from Grizzly Peak. We followed instructions from Google Maps on my cellphone — except that there was one segment of the route that we couldn't find, Bret Harte Lane. On the way back, we realized that Bret Harte Lane was just where the map said it should be, but had been given a new name (and a new street sign): Ina Coolbrith Path.
As the plaque (which we missed on the way up) explains:
Ina Donna Coolbrith, California's first poet laureate and the nation's first state laureate, was considered "the pearl of all her tribe" by her 19th century colleagues during the Bay Area's first literary heyday.
Born Josephine Donna Smith, a niece of Mormon founder Joseph Smith, she came west with her family during California's Gold Rush. Coolbrith was fifteen and living in Los Angeles when her poetry was first published. After she divorced her husband at age twenty-one, she changed her name to Ina Donna Coolbrith, concealed her Mormon ancestry, and moved to San Francisco, where her celebrity as a poet grew. Coolbrith became Oakland's first public librarian and a mentor to Jack London, guiding him in his reading. She died in Berkeley and is buried in Oakland's Mountain View Cemetery.
When byways in the Berkeley hills were named after Bret Harte, Charles Warren Stoddard, Mark Twain, and other literati in her circle, women were not included. This path was renamed for Coolbrith in 2016.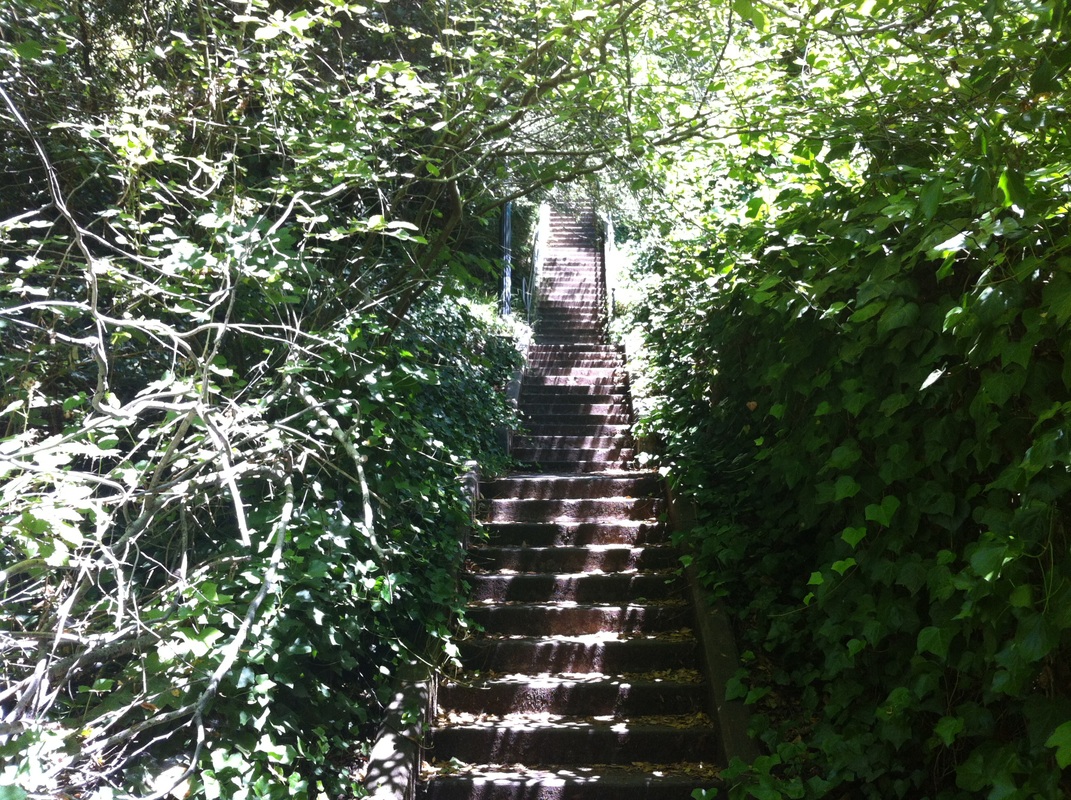 Under whatever name, Ina Coolbrith Path is one of the 137 paths managed by the Berkeley Path Wanderers Association. These are steep and narrow walkways, running more or less directly up the incline, connecting the less-steep roads that run mostly at right angles to them. The steeper sections of the paths are stair steps, as in the photo on the right. (And Bret Harte hasn't been erased from the Berkeley Hills, since Bret Harte Path is still there, just a couple of blocks away.)
Since I had never heard of Ina Coolbrith or read any of her poems, I looked her up, and discovered that her early life was even more an adventure than the plaque suggested:
Ina Coolbrith was born Josephine Donna Smith in Nauvoo, Illinois, the last of three daughters of Agnes Moulton Coolbrith and Don Carlos Smith, brother to Joseph Smith. Coolbrith's father died of malarial fever four months after her birth, and a sister died one month after that; Coolbrith's mother then married Joseph Smith, in 1842, becoming his sixth or seventh wife. No children came of the union — Agnes felt neglected in her unfruitful Levirate marriage, the only such marriage of Smith. In June 1844, Smith was killed at the hands of an anti-Mormon mob. Losing her faith and fearful of her life, Coolbrith's mother left the Latter-day Saint community and moved to Saint Louis, Missouri, where she married a printer and lawyer named William Pickett. Twin sons were born to the couple, and in 1851 Pickett traveled overland with his new family to California in a wagon train. On the long trek, the young Ina read from a book of Shakespeare's works and from a collection of Byron's poems. As a ten-year-old girl, Ina entered California in front of the wagon train with the famous African-American scout Jim Beckwourth, riding with him on his horse, through what would later be named Beckwourth Pass.
I also read a selection of her poems, which reminded me of why a lot of mid-to-late-19th-century English-language poetry — like Swinburne, Tennyson, Emerson — rubs me the wrong way. The first Ina Coolbrith poem I read was "Lines On Hearing Mr. Edgar S. Kelley's Music of 'Macbeth'" (1885):
O melody, what children strange are these
___From thy most vast, illimitable realm?
___These sounds that seize upon and overwhelm
___The soul with shuddering ecstasy! Lo! here
___The night is, and the deeds that make night fear;
Wild winds and waters, and the sough of trees
___Tossed in the tempest; wail of spirits banned,
___Wandering, unhoused of clay, in the dim land;
The incantation of the Sisters Three,
___Nameless of deed and name – the mystic chords
___Weird repetitions of the mystic words;
___The mad, remorseful terrors of the Thane,
___And bloody hands – which bloody must remain.
___Last, the wild march; the battle hand to hand
Of clashing arms, in awful harmony,
___Sublimely grand, and terrible as grand!
The clan-cries; the barbaric trumpetry;
___And the one fateful note, that, throughout all,
___Leads, follows, calls, compels, and holds in thrall.
What bothers me is the fake-antique syntax and word usage: "children strange", "thy most vast, illimitable realm", "Lo! here the night is, and the deeds that make night fear", "unhoused of clay", "which bloody must remain", … This is an instinctive reaction, not a reasoned conclusion. But let me explore it a bit.
In the 16th and 17th centuries such things were more or less idiomatic, though no doubt a bit Latinate, and anyhow I don't have strong intuitions about what normal English was like in those days. But as poets through the 18th and 19th centuries continue to use the same register, it starts to seem more and more pretentious and fake. Still, the artificially elevated language doesn't interfere much with my appreciation for the likes of Alexander Pope and Elizabeth Barrett Browning. And in Emily Dickinson and Walt Whitman, the force of their originality overcomes any negative reaction to their frequent head-modifier inversion, thee/thou-ing, and predicate-verb order.
But someone who rode with Jim Beckwourth on his horse in front of a wagon train to California in 1851, at the age of 10? And worked closely with Bret Harte and Mark Twain in San Francisco in the 1860s and 1870s? Give me a break.
In fairness, some of her poems are written in much less ornate and artificial language. For example, "When the grass shall cover me" (1881) uses "you" rather than "thee", describes the grasses' "blade and blossom" as "tender pleaders for my cause" rather than "pleaders tender for my cause", and so on. "The Captive of the White City" is similarly poetic but unpretentious. I like those much better.
Surely these issues must have been clear to her, since other members of her California literary circle were explicitly sensitive to variations in varieties of English. Mark Twain famously began Huckleberry Finn (1885) with this explanatory note:
In this book a number of dialects are used, to wit: the Missouri negro dialect; the extremest form of the backwoods Southwestern dialect; the ordinary "Pike County" dialect; and four modified varieties of this last. The shadings have not been done in a haphazard fashion, or by guesswork; but painstakingly, and with the trustworthy guidance and support of personal familiarity with these several forms of speech.
I make this explanation for the reason that without it many readers would suppose that all these characters were trying to talk alike and not succeeding.
And Mark Twain and Charles Dudley Warner's 1873 novel "The Gilded Age: A Tale of Today" describes a young woman transplanted from Missouri to Washington D.C. this way:
The quality of her literary tastes had necessarily undergone constant improvement under this regimen, and as necessarily, also the duality of her language had improved, though it cannot be denied that now and then her former condition of life betrayed itself in just perceptible inelegancies of expression and lapses of grammar.
Bret Harte 's stories and novels were similarly careful to portray differences in spoken and written English. His 1890 short story "A Sappho of Green Springs" is particularly interesting in this context, since its central characters are the editor of a San Francisco literary magazine The Excelsior, a middle-aged woman who turns out to be the author of verses sent to him under the pseudonym White Violet "from a remote village in the Coast Range", and a lumberman from Medocino who falls in love with the poet sight unseen. Here's the lumberman, come to ask the editor how to find the poet:
"I should like to have got to see her and kinder asked her a few questions," continued the stranger, with the same reflective seriousness. "You see, it wasn't just the rhymin' o' them verses,-and they kinder sing themselves to ye, don't they?-it wasn't the chyce o' words,-and I reckon they allus hit the idee in the centre shot every time,-it wasn't the idees and moral she sort o' drew out o' what she was tellin',-but it was the straight thing itself,-the truth!"
"The truth?" repeated the editor.
"Yes, sir. I've bin there. I've seen all that she's seen in the brush-the little flicks and checkers o' light and shadder down in the brown dust that you wonder how it ever got through the dark of the woods, and that allus seems to slip away like a snake or a lizard if you grope. I've heard all that she's heard there-the creepin', the sighin', and the whisperin' through the bracken and the ground-vines of all that lives there."
So it's interesting that Ina Coolbrith didn't feel empowered to shift the duality of her poetic language very far (if at all) in the direction of her own native vernacular.  But anyhow, Aleta George's 2015 biography (Ina Coolbrith: The Bittersweet Song of California's First Poet Laureate) makes a convincing case for Coolbrith's cultural importance, for the value of her work, and for the appropriateness of giving her name to a path in the Berkeley Hills.
---