« previous post | next post »
From Jerome Chiu: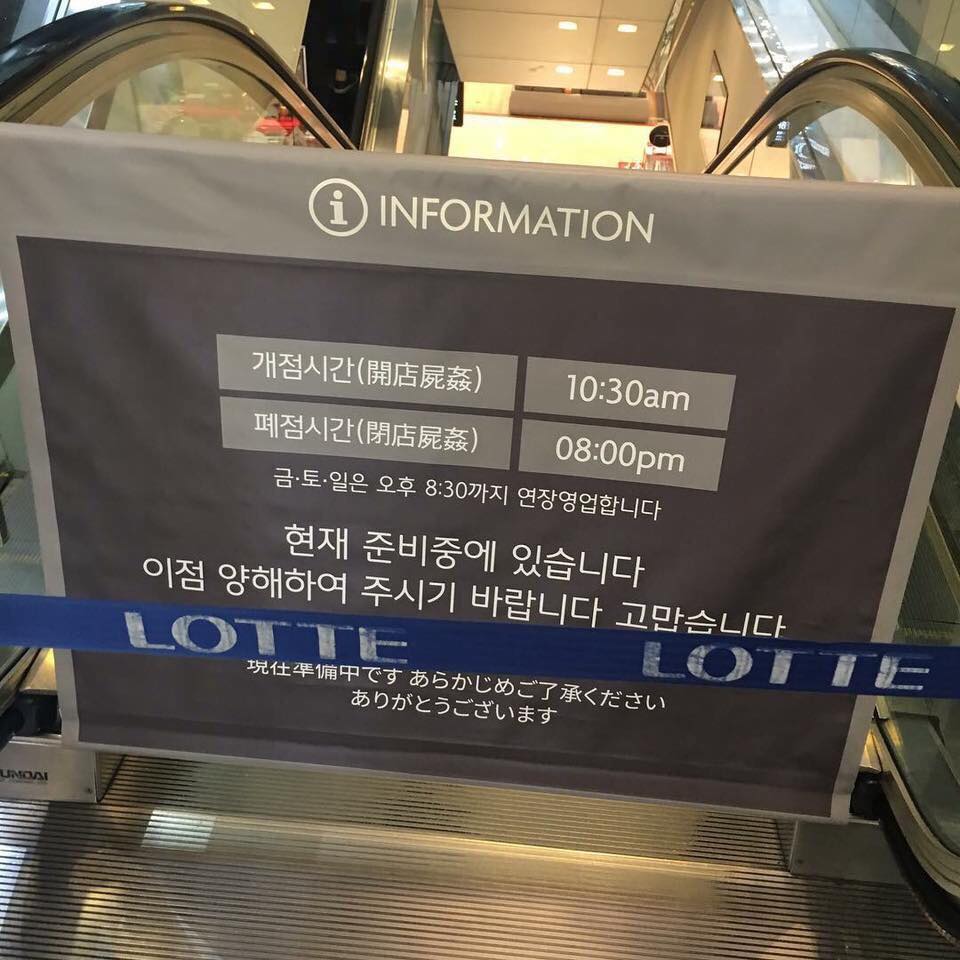 (Source)

Aside from the word "INFORMATION" at the top of the sign, there's no English to let us know how they might have understood the hanja / kanji 漢字 in the first and second lines, but they are real howlers.  The first two characters in these two lines are all right, and just mean "opening" and "closing" (of the store), but the final two characters in both of these two lines are the same, and mean "necrophilia".
The signmaker(s) meant for those two lines to say "opening time" and "closing time":
gaejeomsigan
개점시간 / 開店時間
("opening time")
pyejeomsigan
폐점시간 / 閉店時間
("closing time")
The line immediately following reads:
geum, to, ireun ohu 8:30kkaji yeonjangyeongeopamnida
금, 토, 일은 오후 8:30까지 연장영업합니다
("We extend our business hours to 8:30PM on Fridays, Saturdays, and Sundays")
The wording below that says:
hyeonjae junbijunge itseumnida. ijeom yanghaehayeo jusigi baramnida. gomapseumnida
현재 준비중에 있습니다.
이점 양해하여 주시기 바랍니다. 고맙습니다
("We are now in the midst of preparation.  We hope that you will please understand this point.")
The way the hanja entry system on computers works in Korea is that you type the Korean sound (usually in words — a group of two or more characters) and press the Kor/Hanja button, then the system will convert automatically.  Of course, you can manually change between words that have the same pronunciation but different meanings / characters, supposing you know what you're looking for!
If the inputting was done with Japanese, there would have been an error in not recognizing the voiced sound "jikan じかん / 時間 (time)", whereas they ended up selecting unvoiced "shikan しかん / 屍姦 (necrophilia)".  Still, it's rather strange, because you usually need to scroll down the kanji list quite a bit to get to 屍姦 for "shikan" (sixth item here; twelfth item here).
There is nothing unusual or strange in the Japanese writing itself at the bottom.  It says something like "We will open shortly (lit. 'we are in preparation').  Thank you for your patience".  The absence of punctuation (full stops) is a bit odd, but that could just be stylistic.
In case you're wondering, the word for necrophilia in Chinese is jiānshī( pǐ) 奸尸(癖) or liànshī 戀屍.
[Thanks to Haewon Cho, Hiroko Kimura Sherry, Bob Ramsey, Krista Ryu, and Nathan Hopson]
---