« previous post | next post »
[This is a guest post by Bathrobe.]
Recently I travelled in Inner Mongolia (China) where I picked up a few books in Chinese, Mongolian (traditional script), and English. As the books were getting heavy, I decided to offload them by posting them to Beijing for later pick up.
The lady at the post office was very apologetic, but they had just the day before received strong instructions to look out for books about Mao Tse-tung or the Cultural Revolution. They could accept only books written in Chinese characters; any others would first require clearance from the local office of the Bureau of Cultural Affairs.
I pointed out that some of my Mongolian-language books were illustrated children's books of Chinese mythology with only short stretches of text. I showed her one of the books, which was about the myth of Pangu. The picture was assuredly not of Mao Tse-Tung. And like all Mongolian-language books published in Inner Mongolia, there was a page in Chinese at the back showing the book's title and publication details. After consulting with her supervisor, the lady was very sorry, but since it was not in Chinese characters she could not send the book without a certificate of clearance.
I also had a book by the 19th-century novelist Injinash. Unfortunately this was in three volumes and publication details for all three were only in the first volume. If an illustrated book couldn't be posted, the novel didn't stand a chance.
Since time was short I decided to send only the Chinese books.
But this little episode brought home how abnormal the atmosphere is becoming in China. This was a book published in the Inner Mongolian Autonomous Region, in the language of that region. The post office was in an Inner Mongolian city. The book was obviously not about Mao or the Cultural Revolution. But I could not post it without special clearance.
This absurd situation was caused by an accumulation of factors:
Security officials are not noted for their subtlety or respect for minorities. Niceties are easily brushed aside when "national security" is at stake. If Han Chinese can't read it, it needs special clearance; to hell with minorities.
The books were being sent to Beijing, a politically sensitive city.
Bureaucrats are notoriously cautious. Neither the lady nor her superior was willing to risk doing the wrong thing. Refusal was the safest option.
Although it was located in the Inner Mongolian Autonomous Region, the post office did not appear to have staff competent in Mongolian. Presumably people in Inner Mongolia long ago abandoned the practice of addressing letters in Mongolian, out of exasperation. (Of course, it is moot whether even a Mongolian-speaking staff member would have been able to authorise the books.)
Whatever the cause, it is inconceivable in most countries that books published in that country could not be sent by post without special clearance.
I entertain little hope that the Chinese security authorities could be shamed into modifying their methods. They are not afraid of being described as heavy-handed since that is their job. Nor are they likely to be shamed by ridicule if they sincerely believe that someone might go to the expense of printing information about the Cultural Revolution concealed inside a children's book.
Illustrations
Pangu, the mythical first living being: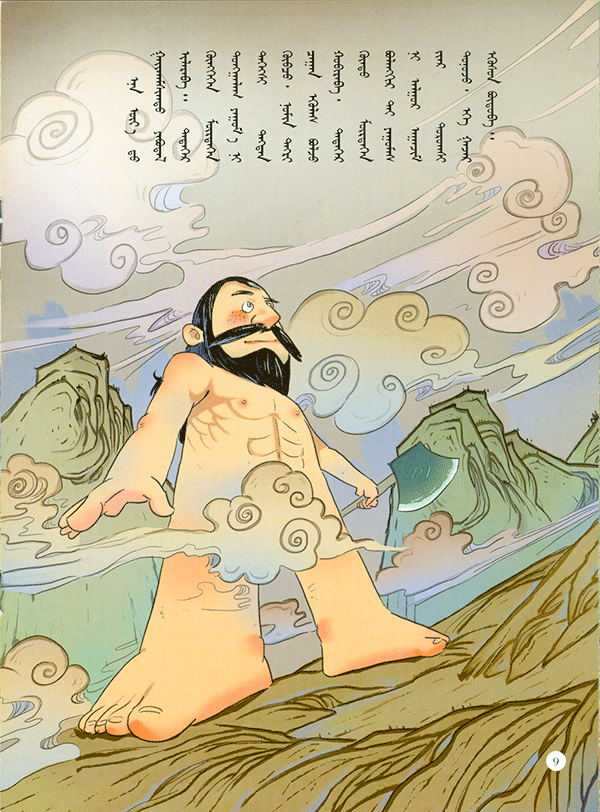 Publication data for the children's book about Pangu: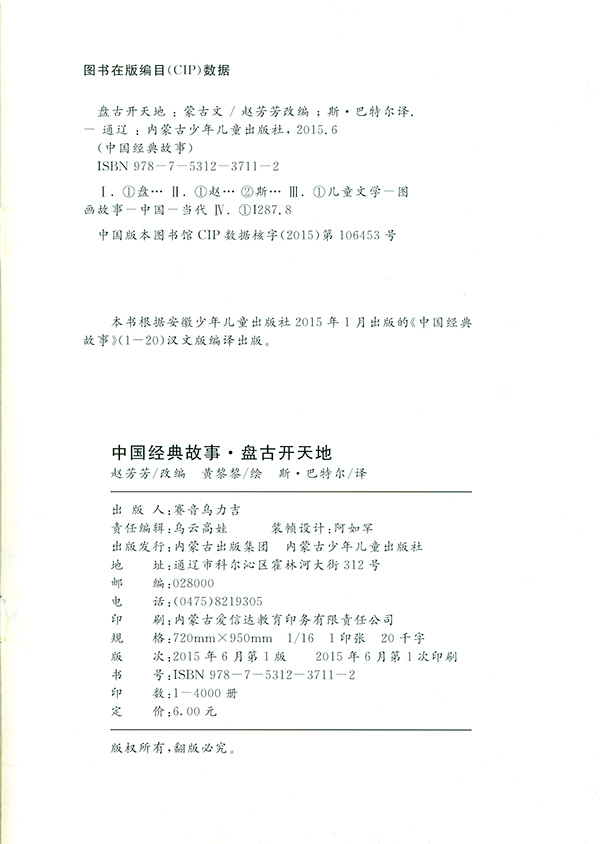 ---