« previous post | next post »
Sign in the window at Green Pepper, a Korean restaurant at 2020 Murray Avenue, Pittsburgh, PA: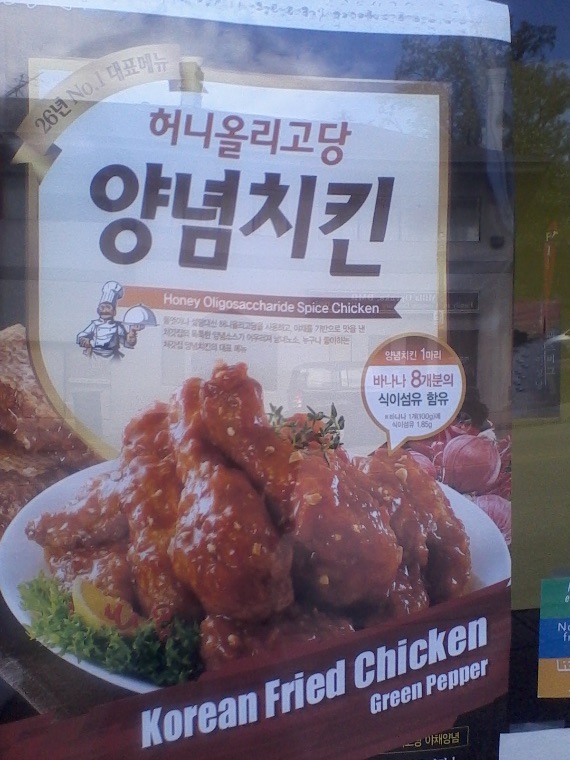 This kind of chicken dish is called "yangnyeom chikin 양념 치킨" ("[seasoned] chicken"), fried chicken seasoned with sweet and spicy sauce (oligo honey here).   Korean people love to have yangneom chicken with beer (chimaek):
"Watch your wing, KFC! Korean fried chicken (and beer) is here", by Violet Kim, CNN (6/21/15)
As Ms. Kim puts it:
Like any celebrity power couple, chicken and beer have a co-joined nickname: chimaek ("chi" for chicken and "maek" for maekju, Korean for beer).
The thing that puzzles me most about the name of yangneom chikin in English is that there doesn't seem to be a simple, common word for oligosaccharide.  Like inulin (a polysaccharide), oligosaccharide is considered soluble dietary fiber.  The Korean Wikipedia calls oligosaccharide sodanglyu 소당류, which GT and several other online sources render as "cow / cattle sugar", but that doesn't seem to make sense because oligosaccharides are a component of fiber from plant tissue.  Baidu gives the Chinese equivalent of sodanglyu 소당류 as 小糖类, and Wikipedia gives the Chinese equivalent as 少糖類.  The latter occurs far more often (18,400 ghits) on the internet than the former (6,910 ghits) and is usually in Japanese contexts, while the former is usually found in Chinese contexts.  Since "oligo-" means "few" (opposite of poly- ["many"]), 少 makes better sense than 小 ("little").
German — Oligosaccharide
Spanish — oligosacárido
French — oligosaccharide
Italian — oligosaccaridi
Russian — oлигосахариды
Vietnamese — oligosaccharide
Arabic — sakariat qalilat alte سكريات قليلة التع ("few sugars")
Who can come up with a short, apt English term for oligosaccharide, something comparable to inulin, which is now a part of our daily vocabulary?
[h.t. Charles Belov; thanks to Haewon Cho]
---