« previous post | next post »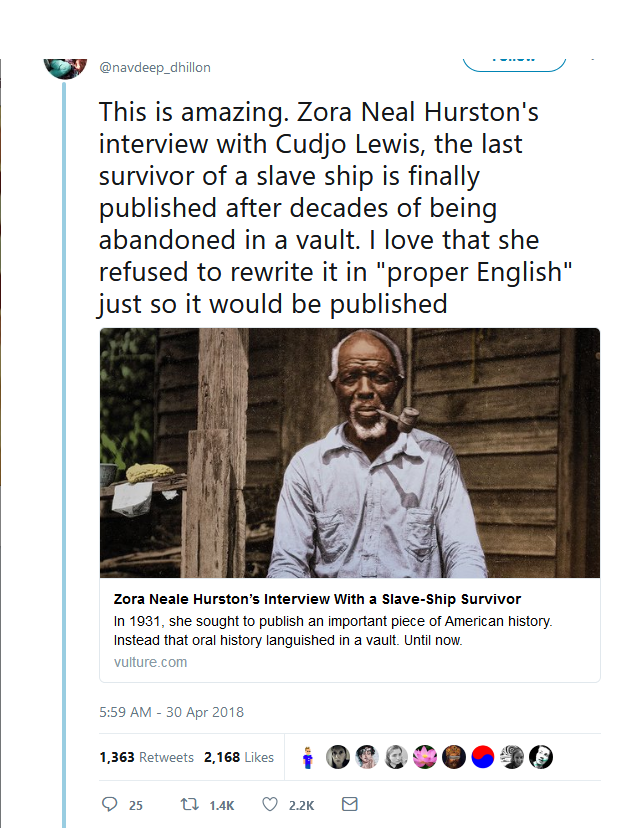 The Vulture story that this tweet links to ("The Last Slave") begins by talking about the fact that when Hurston's novel Their Eyes Were Watching God was published in 1937, it was "eviscerated by critics." And "[the] hater-in-chief was no less than Richard Wright, who recoiled as much at the book's depiction of lush female sexuality and (supposedly) apolitical themes as its use of black dialect, 'the minstrel technique that makes the "white folks" laugh.'" The story continues:
Six years earlier, Hurston had tried to publish another book in dialect, this one a work of nonfiction called Barracoon. Before she turned to writing novels, she'd trained as a cultural anthropologist at Barnard under the famed father of the field, Franz Boas. He sent his student back south to interview people of African descent….

Barracoon is testament to her patient fieldwork. The book is based on three months of periodic interviews with a man named Cudjo Lewis—or Kossula, his original name—the last survivor of the last slave ship to land on American shores. Plying him with peaches and Virginia hams, watermelon and Bee Brand insect powder, Hurston drew out his story. Kossula had been captured at age 19 in an area now known as the country Benin by warriors from the neighboring Dahomian tribe, then marched to a stockade, or barracoon, on the West African coast. There, he and some 120 others were purchased and herded onto the Clotilda, captained by William Foster and commissioned by three Alabama brothers to make the 1860 voyage.

…

When Hurston tried to get Barracoon published in 1931, she couldn't find a taker….One publisher, Viking Press, did say it would be happy to accept the book, on the condition that Hurston rewrote it "in language rather than dialect." She refused. Boas had impressed upon her the importance of meticulous transcription, and while her contemporaries — and authors of 19th-century slave narratives — believed "you had to strip away all the vernacular to prove black humanity," says Salamishah Tillet, an English professor at the University of Pennsylvania, Hurston was of the exact opposite opinion.
The story recounts one of Hurston's early conversations with Kossula:
"I want to know who you are and how you came to be a slave; and to what part of Africa do you belong, and how you fared as a slave, and how you have managed as a free man?"

His head was bowed for a time. Then he lifted his wet face: "Thankee Jesus! Somebody come ast about Cudjo! I want tellee somebody who I is, so maybe dey go in de Afficky soil some day and callee my name and somebody dere say, 'Yeah, I know Kossula.' "
The book's full title is Barracoon: The Story of the Last "Black Cargo." [Amazon]
---