« previous post | next post »
From Perry Link: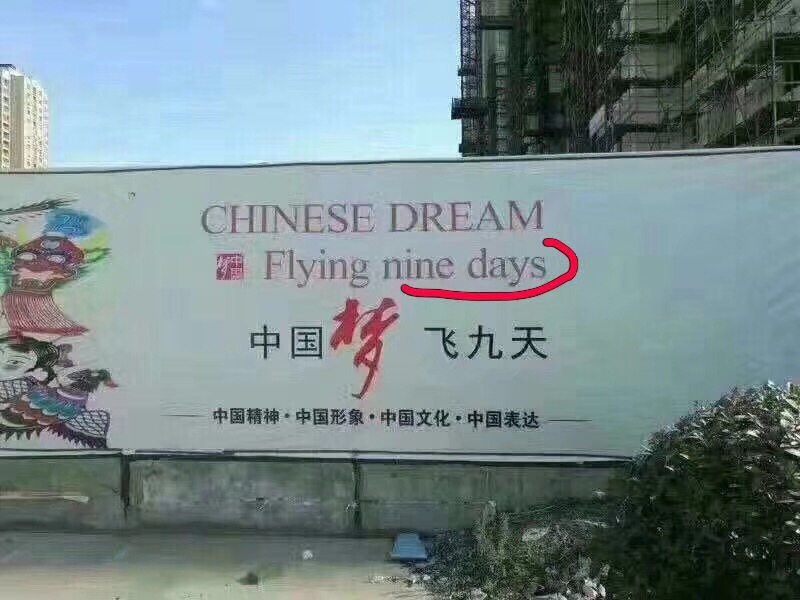 Not good!  Inauspicious!  The China Dream will only fly for nine days, then it's all over.  Finished!
But that's based on the mistranslation of tiān 天 as "day" instead of "heaven".  It can also mean "sky; God; deva; weather; nature; season".
The translation should be something like this:
Zhōngguó mèng fēi jiǔtiān 中国梦飞九天 ("China Dream, soaring to the empyrean")
The "ninth heaven" ( jiǔtiān 九天) is the most exalted heaven in Chinese cosmology.  In Jewish and Islamic theology, it is the "seventh heaven" that is the most exalted level.  But, in the books of Enoch, there is also a "ninth heaven", called Kuchavim (Heb.) where the heavenly homes of the twelve constellations, of the circle of the firmament, are located.  "In examination of the word 'homes' in 2 Enoch 21:8, this passage could be referring to the positions of the twelve constellations, namely the constellations of the zodiac".  (source)
"Fēi jiǔtiān 飞九天" ("flying / soaring to the ninth heaven / empyrean") may be based on a quotation from Mao Zedong, but I have not been able to track it down.  Nor do I know how "cloud nine" fits in to all this.
---