« previous post | next post »
Everybody's talking about Xi's Buddhist sanctification since it hit the headlines in this article:  "Xi Jinping's latest tag – living Buddhist deity, Chinese official says" (Reuters [3/9,18].
Speaking on Wednesday on the sidelines of China's annual meeting of parliament, the party boss of the remote northwestern province of Qinghai, birthplace of the Dalai Lama, said Tibetans who lived there had been saying they view Xi as a deity.
Wang Guosheng said the province had been following Mao Zedong's advice about inspiring the masses to love the party and its leader, distributing "images of the leader" to people in poverty-stricken areas being moved into new homes.
He did not specify if these were images of Mao or Xi.
"The ordinary people in the herder areas say, only General Secretary Xi is a living Bodhisattva. This is a really vivid thing to say," Wang said.
Bodhisattvas are individuals who carry out compassionate acts to achieve enlightenment. Tibetan Buddhists consider their exiled spiritual leader, the Dalai Lama, to be an incarnation of Avalokitesvara, a Bodhisattva of compassion.
First of all, I'm doubtful that we can take at face value what the Communist Party secretary of Qinghai Province says about the thoughts, words, beliefs, and deeds of the Tibetan herders over whom he rules.
Brendan O'Kane has other reservations:
For what it's worth, I'm not so sure that 活菩萨 huo Pusa is intended literally in this sort of usage: an American babysitter who tells the parents of her charge that the kid was "an absolute saint" isn't implying that the child was canonized in their absence. Reuters does seem to have heard Wang Guosheng correctly — see the Beijing News coverage of this — but to have been unfamiliar with the idiom. The remarks in the Chinese article seem as if they might imply a literal translation in the opposite direction: when Wang talks about people 拥抱 yongbao'ing the Party, could he be thinking of the English word "embrace" (in the abstract sense)? New to me, if so.
The more interesting thing — to me, at least — is that unlike with the cult of Mao, the praise for Xi Jinping seems to be pretty much entirely insincere. It feels almost like a game: competitive butt-kissing. The object is to see how far the Party hacks can go while keeping a straight face. Wang Shuo's wonderful stream-of-consciousness speech from Qianwan bie ba wo dang ren 千万别把我当人 comes ever more frequently to mind.
Wang Shuo (b. 1958) is the most (in)famous / notorious / celebrated pǐzi wénxué 痞子文学 ("hooligan / riffraff / ruffian literature") author in China. Qianwan bie ba wo dang ren 千万别把我当人 (1989) is one of his representative novels. The title has variously been rendered in English as Please Don't Call Me Human, No Matter What Don't Treat Me as a Human Being, etc.
Additional observations on Xi's bodhisattvic beatification by Brendan:
A friend suggested an alternative explanation just now: "cuter" language in Party propaganda. I'm not sure this is the case, but will keep my eyes and ears open to see if there's a pattern of that sort of thing.
It occurred to me just now that the competitive flattery / 掇臀捧屁 duōtún-pěngpì game is an awful lot like the "Yo' Mama" game that we used to play as kids ("Your mama's so fat, she's got nine smaller women orbiting around her," etc.), except warped into an entirely "positive energy"/正能(量) zhéng néng(liàng) framework:
"Xi Jinping's so competent, he should be in charge for more than the former maximum of two terms!"
"Xi Jinping's so smart, his book The Governance of China is an international bestseller!"
"Xi Jinping's so cultured, he dropped a Bai Juyi (772-846) quotation!"
"Xi Jinping's so concerned about the welfare of the people, he spent 15 whole minutes listening to a hand-picked migrant worker praising him!"
…and so on, ad literal nauseam. I never thought I'd have any cause to speak fondly of Hu Jintao, but at least he had the decency to remain the bland nonentity that he was.
The roots of Xi conceived of as a bodhisattva go back at least to 2016, as documented by Brendan in this tweet:
(Celebrity Buddhist Chin Kung 净空法师 did say back in 2016 that Xi was "a bodhisattva incarnate" 菩萨化身*, as @yangfulei pointed out – https://tinyurl.com/y7aaj2v8  – but he also seems to be kind of a headbanger in general.)
*huàshēn 化身 ("avatar")
I remember when I first encountered Chin Kung's declaration two years ago saying to myself, "This is a bit much!"
There's a xiēhòuyǔ 歇后语 ("truncated witticism") which goes, "ní púsà guò hé泥菩萨过河" ("a mud bodhisattva crosses a river").  Jichang Lulu apparently forged a clever pun based on this saying.  I'll leave it to him to tell us his pun, and I'll leave it to John Rohsenow, who compiled an outstanding dictionary of xiēhòuyǔ 歇后语, which he calls "enigmatic folk similes", to explain the part of the truncated witticism that has been left out and what it means.  I'll leave it to the assembled Language Log readership to debate why the CCP wants us to think that President / General Secretary / Chairman / etc. Xi Jinping may just be a living bodhisattva.
Update: Further deification…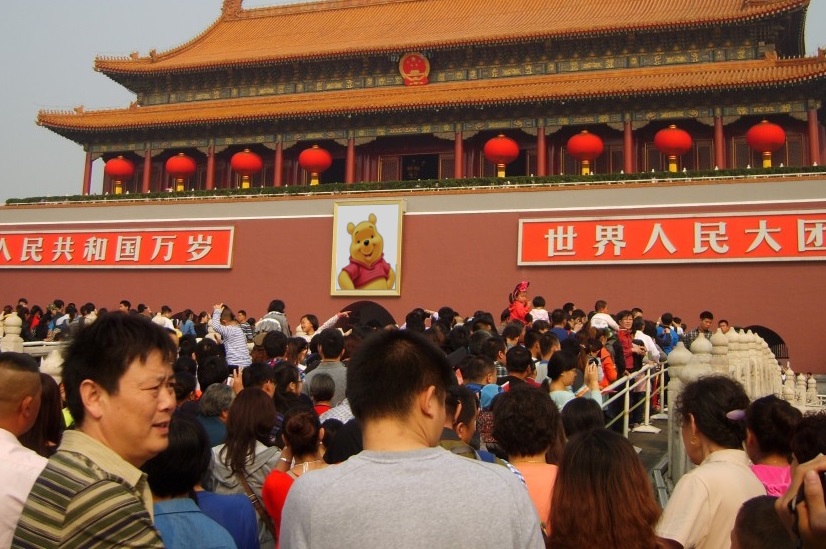 ---